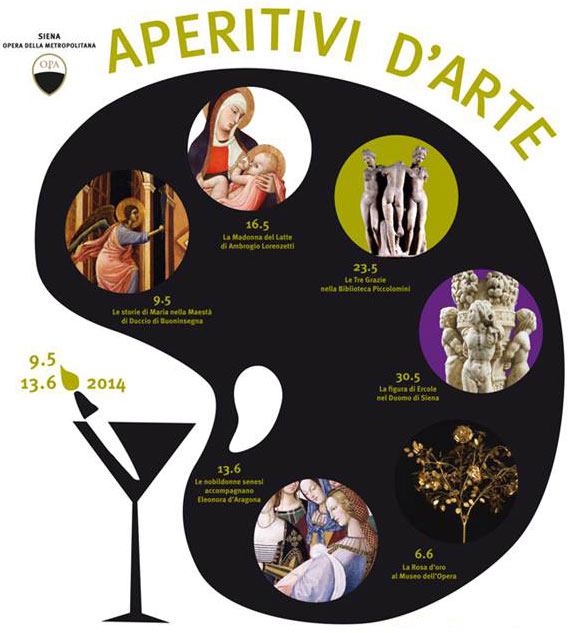 Siena's OPA (Cathedral administration) continues its initiatives in sharing its great art treasures with the public in "Aperitivi d'Arte". Starting tonight, May 9, and every Friday from 7 to 9pm until June 13, visitors and residents alike to the city can enjoy a special evening learning in more detail about a specific work of art held by the cathedral's monuments.
Having recently participated in Slow Art day myself, I can really appreciate stopping to study one artwork for a several minutes, and having someone who knows about that work of art alongside you in invaluable. It makes you appreciate the details, the history that shaped that work of art and much more, making you enjoy a piece of art you might have glossed over any other time.
So if you're in Siena on any of these dates, it should be interesting to spend an evening with others learning about a specific work of art from a variety of periods, from the classic era to medieval to the Renaissance and Baroque. Visits will be headed by an art historian in one of the Duomo's sites especially opened for the evening, to learn and enjoy works by Ambrogio Lorenzetti, Antonio Federighi, Punturicchio and Bernini, to name just a part. Afterward, enjoy an aperitif under the new Loggia of the Duomo.
These are the 6 dates:
May 9 – The stories of Mary in Duccio di Buoninsegna's Maestà
May 16 – The Lactating Madonna, or Madonna del Latte, by Ambrogio Lorenzetti
May 23 – The Three Graces in the Piccolomini Library
May 30 – The Figure of Hercules in the Duomo di Siena
June 6 – The Golden Rose in the Museo dell'Opera
June 13 – Sienese Noble Ladies Accompanying Eleonora of Aragon
For more info and to reserve your spot, call 0577 283300 or email opasiena@operalaboratori.com. Cost is 15 euro (7 euro for residents and citizens of Siena). Enjoy!
About Lourdes Flores
An American living in Florence for over 10 years, Lourdes continues to explore and discover new places in Tuscany with the eyes of a tourist but with the experience of living in Italy. She shares her experiences on this blog and website, particularly offering lots of travel planning help on the Forum!