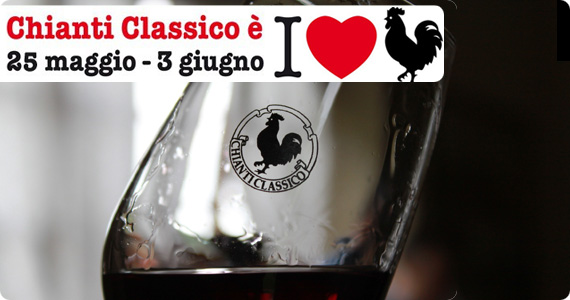 Lots of things to do this weekend in Chianti and Tuscany as a whole!!
First, the "Chianti Classico è" kicks off this weekend and continues for 10 whole days. We've highlighted some of the main events you should head to during this weekend and then some of the main ones to look into for the following weekend!
CHIANTI CLASSICO E' = Chianti Classico IS
May 26-27 – Castellina in Chianti – 3 to 8 pm
Pentecost in Castellina
A weekend of tastings open to the public to sample wines from the southern part of the Chianti territory in the context of "Pentecost in Castellina". The event is organized by the Castellina Vintners Association in cooperation with the Consorzio Amo Castellina (I Love Castellina Consortium). The vintners will be present for the tastings, for direct contact between wineries and final consumers.
The wine can be sampled only after purchasing a tasting glass from the reception desks at either end of Via delle Volte.
Music and handicraft marts will accompany the tastings.

May 25-27 – San Casciano Val di Pesa – Piazza della Repubblica gardens
May 25, 5 pm to midnight; May 26, 11 am to midnight; May 27, 11 am to 7 pm.
The Black Rooster & Street Food
The finest street food from all over Italy paired with Chianti Classico wines from Barberino Val d'Elsa, Tavarnelle and San Casciano Val di Pesa! Every evening starting at 7 pm, live music will accompany your evening of relaxation and enjoyment of fine wine & food specialties.
May 27 – 5pm
Greve in Chianti – the Pescille Orangerie, Panzano in Chianti
Goals di-vini / Goals and wines Divine
Just days before kick-off of the European Football Championship, a tasting evoking the greatest goals of yesteryear, featuring 10 Chianti Classico wines.
Fee: 15 euros, 10 for AIS, FISAR, ENOCLUB and SLOWFOOD members
June 1-5 – Lamole (Greve in Chianti) – Piazza di Lamole –
June 2, 11 am to 8 pm; June 3, 4, 5, 11 am to 9 pm
The scents of Lamole
Valle di Lamole vintners meet with the public in four days of open air tastings.
June 2 – Santa Maria al Prato Convent – Radda in Chianti
"Radda in the Glass" seminars for "Chianti Classico Is"
at 10:30 am – Radda & Burgundy United in Excellence
Chianti Classico wines from Radda in Chianti meet Burgundies for a terrific tasting.
Conductor: Raoul Salamà
Fee: 30 euros, 25 for AIS, FISAR; ENOCLUB and SLOWFOOD members
at 3 pm – Recognize Radda?
A blind tasting with "intruders". A challenge for wine-lovers, asked to discern the particular features of Radda territory.
Fee: 15 euros, 10 for AIS, FISAR, ENOCLUB and SLOWFOOD members
June 1-3 – Radda in Chianti – Saturday, 2 to 7 pm; Sunday, 11 am to 6:30 pm
Radda in the Glass
Tastings of Radda wines through the streets of town.
June 2 – Piazza Ricasoli – Gaiole in Chianti – 10 am to 7 pm
Flower mart
Piazza Ricasoli becomes a palette of colors enveloped in a magical atmosphere of inebriating fragrances: flower growers and nursery owners return to Gaiole to display their finest products.
June 2 – Former Ricasoli cellars – Gaiole in Chianti
Wine is Served
The charm of cinema combined with that of Chianti Classico from Gaiole in Chianti for a very special tasting.
Free admission, to seating capacity.
June 2 – starts at 9am – Departure from Castellina and Greve in Chianti
Following the Black Rooster legend, on foot
Now this should be a lot of fun: a re-enactment of the Black Rooster legend in two pedestrian routes to "rewrite" history ;). For today's medieval knights, departure will be at cock's crow from Castellina and from Greve in Chianti. The two groups will meet in Panzano for a final lunch at Dario Cecchini's "Solo Ciccia" restaurant; the winning team will be given bottles of Chianti Classico.
30 euros per person. Extra costs: round-trip shuttle from Florence or Siena, 15 euros per person.
Lunch for non-participating accompanying person at McDario: 20 euros.
…
These are just some of the top events we'd like to point out seem really interesting and fun, so if you're in Chianti, definitely head to one of them!!
During the 10 days of this manifestation, you can take advantage of special daily wine tasting tours to Chianti Classico offered by "Essence of Italy" that for 25 euros offers transportation from Florence, wine tastings and visits at three wineries and a light lunch – a great deal!!
For bookings and info: Essence of Italy – call 055 2466800/ 355 8082349
Fee: 25 euros per person
The price includes: minibus transportation, Italian/English guide, visit and tasting of 2 wines with snacks at two wineries and a light lunch and tasting at a third.
View full program at: http://www.classico-e.it/
Cantine Aperte – Sunday May 27
On Sunday, throughout all of Italy, "Cantine Aperte" means many wine cellars are especially open across the region to the public for tastings, tours, culinary workshops and more.
You can see the list of wineries in Tuscany here: Cantine Aperte Tuscany.
Malmantile Medieval Fair
This weekend but also on June 2-3 the small fortified medieval village of Malmantile near Lastra a Signa (not far from Florence) comes alive with the Medieval Fair!
Archery competitions, knights on horseback and much more!
May 26: 7pm-1am, May 27, June 2 and 3: 4pm-11.30pm. See full program on the official website. All proceeds of the fair go to the local Misericordia, the charity ambulance/health services association.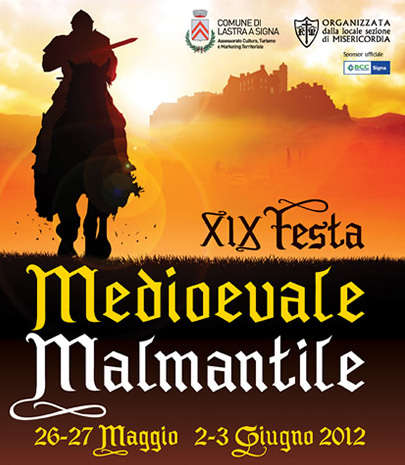 About Lourdes Flores
An American living in Florence for over 10 years, Lourdes continues to explore and discover new places in Tuscany with the eyes of a tourist but with the experience of living in Italy. She shares her experiences on this blog and website, particularly offering lots of travel planning help on the Forum!