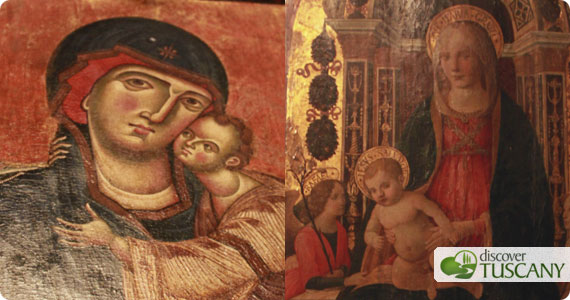 This past Thursday we spent the day in Chianti on a tour designed and supported by the Florence Chamber of Commerce and tourism board to promote the Florentine area of Chianti. We met our tour group in front of Santa Maria Novella train station at 8.45am and aside from a traffic incident that delayed our departure, we were happily on our way to Tavarnelle Val di Pesa by 10am.
The weather was still a bit grey and foggy as we arrived at the Church of San Pietro in Bossolo where a small museum of sacred art is housed on the first floor of the cloister next to the church. The church, after a recent restoration, shows its original stone walls and its intentional left leaning transept reflects the inclination of Christ's head on the cross. The museum is small but it has several masterpieces by the Bicci painters: a fine Virgin and Child between two angels by Lorenzo di Bicci and a Virgin and Child Enthroned with saints by Neri di Bicci. The finest piece in the room is a Madonna and Child by Meliore from the 13th century. A second room contains the beautiful Madonna and Child between the angels Raphael and Gabriel by the Master of Marradi: a lively Child that seems to want to escape his mother's arms and get on with his destiny, a Virgin that looks sad knowing where it will lead him. The three rooms contain additional paintings and many silver and gold-leafed wood reliquaries from the churches in the surrounding area.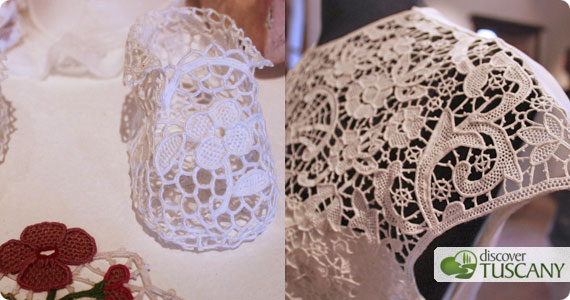 A very special exhibit of the "punto tavarnelle", a local handmade lace technique and a small museum with tools of daily productive labor – wine-making, olive pressing, carpentry, flour mill and more – on the ground floor provide a revealing insight into the way in which the productive activities and small-scale rural craft industries of the Chianti region functioned. This museum was a surprising discovery and we highly recommend a visit!
By the time we finished our visit, the sun had come out and was burning away the remaining fog, giving us a glimpse of a nice sunny day in which to continue our outing. Our next stop was a visit to a shop in Tavarnelle, Fatto in Chianti, which showcases the work of artisans in the area who make items for the home, from wood furniture to embroidered home linens to ceramics. Many items are produced according to client requests.
We then headed toward the fortified town of San Donato in Poggio, an important outpost for the Florentine republic during the time of conflict with Siena and Arezzo in the Middle Ages. From here the Florentine armies set out to do battle on the hill of Monteaperti in 1260.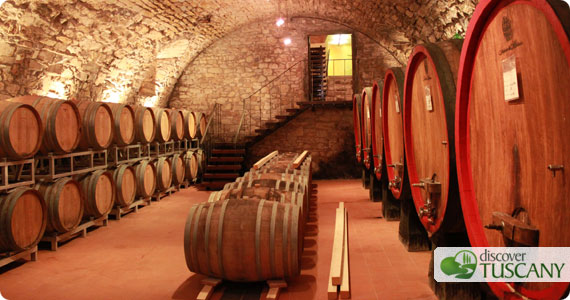 Nearby the Fattoria Montecchio wine estate welcomed us to their cellars, both the stainless steel area of modern wine making and to the aging cellars with their large wooden barrels. Our guide explained the wine making process and we learned that while a Chianti Classico needs to have at least 80% Sangiovese grapes by law, the remaining 20% can be a blend of only certain types of grapes – but all must be grown on the estate located within the Classico area for the wine to then be considered classico. We had a chance to taste 4 of the estate's wines as we lunched over typical Tuscan prosciutto, salame and finocchiona, cannellini beans and fresh tomato bruchetta. We tasted a rosé, a red "table wine" and a Chianti Classico as well as a vinsanto with cantuccini, hard biscotti cookies, to end the meal. Everything was delicious and well presented, we couldn't help but stop by the shop on our way out and take a few bottles home with us :).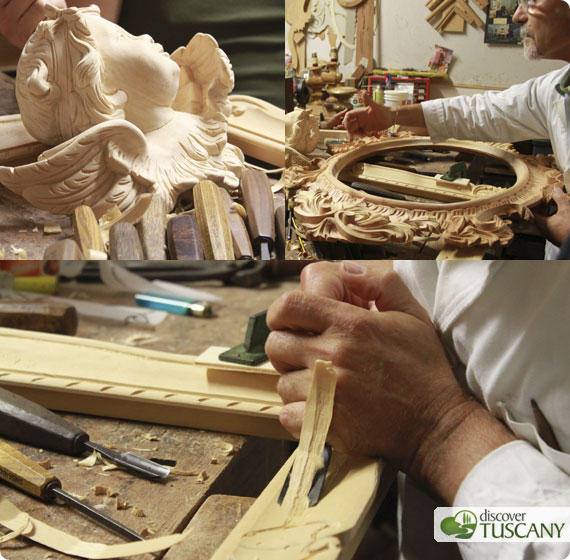 Our next stop was the wood-carving workshop of Omero Soffici in San Casciano Val di Pesa, an artisan specialized in making frames using centuries-old techniques as well as restoring wooden masterpieces such as violins and church doors. It was interesting to watch Omero as he demonstrated and explained how he goes about creating a frame for a mirror or painting. Most of his work is made to client specifications.
Our final stop for the day was at Niccolo' Machiavelli's house located close by, the family home where he lived during his exile from Florence. It was while he was here that he wrote the essay for which he is best known, The Prince. His home is open for visits, as well as the wine cellars below where several wines are aged. From a corner in the garden, one can even see Brunelleschi's cupola in Florence :). We were able to taste two of the estate's wines, one by the Machiavelli brand which was a blend of sangiovese and cabernet sauvignon grapes called Ser Niccolo' and another from the Melini estate in Maremma, a Morellino di Scansano. Both were different from the previous ones we had tasted, offering a chance to experience 6 Tuscan wines in all. I have to admit I am not used to spitting out and drank more than I normally do, by the end of our day I was ready to do some walking just to clear my head a bit :). Good we weren't driving!
I found the tour is a great way to see Chianti and a wonderful chance to do wine tasting in this famous wine region. With transportation included, the price of 15 euro per person is a great deal. We were interested in seeing what was offered on the tour and how it was organized. We were impressed by the amount of information our guide offered at each stage as well as by everything we were able to see and do in about 7 hours.
The tour is organized by the Machiavelli Viaggi travel agency based in San Casciano. Tours run every Thursday through the end of November and start back again next May. You can email Marco, who will be your guide on this special tour in Chianti, at chianti@machiavelliviaggi.it to reserve your spot during your visit to Tuscany.
About Lourdes Flores
An American living in Florence for over 10 years, Lourdes continues to explore and discover new places in Tuscany with the eyes of a tourist but with the experience of living in Italy. She shares her experiences on this blog and website, particularly offering lots of travel planning help on the Forum!