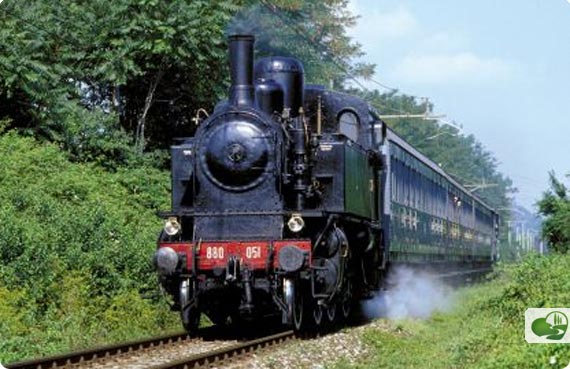 Do you want to experience Tuscany in the fall in a very special, unique way? How about taking a steam train?! Not even many locals have experienced this way of enjoying Tuscany, as times have changed and many prefer to drive. But a day trip in this manner allows you to slow down, enjoy the scents of the countryside and enjoy a local festival in a way that reminds us of a time long-past.
The steam train takes you slowly through the Tuscan landscape, letting you enjoy every part of it arriving at a village where you will join a local festival. This will of course offer local food and drink (wine) before taking you back again in the afternoon.
The Treno Natura is offered in the Province by Siena, as it is a part of the region that has rail lines used only for local, regional trains. The steam train only departs on very specific days and makes only one journey a day, so you do have to plan for this type of experience. The trip is always combined with an event, festival or fair in a Tuscan village near Siena. You leave in the morning, after approximately 2-3 hours ride you arrive at your destination where you will join the local festival, being it a mushroom, chestnut, Christmas or olive oil festival. One thing you can be sure of is that it will include delicious local food. There might also be games going on, a band giving a concert or the like. After enjoying the event, the train will take you back to your departing destination in the afternoon.
Most of the trips start and end in Siena. For some of the trips, the last part is made by bus to the local event. The price, which includes only the train-ride, is EUR 29 per person for the day-trip and free for children below the age of 10 (who will not have a seat on the train).
Here's an idea of when you could join in:
September 28, from Siena to Buonconvento, Val d'Arbia festival: Food and culture on the market stalls.
October 12, from Siena to Vivo d'Orcia, Porcino Mushroom Fête: The king of the woods awaits you on Mount Amiata.
October 19, from Siena to Abbadia San Salvatore, Autumn Fair: Medieval atmospheres in the ancient village.
November 2nd, from Siena to Piancastagniaio, "Crastatone" Fair: Roast chestnuts to warm the heart.
November 9th, from Siena to San Giovanni d'Asso, White Truffle Show and Market: Truffles in a thousand ways (first part).
November 16th, from Grosseto to San Giovanni d'Asso, White Truffle Show and Market: Truffles in a thousand ways (2nd part).
November 30th, from Siena to Sant'Angelo Scalo in Amiata, Christmas Markets: Christmas in the village the way it used to be.
December 7th,  from Fabro or Chiusi to Siena, The Market in the "Campo": The old market in the elegant square.
December 8th, from Empoli or Siena to San Quirico d'Orcia, Olive Oil Fair: To taste and take home.
If you're here in Tuscany this fall, go ahead and enjoy a very special day in Tuscany! The train schedule starts in March of next year, in case you'll be here then.
For more information and to book, check the official website http://www.trenonatura.terresiena.it/indexEN.html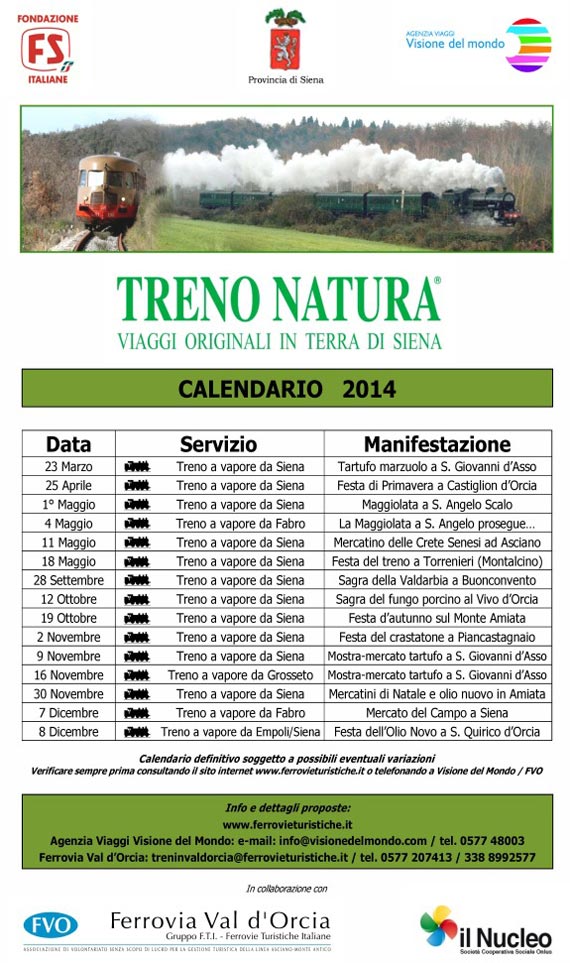 About Helle D. Rasmussen