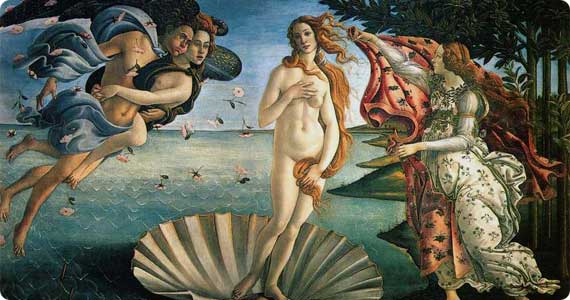 Botticelli's Venus at the Uffizi
This summer, you can enjoy art and culture and avoid some of the heat and crowds of the day if you go visit Florence's museums in the evenings. The Polo Museale, is in fact, offering various opportunities for you to enjoy Florence's magnificent museums just this summer at special hours. Here's a rundown:
EVERY TUESDAY
Both the Uffizi and Accademia remain open for a few more hours every Tuesday evening, closing at 10pm rather than at 7pm. Admission is still to be paid on these evenings.
Starting yesterday, August 6 to September 24, the Bargello is also open in the evenings from 7 to 10pm with "Aperitivo ad Arte", where you can sip a cocktail in the main courtyard while enjoying theatrical representations by the Compagnia delle Seggiole presenting stories, anecdotes and secrets of the Bargello's past, from Palace of the Captain to prison to museum and visiting the sculpture room. You need to reserve your participation on these evenings by calling 055-294-883.
LAST THURSDAY OF THE MONTH
The Accademia is open for free on Thursday evenings, from 7pm to 10pm.
EVERY WEDNESDAY
On Wednesdays, you can visit the Accademia between 7 and 10pm for "Aperitivo Ad Arte" where you can enjoy a cocktail while enjoying special access to the gallery museum. Book your spot by calling 055-294-883.
EVERY THURSDAY
On Thursdays, it is the Uffizi that remains open from 7 to 10pm to let you enjoy an aperitif and a view from the museum's terrace cafeteria and view the works of art in the red rooms. Book by calling 055-294-883.
EVERY LAST SATURDAY OF THE MONTH
Until December, if you find yourself in Florence on the last Saturday of the month, you can also visit the Uffizi, Accademia and Medici Chapels in the evenings until 11pm as part of the Night at the Museum initiative we blogged about here. Admission ticket still needs to be paid.
Enjoy Florence's top museums this summer in the evenings with limited crowds, getting to enjoy breathtaking works of art almost to yourself.
About Lourdes Flores
An American living in Florence for over 10 years, Lourdes continues to explore and discover new places in Tuscany with the eyes of a tourist but with the experience of living in Italy. She shares her experiences on this blog and website, particularly offering lots of travel planning help on the Forum!