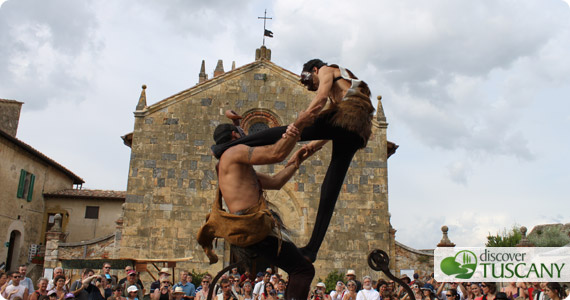 Finally it's summer with hot days, unfortunately the heat has also called given life to lots of mosquitoes as well. The gray rainy days of just two weeks ago are a memory and summer begins with the first Palio of the year. In fact, today July 2 is the Palio of Provenzano. I won't go to Siena but I'll watch it on TV while sipping something cold in the company of friends.
Tomorrow, Saturday, I want to relax. I'm planning a day out at the swimming pool. There are several outdoor public pools here in Florence (Bellariva along Lungarno Aldo Moro, Costoli near the stadium and Pavorniere at the Cascine) but I want to go out to the Tuscan countryside in Greve in Chianti where a very nice outdoor pool is surrounded by olive trees and vineyards. For dinner I'll head to Certaldo, the birthplace of Boccaccio. The "In the dream of Sir Boccaccio" will be taking place, bringing to life Boccaccio's characters. Starting at 7.00 pm, the streets of the old town are animated by the historical parade made up of 180 actors in beautiful medieval costumes that will then recreate scenes from Boccaccio's Decameron.
On Sunday I'm planning to go to the great medieval festival in Monteriggioni called Monteriggioni di torri si corona (Monteriggioni Crowned with Towers). The festival brings Monteriggioni back to its ancient medieval splendor for two long weekends in July. Knights' tournaments, jugglers, jesters and musicians animate this beautiful medieval fortress. Events start at 5.00 pm and go on until 11.00 pm. I prefer going on Sunday because Saturday is a really crowded day. The best day is generally Friday, but I do have to work sometimes 😉
Hope everyone has a nice weekend in Tuscany!