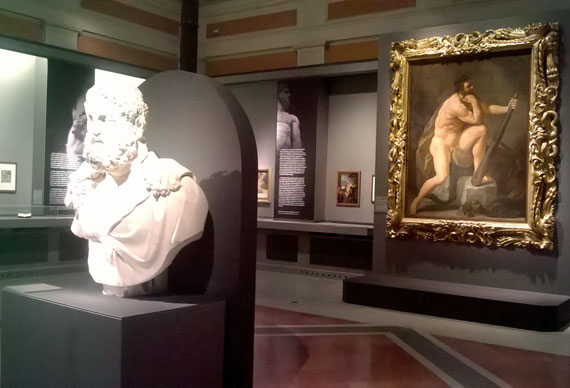 This year's edition of the "Mai Visti", or "Never Seen Before", is focused around Hercules, his strength and importance as a heroic symbol for the city of Florence.
The "mai visti" exhibits organized at the Reali Posti space at the Uffizi Gallery every December through January showcase works from the Uffizi Gallery normally found within its huge deposits and not seen by the general public which are organized around a theme. This year, from December 19th until January 31st, 2016, the temporary exhibit contains 51 works of art that revolve around the theme of Hercules, his heroic feats as well as human weaknesses.
With 9 ancient statues from the Uffizi deposits and from Villa Corsini, there are also incisions, paintings and other works of art that focus on the Labors of Hercules (the Roman name for the Greek hero Heracles) and, in particular, the adoption of his various endeavors as symbols of virtues of the city of Florence, as well as of its rulers, the Medici. Hercules is present in Piazza della Signoria, within Palazzo Vecchio, in the Medici private villa of Castello and even on the Grand Dukes seal, which you can see on exhibit.
If you love art and history – but even if you are still learning to love it – this temporary exhibit is a wonderful occasion to see works of art that are normally on display! Read more on the exhibit here.
The City of Hercules: Mythology and Politics
Le Poste Reali at the Uffizi Gallery
Open every day (except for Mondays, Christmas Day and January 1st)
10 am to 5pm, Free entrance
About Lourdes Flores
An American living in Florence for over 10 years, Lourdes continues to explore and discover new places in Tuscany with the eyes of a tourist but with the experience of living in Italy. She shares her experiences on this blog and website, particularly offering lots of travel planning help on the Forum!