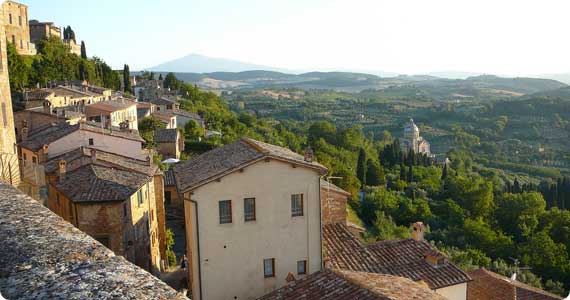 photo by dan taylor
While it hasn't been made official yet, the word is out that New Moon, the second Twilight sequel, will not be shot in Volterra as we had reported earlier. Twilight fans and locals are very disappointed, but it seems the production is being "realistic" and saying a town the size of Volterra cannot accommodate all of the filming crew.
Some scenes will still be shot in Volterra (piazza and palazzo dei Priori) but most on-location shots will occur in Montepulciano, another medieval Tuscan hilltop village about an hour away also deemed "more beautiful" for filming.
Montelpulciano is a charming town which we like and highly recommend visiting, but if size matters, Montelpulciano's medieval center is actually smaller than Volterra's! Both are beautiful in their own right but more importantly, since Stephanie Meyer's book is set in and the Volturis family comes from Volterra, fans wanted to see Volterra on the big screen. If you're coming all the way to Tuscany to shoot on location, does it make sense to not shoot in the actual town which is less than an hour away?
I suppose in the world of movies, anything is possible. Maybe any medieval town is the same as the next one?? Like I said, the announcement has not yet been made officially so we could still be pleasantly surprised. What do you think?
About Lourdes Flores
An American living in Florence for over 10 years, Lourdes continues to explore and discover new places in Tuscany with the eyes of a tourist but with the experience of living in Italy. She shares her experiences on this blog and website, particularly offering lots of travel planning help on the Forum!