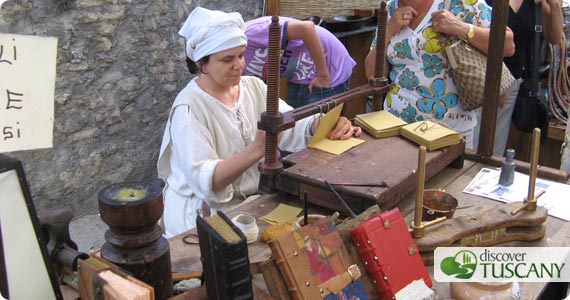 This past weekend we tried something different from the medieval festivals we've come to love and went to Scarperia to step back into time, but not so far back: only about five centuries back into the Renaissance. The festival took place on September 6 and 7 as part of the festivities that precede the Palio del Diotto that takes place on September 8 of every year in Scarperia.

Scarperia, founded in 1306 as a local seat of the Florentine Republic, is considered one of the most beautiful hamlets in Italy and makes the perfect setting for a Renaissance festival. The stone streets were covered in straw, stalls along the streets showed artisans making paper or candles or binding books, blacksmiths pounded on iron, bowyers cut across wood to make bows and fletchers prepared their arrows. Market stalls offered local products such as honey and homemade preserves and cheese. There was also entertainment, from throwing small sacks at targets that would make a jester fall into a large tub of water to targets made of small pyramids of jars to knife throwing. The prize a bottle of red wine.
Then there were the processions in historical Renaissance costumes, the flag-throwers, the drummers. Horses were tethered at the soldier camps, where one could see swords and bows. Inns and taverns offered food and drink, and a chance to rest for a few minutes. All purchases has to be made in the coin of that time, the "fiorino", especially minted for the occasion.
Particularly unusual and interesting were the falconers with both falcons and owls that demonstrated the predators' as the flew across the piazza. It was an unexpected and delightful chance to view these truly magnificent creatures in flight at such a close distance.
Scarperia is a small town and visiting it during the festival made it seem particularly enchanting. It was easy to see all of crafts and offerings and catch most of the wandering characters as they performed on the streets. It was a fun day and we highly recommend visiting the town on this special occassion. We were unfortunately a bit too tired to go back the following day to also see the Palio del Diotto, but we definitely plan on making it next year – hope to see you there!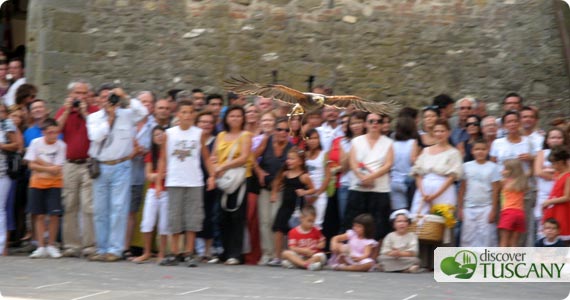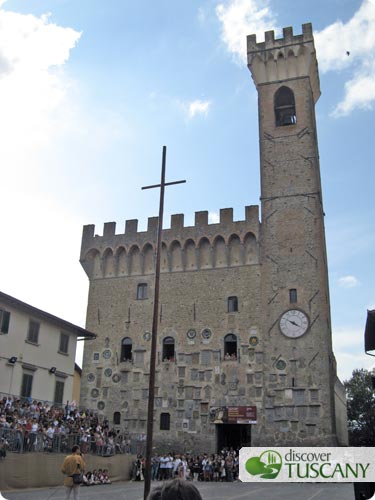 About Lourdes Flores
An American living in Florence for over 10 years, Lourdes continues to explore and discover new places in Tuscany with the eyes of a tourist but with the experience of living in Italy. She shares her experiences on this blog and website, particularly offering lots of travel planning help on the Forum!