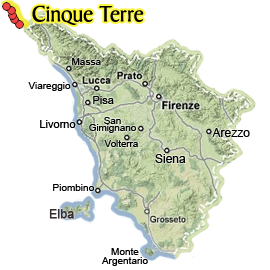 The intriguing and much visited coastal area Cinque Terre located just north of Massa Carrara is a favorite day trip for those spending their holiday in Tuscany. Included in the UNESCO World Heritage list in 1997, this fascinating area is comprised of a rough and severe landscape where man-made terraces mold the hillsides as the drop rapidly to the sea.
The five small towns, from south to north: Monterosso al Mare, Vernazza, Corniglia, Manarola, and Riomaggiore have been categorized as a "living landscape" where the location and its history play an active role in promoting the traditional lifestyles and products. Lemons, honey, extra virgin olive oil, anchovies conserved in salt and wines are just some of the special flavours you can enjoy while visiting these colorful towns. There are more than 120 kilometers of nature trails, crisscrossing the mountains with panoramic views towards the mountains that isolate the Cinque Terre within the Italian peninsula from the Tyrrhenian Sea.
Dedicate a day or more to exploring each little hamlet, venturing in the vast national park, sailing from port to port and cooling off in the refreshing sandy beaches.