Christmas is coming! The festive and magical period bring out a desire for sweet smells and tastes. If you have a sweet tooth like me, then you certainly search out for local sweets and desserts when you travel. So if you're in Tuscany during this holiday season, you'll be particularly delighted to try out the many traditional treats at bakeries and pastry shops found right now.
Panpepato - Panforte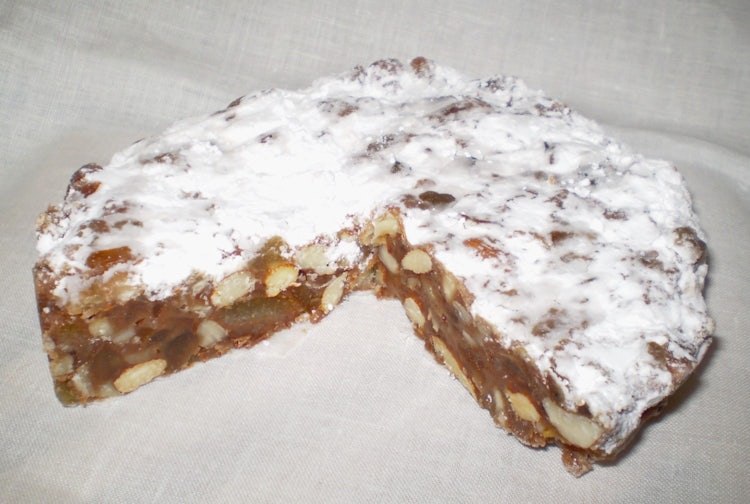 This is a traditional Tuscan Christmas sweet with ancient origins, dating back to the Middle Ages. It is a very dense cake with honey, spices such as black pepper and candied dried fruit and peels, almonds and aromatic herbs. Back then it was prepared by apothecaries for the nobility and clergy, considering the cost of such ingredients. It was only prepared in the Christmas season and thus called "pane natalizio" or Christmas cake. Only in 1879, when Queen Margherita visited Siena, was the cake made to honor the occasion and a lighter version, called "Panforte Margherita" was created: a more delicate version with a layer of vanilla-scented sugar on top instead of black pepper. You can still find this version today in Siena, where it is interesting to note many of Tuscany's holiday sweets originate from. You can find many variations, including ones with chocolate, less candied fruits, less spicy flavors.
Would you like to try your hand at making panpepato? Here's my recipe on Tuscan Recipes for Panforte di Siena. If the flavors seem to be strong or just want to try a lighter version with walnuts and figs, you can try Judy Witt's from Divina Cucina version here.
Ricciarelli
These are sweet and super moist almond cookies, also originating in Siena. The basic recipe is almonds, sugar and egg whites. According to legend, they arrived to Tuscany by a knight, Ricciardetto della Gherardesca who brought them back on his return from the Crusades. The ricciarelli made fresh in the bakery shops in Siena are a real treat - don't go for commercial brands as they tend to be much drier.
Nowadays, you can find panforte and ricciarelli cookies year-round in Siena, particularly as they are the cities traditional treats. But in other parts of Tuscany and Italy, you only find them in this holiday season - so make sure to try them out!
Have you tasted Ricciarelli before and want to try your hand at making them? Follow Giulia's recipe from Jul's Kitchen for Ricciarelli here.
Torrone - Copate di Siena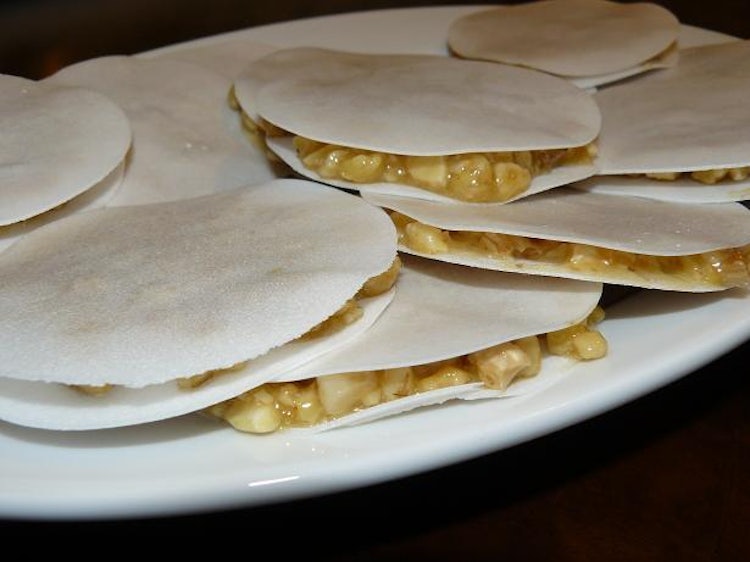 Torrone is a nougat candy (pictured below), widely found across all of Italy around Christmas time in many variations of flavors (at many fairs you can also find torrone at other times of the year). It is made of egg whites, honey and sugar with roasted almonds, nuts, peanuts or chestnuts inside, often with a wafer on top and bottom. While the "torrone" can be found across all of Italy, including Tuscany, a local version (again from Siena) is called the "copata di Siena" which is a much thinner version of the traditional torrone... and is only found at Christmastime! This Tuscan version is round, in the same shape of the wafer, and in some ways a "lighter" version and a cross with panforte and ricciarelli: made with honey like panforte and with toasted almonds like ricciarelli (although it also contains finely chopped toasted walnuts).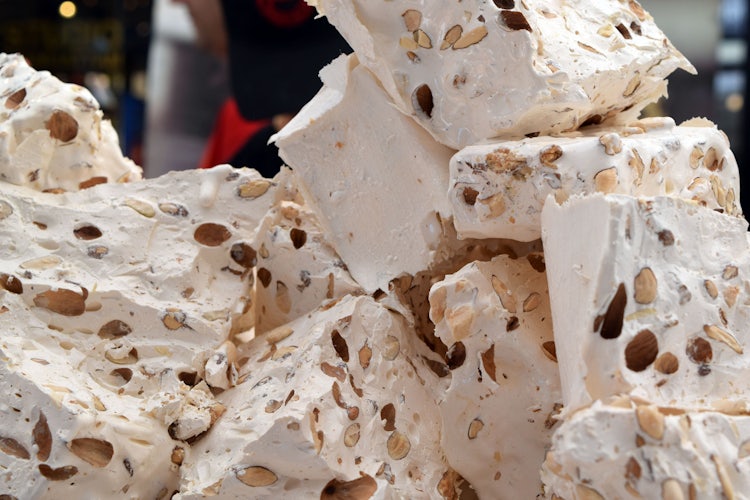 Befanini
These are common around Christmas time in Tuscany, but even more often found right around the Epiphany in the Lucca, Garfagnana and Versilia areas at all pastry shops and bakeries. These are basically sugar cookies with colorful round sprinkles on top, making them ideal as a Christmas/holiday time baking experience to share with kids, who love helping with the sprinkles - as well as using cookie cutters to make all kinds of shapes. You can do flowers, hearts, stars or Christmas trees, whatever you have on hand. These are the easiest to recreate at home, so here is our recipe for you to try out, particularly if you're not in Tuscany this holiday season but want to bring a bit of Tuscany into your home!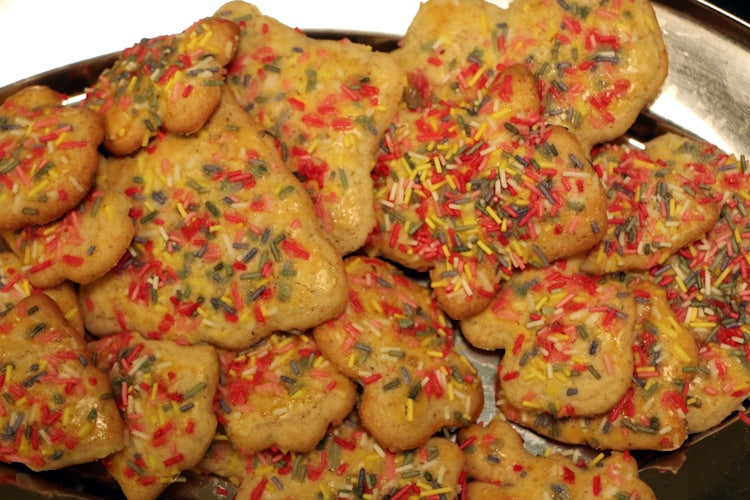 Befanini Recipe
3 fresh eggs
100g butter, melted and cooled
500g flour
250g white sugar
zest of an entire orange, preferably organic
1/2 tsp of baking powder
1/2 cup (120ml) milk
for glaze: 1 egg and colored sprinkles
Beat the eggs in a bowl, then add melted butter, flour and sugar and mix well.
Add the zest and baking powder, then add milk in a bit at a time until you've created a firm, round ball of dough.
Let rest for a few minutes; if very soft, cool in the fridge for 30 min to firm up. With a rolling pin, roll out the dough to a thickness of 3-4 mm high. Cut out shapes with cutters, place on a well-buttered cookie sheet, spacing them a bit as they spread out a bit as they cook. Once the sheet is full, beat the remaining egg and brush the tops of the cookies, then decorate with the sprinkles. The egg makes sure the sprinkles stick on the cookies.
Bake at 180°C (350°F) for about 10-15 minutes, until golden brown. Remove from the oven, let cool on sheet for a few minutes before removing them and placing on a rack to cool completely.
Enjoy!