The traditional flavors of Tuscany's backcountry
The restaurant La Grotta del Picchio Verde is found within the charming medieval hamlet called La Sassa, a fraction of Montecatini Val di Cecina.
Within the province of Pisa, the restaurant is easy to get to from the
Etruscan Coast, particularly for those who would like a suitable alternative to the typical coastal seafood restaurants.
The restaurant has been around for many years even if the management has changed throughout. Historically known as the "Antica Trattoria La Grotta", today it is under the management of the cheerful and friendly Mrs. Carla and it is now called "La Grotta del Picchio Verde".
In my opinion, the atmosphere is rustic and welcoming at La Grotta and true to its boasted homemade Tuscan cuisine. Tuscan fare, for those who already have sampled it, is quite natural and basic, favoring the quality of natural ingredients, without too many additions. The space is not very big, which makes the atmosphere even more homelike and warm.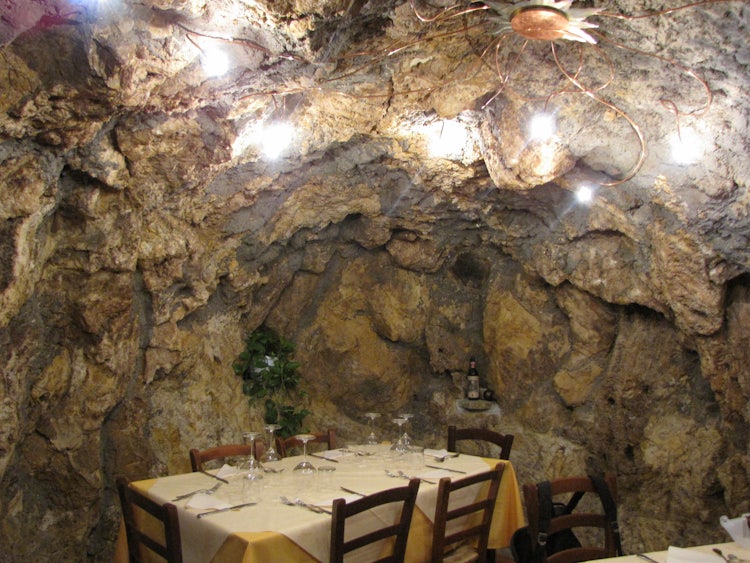 The characteristic and romantic natural, small grotto from which comes the restaurant's name, has only a few tables. Thus, we recommend reserving because the ambiance is truly unique!
La Grotta's menu offers local Tuscan flavors with many meat based dishes such as homemade pasta and ravioli with mushrooms, meat or wild boar sauce (cinghiale). Main dishes include game and sliced steak served with the classic Tuscan side dishes (grilled potatoes, white beans, spinach). I tried the ricotta ravioli with meat sauce, which was simply delicious.
After hearing the desert menu, I couldn't resist the "moro in camicia", La Sassa's custom desert, which is a variation of tiramisu that is very good and it goes without saying, full of calories :).
Even though La Grotta del Picchio Verde is located on the main street that leads through the hamlet, it is not in a particularly touristy or central spot. In my experience, it is difficult to just stumble across it by chance but it is a restaurant worth trying for its authentic dishes.
I highly suggest taking note of the La Grotta's address, reserving your table and sitting down to enjoy Signora Carla's delectable cooking!