Starting in Siena and hiking towards the South
Objective: do one of the 15 sections of the via Francigena where it would be easy to get back to the starting point - a circular route
For those traveling without a car and who are looking for a bit of adventure, the 12th section of the via Francigena is easy to adapt to your traveling needs. Though most sections start in one place and end in another ... many times with no connection between the two... this piece of the trail has a frequent train service between the two points.
Those who have a car, can leave it in Monteroni d'Arbia and train it back to Siena to start hiking. And for those relying exclusively on public transport, you can start in Siena, walk out as far as Monteroni d'Arbia and then catch the train back to your starting position without doing any extra miles (or, since we are in Europe, any extra km). Trains are fairly frequent: last call at 9pm for Siena (spring hours) cost is 2.60€ (we bought it on the train.) Please remember: weekends are less frequent (check the schedule before you go!!)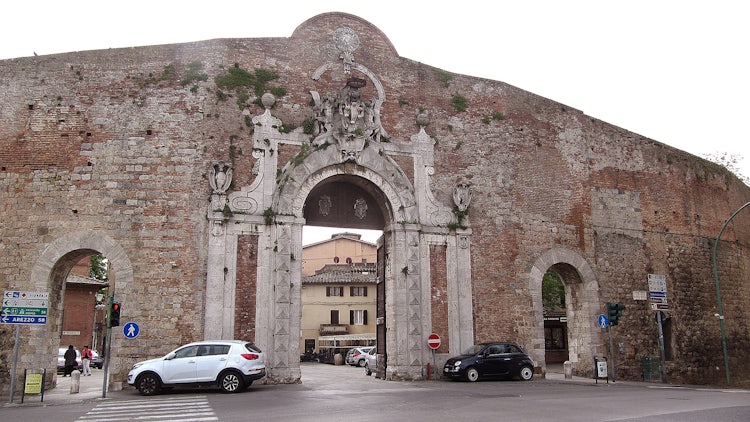 The entire length of the trail is 30 km and would take you from Siena to Ponte d'Arbia, but then you would be a bit stranded without any public transport. But that doesn't mean you are losing out. The piece to Monteroni d'Arbia is picturesque and offers lots of photo opportunities...and let's just say it's especially good if you are not a serious "die hard" kind of hiker. Just remember… slow and steady wins the race.
My trail run included a car, and there is convenient parking at the COOP supermarket in Monteroni d'Arbia (free parking) The walk is only 550 meters to the train station. It was easy to find (both the train station & the Coop) - and if you need any last minute sandwiches, water or snacks…just hop in the COOP.
Going towards Siena you want the second track (down the underground steps and then up again for the second binario) Get off at Siena - there's only one stop for Siena (the train had info in Italian and English.)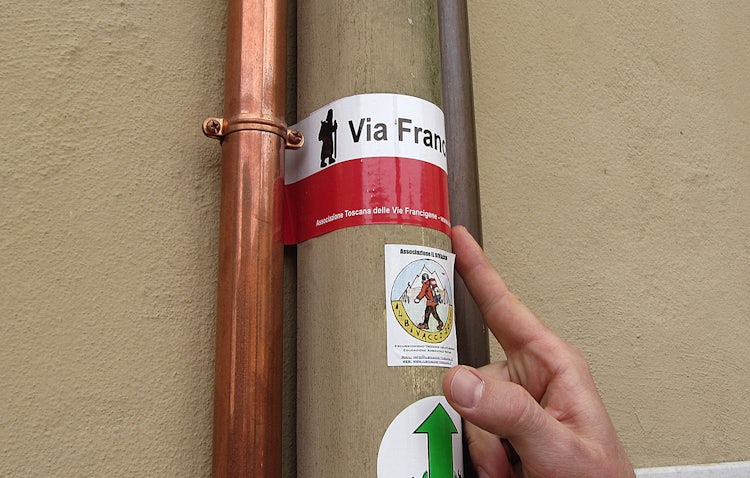 You're in Siena Now
Once you get out of the train station, go ahead and cross the street to the building in front, where you will find a series of escalators that will start your hike for you. (Yeah! no up hill hiking!) From the train station you will enter into Siena thru Porta Camollia. Keep an eye out and you will notice on the right hand side of the road the trademark red and white stickers (haphazardly, if not abundantly) stuck on the light poles, gutter pipes and other various smooth surfaces … follow them.
However, if you know Siena - and even if you don't - you can follow the signs to the main square: Piazza del Campo.
The start of our hike began by facing the Palazzo Pubblico and heading to the left for via Roma and the city gate Porta Romana.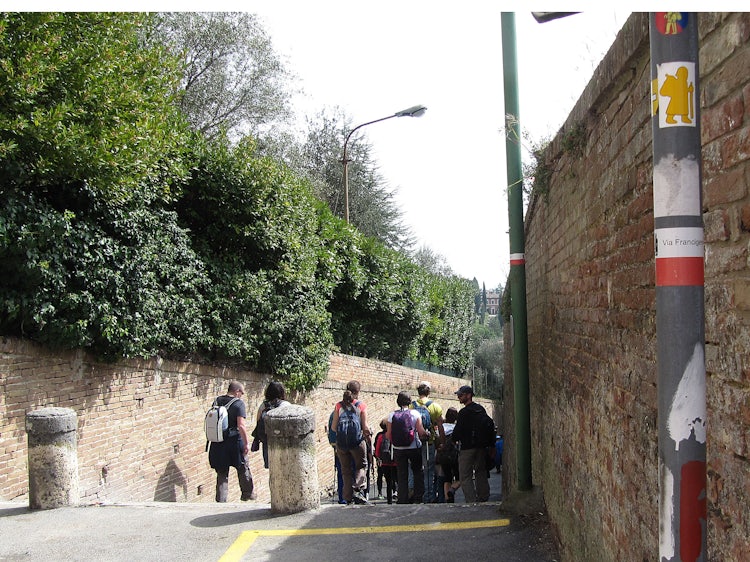 Notes about the Trail
It has quite a bit of paved roads (30% of the entire path) but, for the most part they are not too busy. There is a small section where you will go through an industrial area (a little yucky….but it's not horrible). There is a bar in the center of the industrial area which while not always open during the weekends, should should be hopping durning the weekdays. You will want to keep an eye out for it, because it is actually an important turn for the trail, with a little side road right next door.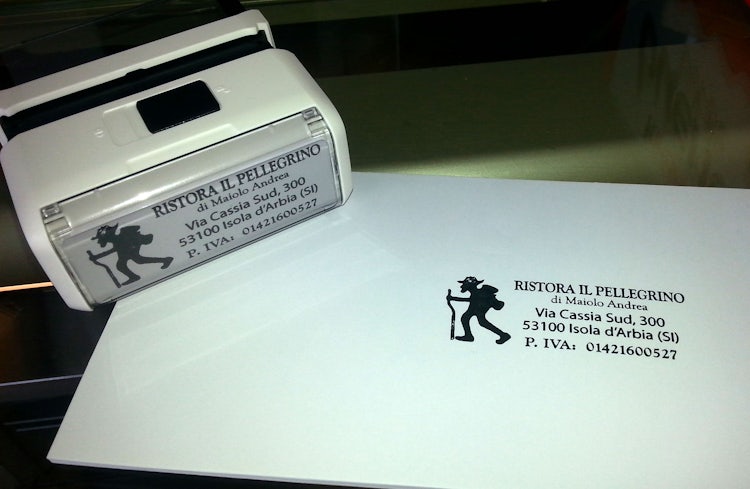 There there are two other bars. We stopped at Ristora il Pellegrino (via Cassia Sud, 300). Nice to know they are open all the time and you can get your credentials stamped here. Plus there is a bathroom and a shady area to sit a spell. The trail picks up again right here at the corner. Proceed into a residential area (just keep following the stickers) and before you head back into the countryside there will be a second bar you can stop at.
Finding the Perfect Picture Spot
The next part of the trail was by far my favorite. You can still get great views of the Siena skyline and the hills (in spring) were absolutely awesome. As we kept walking, there were two points of reference that captured our attention...a lone pine tree and cross (off the beaten track but only by a few 100 meters) and the visual of Grancia del Cuna, even if it is almost completely covered by scaffolding for restoration.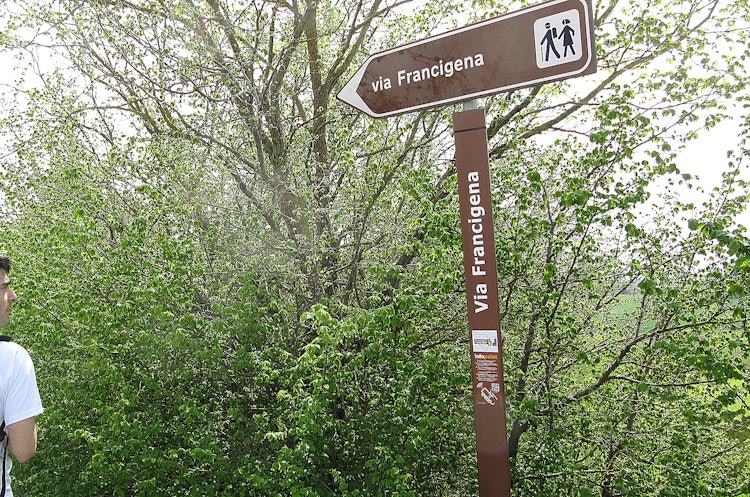 Important to know
A few pointers:
Water
There are two (free) water fountains: one is before Isola d'Arbia (and the semi-yucky industrial area) and the other is at Grancia di Cuna. (Not counting the bars, that are located in the middle of the two fountains.)
The Elements
No shade … be prepared with lots of water, a hat, sunglasses and sun tan lotion. In the summer, you might want to have some mosquito repellant. Best to start early in the morning to avoid too much sun in the summer. In the same consideration, if there is no shade you will find little protection against the rain - start out prepared.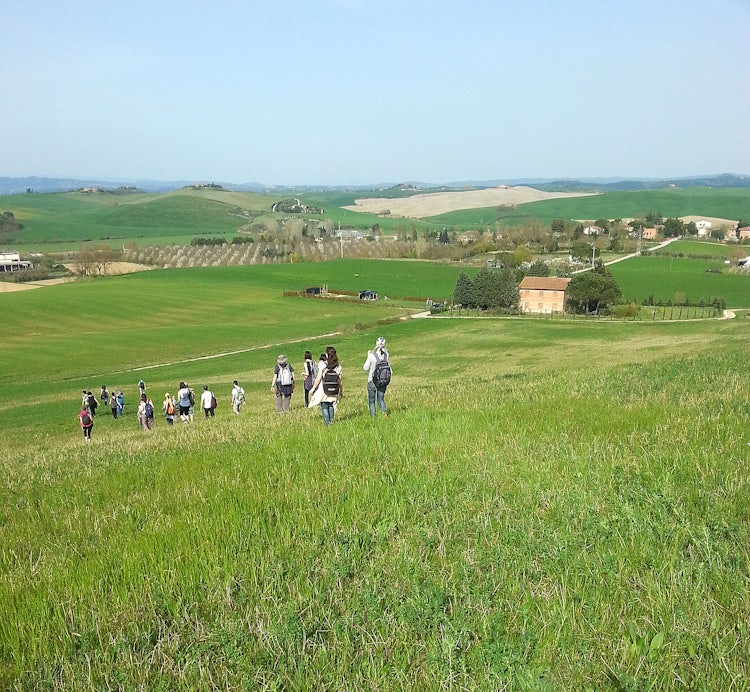 Lay of the Land
Easy terrain, no major climbing or hills (except for maybe one or two….but they are short lived and easily overcome!).
I would recommend it to anyone looking to get up close to the hills of Val d'Orcia! Awesome! Especially since there are several places where you can get a 360° panoramic view and enjoy the skyline of Siena.
I especially recommend this track for those who don't have a car and want to do a piece of the via Francigena. If you keep a steady (but casual) pace, a small break for lunch, photos and a drink of water - it will probably take you 5 - 5 and a half hours. Follow the sign back into Monteroni d'Arbia for the train station, stay on via di Collandino and you will find the station at the end.