Today, pilgrimage can be curiosity to see new places and experience new things
What sparked those Medieval pilgrims to set off to a far away land, thousands of kilometers from their families, their homes and from their parish churches - one of the most defining institutions in their lives at that time?
In some cases it truly was the "curiosity to see new places and experience new things", much like those that come to visit Tuscany today: to explore and discover it's artwork, it's landscape and it's culture. However, with the rise of Christianity, there were several more complex reasons, for example, the restrictive concept of medieval piety and the urge to worship (...or recuperate) religious relics.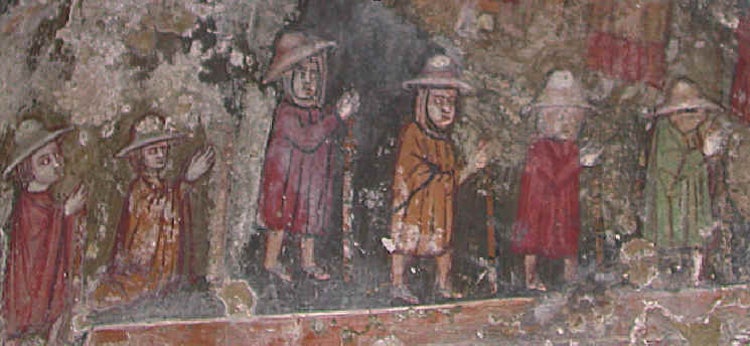 The life of a person in the medieval ages revolved around their "parish" church... and some found that this life and its rules and regulations were just too constrictive or embarrassing (sins were to be confessed publicly and not behind closed doors... and if you didn't then your neighbor would for you!) - thus sometimes the only thing to do was to push out to see new horizons (where your neighbor wouldn't rat you out), new ways to commune with God (that didn't force you to rely on the local religious figure) and in many cases the need to obtain plenary indulgence (a pardon from the Pope).
The peregrinationes maiores was quite in vogue: a visit to Jerusalem (the Holy Land), Rome (the tomb of St Peter and Paul) and Santiago de Compostela (the final resting place of St. Giacomo). The trek to Rome increased when in 1300, Boniface VIII declared the Holy Year and promised plenary indulgence to those who fulfilled the requirements.
Are we there yet?
Initiating in Canterbury and stretching through what is known today as England, France, Switzerland, and Italy, the Via Francigena was a fundamental part of the network that these travelers followed to spiritual discovery. It was comprised of over 1800 km of undefined "roads" for a pilgrim to travel by foot...or if lucky, by horse and/or carriage. And of those kilometers, 380 km are within the boundaries of modern-day Tuscany, starting from the north pass at Pontremoli down to the Rocca di Radicofani.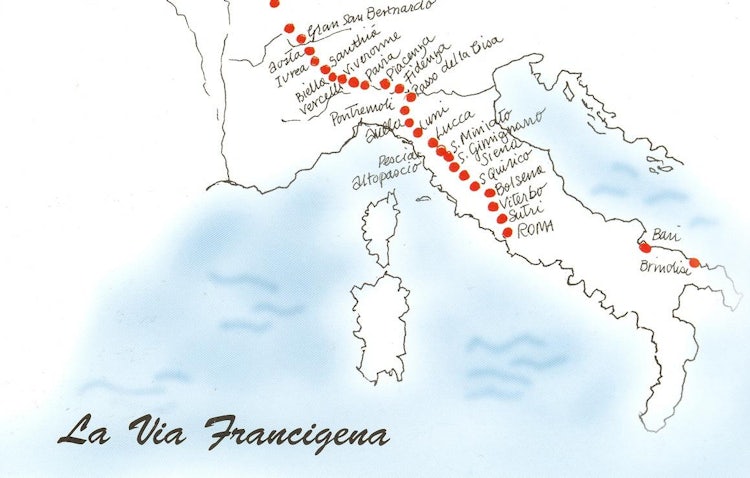 Active and used for trade long before religious purposes, the road was first referred to as the Iter Francorum (the "Frankish Route"). The word "Franks" described what is now known as present-day northern France, Belgium, and western Germany and, in this case, indicated the point of origin of the road (later the destination would become the identifying marker of the road - Rome). This particular road was only first mentioned with the actual name "via Francigena" in the Actum Clusio, a parchment of 876 found within the Abbey of San Salvatore at Monte Amiata, a name that links it to the Franks (those coming from France).
Connecting the Dots
An official roadmap never existed in the day, in fact, the reconstruction we have today relies on the diary of Sigeric the Serious, an Archbishop of Canterbury who made the journey around 990. What we commonly call a "road" was actually more like a spiderweb of connecting points that promised safe travel, a place to rest (spedale or hospital, offering hospitality) and something to eat.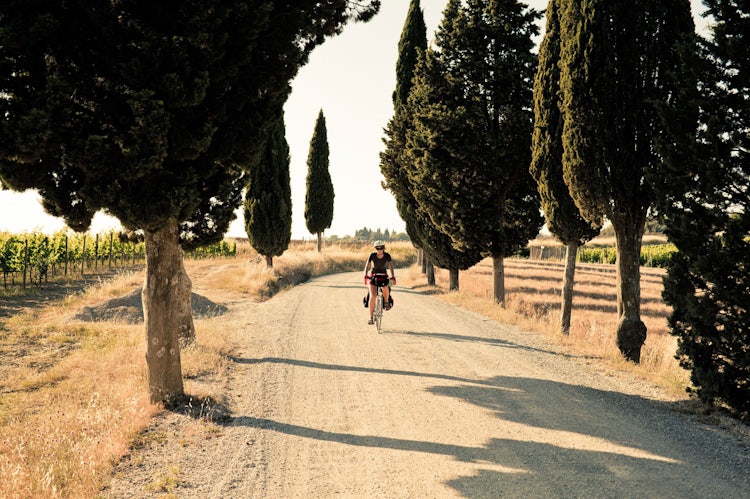 Towns throughout Tuscany made their fame on offering these three things, and the trails and paths would change constantly if word got out of a "better deal" somewhere else along the via. In addition, to take care of bodily comforts, the pilgrim would look for religious comfort as well, which explains why many times the road seems to swerve or curve towards parish churches and monasteries. Some of these cities still stand strong today even after hundreds of years of conflict, wars, and power struggles.
Slowly re-gaining importance, the via Francigena, was recognized in 1994 as a European Itinerary and in 2004 as a Major Cultural Itinerary. For those looking to "prove" their participation, there is a "Pilgrim Credential" (also known as Pilgrim Passport or Pilgrim Record) which is a certificate of bona fide pilgrim status. The idea is very similar to that which the first pilgrims used as proof of their pilgrim status, in addition to its religious importance.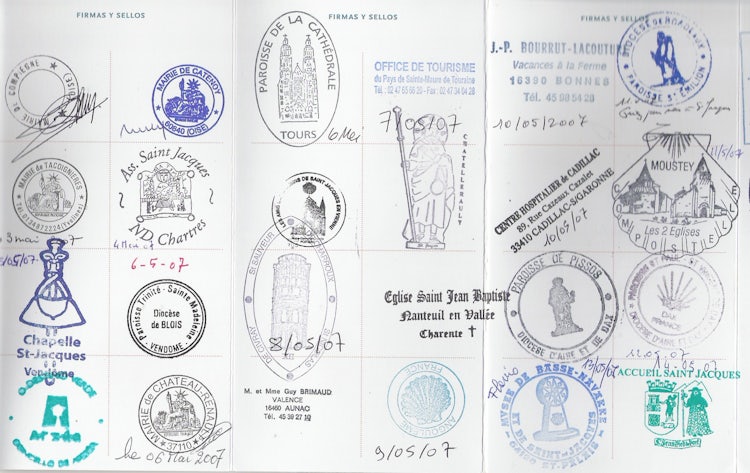 Following the Via Francigena Today
The "official" reconstruction of the via Francigena came about as a two-fold project: in correspondence to the Jubilee in 2016 and as a push to valorize "slow travel" where one concentrates on appreciating the natural and cultural surrounding of Tuscany. The path today that winds its way north to south in Tuscany spans 38 different local governments, who have all worked together to reestablish safe and well-maintained trails and paths for those exploring via foot, bike and horse. And though it may not be very "traditional", there are indications on how to travel parts of this pilgrimage via car.
It is comprised of 15 trail sections which are marked and outlined, averaging between 18-25 km a day. There are many "feeder" roads to these destinations that historically make up part of the via, so it is important to note that this is really just a rough outline of what the "original" might have looked like route. In reality, there never was really just "one" true road. It was decided that through the use of Sigeric's diary, these stops would become the official indicators. They have now been identified with signs and restored "sentieri" (footpaths) - sometimes just simple white dirt roads and sometimes following paved roads which now cover the old trails.
In Tuscany, the Via Francigena starts at the Cisa Pass in the northwestern tip of the region in an area called Lunigiana, makes its way down toward Lucca, then across to Siena before heading south toward Rome in 15 stages or what are called "legs".
1. Cisa Pass
2. Pontremoli
3. Aulla
4. Avenza
5. Pietrasanta
6. Lucca
7. Altopascio
8. San Miniato
9. Gambassi Terme
10. San Gimignano
11. Monteriggioni
12. Siena
13. Ponte d'Arbia
14. San Quirico
15. Radicofani
It then continues on to Acquapendente in Lazio.