2019 Dates for the Moto GP: May 31, June 1 and 2

The 3 days of the Italian Moto GP at the Mugello race circuit are a real event for the Mugello valley. The event is very well attended and many lodgings in the area are booked months in advance for those 3 days. So, if it is less than 6 months before the Moto GP and you still have no accommodation, it is likely you'll have to look at staying in Florence where you'll have more choices as well as availability for those specific days.
Coming to the Races?
Book Your Accommodation in Mugello Early
If you're looking for a place to stay in Mugello, search here
Race weekends fill up fast and hotels/B&Bs and agriturismo get sold out early!
Another option is to be based in Florence and get to the race track by train Search for lodging here
The following is a collection of questions and answers on the best way to get to the Mugello race circuit from Florence and other related questions, such as collecting tickets, camping at the circuit, moving around Mugello on that weekend.
Where exactly is the race track located?
The race track is right outside of Scarperia, a pretty small but charming town in the Mugello valley, about 32 km north of Florence. The entrance to the racetrack is less than 1.5km from the Scarperia, so less than a mile walking distance.
What is the best way to get to the Mugello race track?
The easiest and best way to get to the Mugello race track is by train + bus rather than by car, as the roads get quite congested. Special routes have now been designed for arrival to and departure from the race track along all of the major roads, such as the A1 and the Via Bolognese and Via Faentina from/toward Florence, to help control traffic on the main day of racing.
You get to the race circuit by taking either a bus (run by AMV bus into the Mugello) all the way from Florence to Scarperia or by taking the train to either San Piero a Sieve(3km from Scarperia) or Borgo San Lorenzo (5km from Scarperia). From both San Piero a Sieve and Borgo San Lorenzo train stations, you then take an AMV bus to Scarperia. Buses depart Florence from the bus depot right alongside the Santa Maria Novella train station.
Can I visit the track when they are doing trials?
YES!
If you go to the official website and check the tab "Events", you will find a calendar with the bike and car trials.
Entrance to the Paddock seating is 5€ and general access to the public is free.
You can check bus schedules from here: http://www.amvbus.it/index.php?SEZ=16
but these are the direct links to the .pdf schedules you need to consult:
Florence - S. Piero a Sieve - Scarperia: line 303 (most of the buses are from San Piero so I would recommend train from Florence to San Piero, then bus to Scarperia. This works great for Friday and Saturday of race day, NOT for Sunday as there are also no buses from San Piero to Scarperia).
Borgo San Lorenzo - S. Piero - Scarperia: line 304 (additional buses between the local towns to Scarperia, also for Friday and Saturday as there are no buses on Sundays).
You can check train schedules at: www.trenitalia.it.
The third day, Sunday, is the actual race day and Trenitalia generally offers additional trains to meet the demand for race-goers. You'll also find free shuttles from Borgo San Lorenzo and from San Piero a Sieve to Scarperia and back between 7am and 6pm. These are never enough, so be prepared to walk or pay for a private shuttle/taxi.
If you're arriving at the Florence airport and want to head to the Mugello race track, know that there are no direct connections. You need to first get to the Santa Maria Novella train station and from there you can take the train or bus to Borgo San Lorenzo or Scarperia as outlined above.
Trains to Borgo San Lorenzo take 40-70 minutes, depending on the route it takes but they run every hour.
Once you're at the circuit, there are free shuttles that operate between the various entrances running every 30 minutes.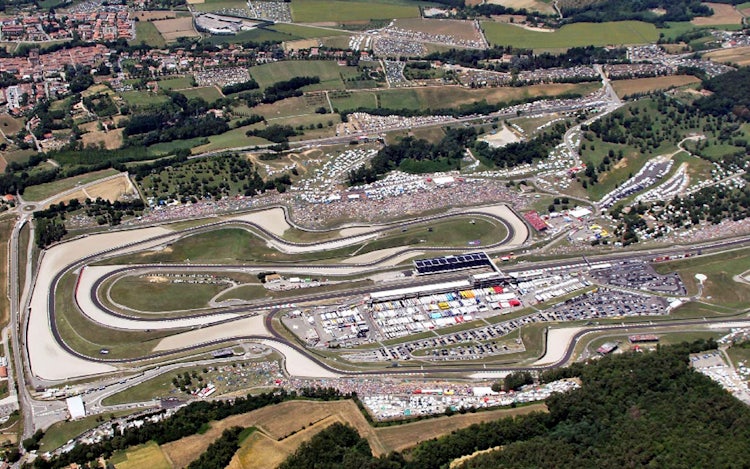 Can I walk to the circuit from Scarperia?
Yes, definitely! The race track is less than a mile from the town, and as many parking lots are around Scarperia, you'll be joining others walking to the circuit.
There are also shuttle buses going back and forth from the entrance to parking lots and other places in the city. The buses are generally free, but sometimes they can ask for a small donation (from 2 to 5 euro per person). If you're staying in the area, ask your host or hotel concierge if they offer shuttle services to the track.
Can I drive around the Circuit?
YES! Just not on the days when there is official racing.
You need to request a "driving lesson" on one of the days available on the calendar. Contact the agency Promo-Racing, a sister agency to the Mugello Circuit, with your request and the days - indicate your language preference and they will work to help you.
Can I drive to the circuit?
Of course you can! Just be prepared for a bit of traffic. Make sure to depart with ample time before the trials and race starts.
These are the major routes to follow:
- from the A1 either from Florence or Bologna: Exit at "Barberino di Mugello" and follow signs for "Autodromo Internazional del Mugello". On the main race day (Sunday), follow the signs along the entire route set up to get you to the race track (roads are completely closed and new routes designed to facilitate the flow of traffic). If you arrive from Bologna, you can actually exit the A1 one exit earlier at "Pian del Voglio" and drive through Bruscoli, Passo della Futa, Panna, Galliano to arrive in Scarperia.
- from Florence: take the 302 state road called "Faentina" passing by Olmo, Polcanto, Borgo San Lorenzo and Luco (where you can park)
- through the Apennines (Imola, Faenza, Forlì): From Imola, you just do the Giogo pass and arrive in Scarperia. From Faenza, you will do the Passo della Colla and from Forlì the Passo del Muraglione - for both of these, follow indications to Borgo San Lorenzo, then head to Luco Mugello and Scarperia.
Parking: Most of the parking is free and is located in Luco and in Scarperia. There is one large paid parking area in Scaperia with a custodian if you wish to park there. Parking at the circuit is only for motorbikes and campers with paid passes, so don't head to the circuit for parking.

Can you camp inside the race circuit?
Yes, you can camp inside the Mugello race track. The circuit is surrounded by Tuscan countryside and has a lot of space for camping. The racetrack includes parking space for camper vans and space where you can pitch tents and barbecue areas. To camp, buy tickets for the "Prato" or "Meadow" (General Admission).
If you intend to camp, bring all that you need - tent, sleeping-bags, towels, etc. - as you won't find anything at the circuit.
As far as food goes, there are several food stands and pizzerias inside the circuit but can be expensive. Scarperia is within walking distance so it is a good place for meals as well as staples.
How do I collect tickets in San Piero a Sieve?
If you have booked/ordered tickets and still need to collect them before heading to the race track, San Piero a Sieve is just one train stop before Borgo San Lorenzo coming from Florence. You'll need to stop there first so make time for that.
The Media office is walking distance from the train station, so you can walk there, collect tickets and catch the next train to Borgo.
Now what?
If you need tickets or more detailed information on the program, check out the official website for the Mugello race track: http://www.mugellocircuit.it/
The weekend of the races is a great and fun time to visit Mugello! All you need to do is to have lots of patience with crowds and traffic and to enjoy yourself!