Only 25 Minutes Outside of Florence
Tuscany transforms its landscape once again as you pass the Firenze exits on the Autostrada and enter into the magical area of Mugello. Home of outlet shopping, the Mugello racing circuit, endless bike, walking and horseback trails and the crystal clear waters of the Lago di Bilancio.
The circular itinerary doesn't take you too far from your accommodations in Florence and gives you the perfect opportunity to explore the fresh, crisp air of the Tuscan hills and mountains to the north before returning to your base in one of the other areas of Tuscany.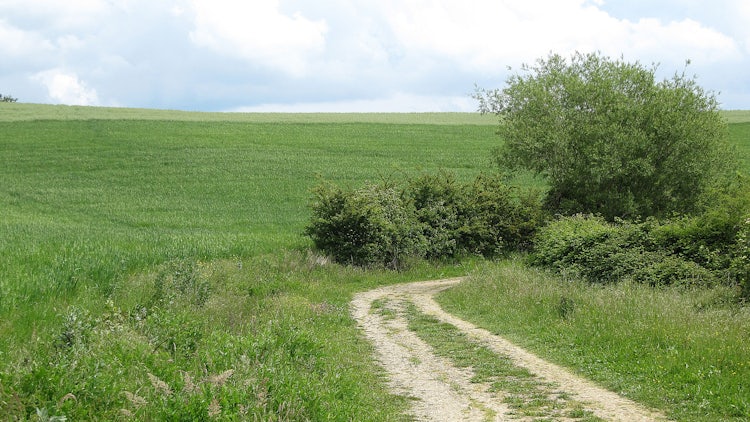 Start by heading north on the Autostrada del Sole and take the Barberino exit. From here you will work your way south using the easy to navigate secondary roads. They twist and turn ever so gently through a landscape comprised of dark green forest, waving fields of grain & orzo and sunflowers.
Just a Little Detour on the Way
Though I wouldn't consider them an integral part of this itinerary, it would be remiss of me to speed right by two of the more iconic (non-natural) establishments in Mugello. First is the Barberino Designer Outlet, located immediately after you pay the toll from the Autostrada with a long list of top name brands and stores: Prada, Dolce & Gabbana, Cavalli, Patrizia Pepe, Michael Kors, Pinko, Furla. Next stop, less than 20 km from the exit heading east on the SS 65, would be the thrill of speed featuring races with the Ferrari and Valentino Rossi (n. 46) at the Mugello Racing Circuit.
The itinerary ideas below however, highlight one of the bluer assets of Mugello and you will notice it long before you get to the racing circuit. Lake Bilancino is a set among a refreshingly green landscape, which is home to a wealth of outdoor opportunities for those passionate about nature.
Recreating a Landscape
The lake that you see today was formed actually only 25 years ago, where once (just over 10 million), many years ago, a lake used to stand. The presence of this prehistoric lake is one of the reasons why the Mugello area has particularly fertile land and is perfect for growing grain, chestnut trees, mushrooms, truffles, grazing cows and sunflowers...lots of sunflowers.
What you see now is a man made basin of water which came about with the building of a dam in an attempt to regulate flood waters and protect Florence from events like that of Nov. 1966. The lake is fed by the river Sieve and it's size today is just a fraction of it's ancestor. Today, it holds approximately 69 million cubic metres of water, 31 metres deep, in its deepest point, and covering an area of 5 square kilometres (as opposed to over 300 square kilometres oh so many years ago).
Not only does it serve as a regulator for flood levels, but also as a point of relax, where you will find parks, water sports and beaches along the coast.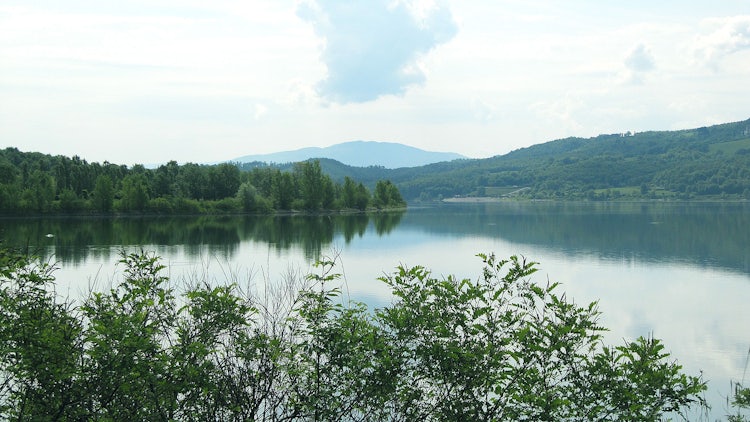 Dipping Your Toes In
I parked my car at La Bottega di Bilancino (Via Del Lago - 50031 Barberino Di Mugello) where it is possible to have a bathroom stop and a yummy second breakfast - which can be sweet or savoury, since they have a corner with local specialties. After filling my stomach, I set out to stretch my legs a bit with a walk. If you have bikes with you, it is possible to hit the short trails in the area. In warmer weather, there are areas dedicated to dipping your toes in the water, so bring a towel just in case. This park area is great for young kids since there are no hills whatsoever and biking is a breeze !!
You can leave your car parked in front of the little bar and walk down to the lake's edge. There are several well marked trails which keep you close to the water, lovely views and lots of sun. (Be sure to have a hat and sun lotion on hand!)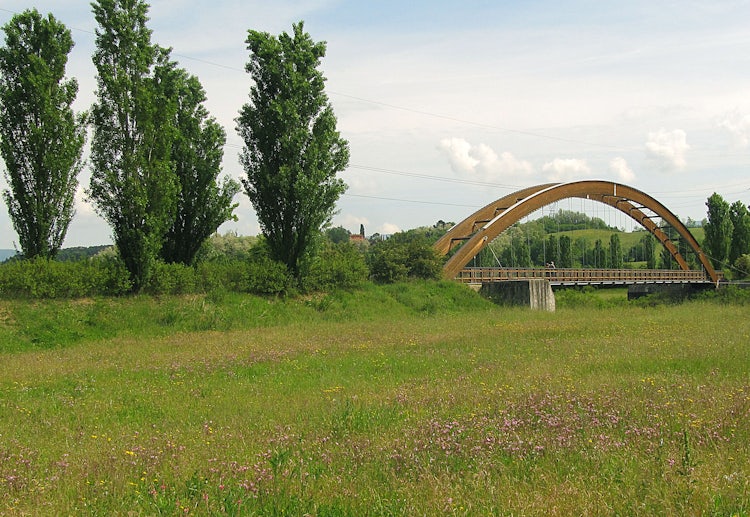 WWF Oasis Caters to all Ages
Even if it is not always open (check the schedule), this small oasis of approximately 25 hectares just north of Florence is a pleasant surprise. Though active all year long with incoming birds, I was told that the spring & fall months the Oasis of Gabbianello is prefect for bird watching. You can bring the binoculars, hide out in one of the 5 viewing huts and search out white storks, cranes, wild geese, black winged stilt, bittern, and even the rare osprey. You can count on some unexpected discoveries, like maybe a passing flamingo or two. (They have binoculars for you to use for a small donation of 1€)
Oasi di Gabbianello
Where: Via di Galliano, 1, Barberino di Mugello
Cellulare dell'Oasi: 333 9537114 (only at the week ends)
Schedule:
May/June on Saturday from 8 am to 5 pm and Sunday from 11:30 am to 7 pm
July & August Closed
September Sunday from 11:30 am to 7 pm
The Oasis was created for the preservation of a humid habitats and it consists of a small pond harboring fauna, frogs, butterflies and even dragonflies (libelle). This area is along the traditional migration route from Africa to the north pole. Together with the marshlands at Fucecchio, Massaciuccoli, Parco Uccellina and Talamone, they attract activity all year round. At the Oasi di Gabbianello you will find a variety of incoming birds birds along with its permanent residences a pair of elegant wild swans...who guard the pond with a vigilant eye.
Not only does the oasis attract many types of birds that use this area as a resting place, but it also gives the weary traveller use of a well maintained picnic area with a wide grassy field for the kids. There is a small entrance fee for the park, but the picnic area is free.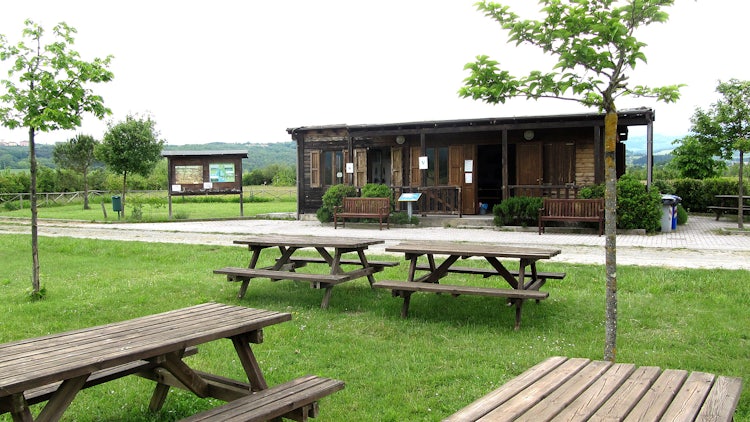 More Water Fun
For those hot months, you can head over towards Bahia Cafe (Via Gastone Nencini, 50031), which seems to have cornered the market on the beach/bar scene on the lake. There is lots of free parking, and a free pebbly beach with changing rooms, bathrooms, a bar area featuring live music on occasion, umbrellas and sun loungers (the last two are for a small fee). You will find other beaches along the lake, just not all are organized as Bahia, so you have to do a bit of searching your own.
The alternative to listening to live music and drinking a cool beer on the beach is to take a spin around the lake with the Mugello Nautical Club. They rent canoes and sailboats for the more experienced skipper and if you are not yet capable - upon request - they can organize to take you out for a ride in a Trident. See their offical website or write an email for more information.
Windsurfing used to be a regular activity, but according to the locals there are not many offers on the lake unless you bring your own. However you can contact, T-rafting for SUP (Stand UP Paddle Boarding) - a challenging sporting activity for enjoying the water.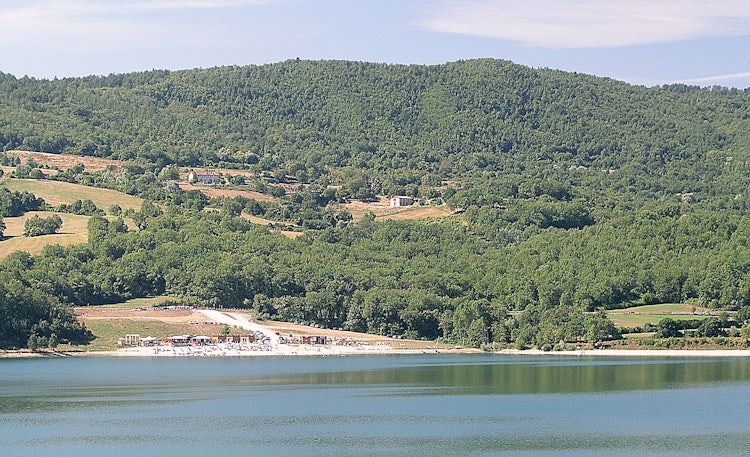 What Else
If you prefer to look at the water, instead of immersing yourself there are still many opportunities to be close to the lake, especially if you are want to stay outdoors.
Among the many biking options, I suggest you start with one of the three sentieri (trails) which have been identified by A.N.P.I.L. Gabbianello-Boscotondo together with the WWF Oasis, all are suitable for bikes or walking. Each is identified by a color (Green, Yellow and Red) and vary from 11 - 23 km with shortcut options.
They cover the territory to the east of the lake and the Oasis, incorporating scenery, history and natural phenomenons like the monumental oak tree, the third most important in all of Tuscany. The green trail (11 km) could be done by foot. You can pick-up a map with these trails at the Oasis, or write them via email for more information. For other bike trails in this area, look at this link.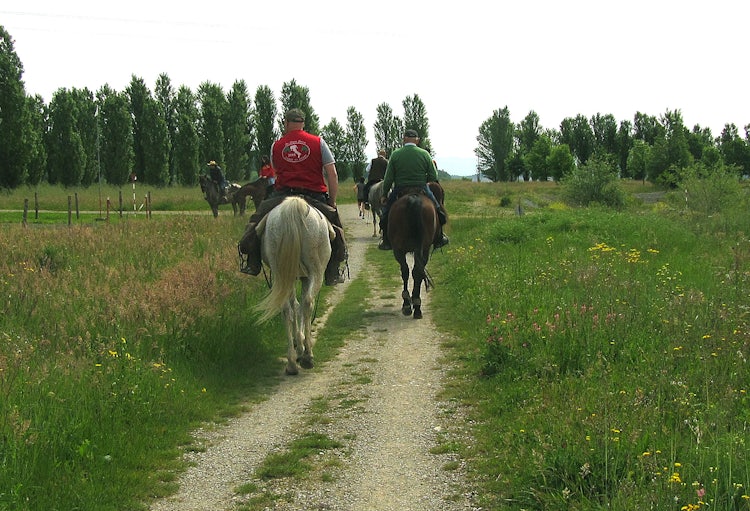 For those who enjoy the view from above (meaning on a horse!), there are several trails that are specifically mapped out for equestrian lovers, some will ring around the lake and others mix the surronding hills in Mugello with the sparkling blue of Lake Bilancino. This link lists the different equestrain organizations throughout Mugello.
Another intiguing idea, if you are a history buff, is a visit to Passo Futa (about 15 km from the lake), where you will find a somber war cemetery near the German defence called the 'Gothic Line'. With more than 30,600 graves from all over Italy, this is the largest German war cemetery on the peninsula. The architecture is a sober mix of gray stone, submersed tombstones and a modern chapel for meditation and prayer.
Always looking for a local culinary treat? I stopped in at the Ristorante Passo della Futa (Via Traversa Futa, 1484), a typical Mugello restaurant since 1890 which highlights the specialties from the area: especially porcini mushrooms and tortelli filled with potatoes. Located just below the war cemetary, I enjoyed a delish meal of taglietelle with mushroom sauce and a delicious thick steak. However you will find several restaurants in this area, even closer to the lake!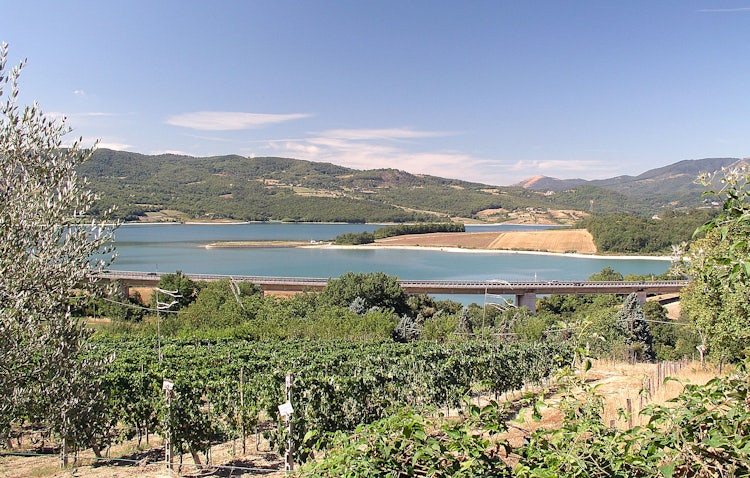 Heading Home
If you follow SS 65 south, it will take you about 45 minutes to come to the city limits of Florence. Along the way, if you have a little bit of extra time you will pass right by Villa Medicea di Cafaggio, one of the oldest and most favoured of the Medici family estates and it is on the list of World Heritage sites UNESCO (at the moment completly undercover for restoration). Another great stop just 20 minutes from Florence city center along the SS65 road is the newly re-stored Colossus of the Apennines by Giambologna at Villa Demidoff, and yes this is another Medici villa.