The Italians call them the "polmone vedere della città" - the green lungs of the city. A place to soak up the Tuscan sun, fresh air and a relaxing way to shake off the stress of the day.
Prato has several areas that are ideal for organizing a Sunday picnic or a day out, spending some time with Mother Nature. Theme parks, open air museums, well maintained gardens: there really is something for everyone.
Here are 6 places in Prato and the province of Prato that could be perfect for a day programmed for rest, relax, a picnic and lot of sun. Don't underestimate the power of a day in the green parks of Prato and add one to your itinerary today!
1 - Parco e Centro di Scienze Naturali di Galceti
If you are an animal lover and you love to explore then don't miss out on the Galceti Park and Center for Natural Science. A place of research, studies and activities for defending the environment. There is both a natural science museum and an environmental park where the animals roam about freely. On the website, under the section EVENTS, you will find a list of the many activities they have during the year including evenings observing the stars at the planetarium or nocturnal hikes
Opening Hours:
Wednesday to Saturday, 3 Euro
9,30/12,30 - 2pm/6pm (from November to March)
9,30/12,30 - 3pm/7pm (from April to October)
Sundays and holidays, entrance fee 5Euro
9.30/13 - 2pm/6pm (from November to March)
9.30/7pm (from April to October)
For more information you can contact them directly: Centro di Scienze Naturali di Galceti.
Parco e Centro di Scienze Naturali di Galceti
via di Galceti, 74 - 59100 Prato
Tel. 0574 - 460503
Email: info@csn.prato.it
2 - Villa Medicea di Poggio a Caiano and Park
One of the more famous Medici villas can be found at Poggio a Caiano, in province of Prato. The villa, commissioned by Lorenzo il Magnifico, houses two important museums:
-the history rooms of the villa ,
-still life museum.
The architectural beauty of this villa is surrounded by a marvelous garden that dates back to the 1800's. On the right handside of the park you can admire a classic Italian styled garden with a lake and lemon trees.
Opening hours for the park and gardens (the entrance is free):
Entrance is permitted up until one hour before closing time
8:15am – 4:30pm Jan, Feb, Nov, Dec
8:15am – 5:30pm in March
8:15am – 6:30pm in Aprile, May and Sept
8:15am – 7:30pm in June, July and August
8:15am – 6:30pm in October
Contacts
Giardino della Villa Medicea di Poggio a Caiano
Via Sottombrone, Prato, Italia
59016 Poggio a Caiano (Prato)
Tel. 055 877012 [reservations are required for the Still Life Musem]
In the same areas as Poggio a Caiano you can also visit the gardens at Bargo Mediceo di Bonistallo in Via Regina Margherita.
3 - Park & Museum Quinto Martini
If you are passionate about art, then you must absolutely visit the Park and Museum Quinto Martini opened in 1988 in Seano [the birthplace of the artist Quinto Martini]. As one walks through nature with the magnificent and suggestive hills of Carmignano, the sound of the stream that trickles by, the bronze sculptures will definitely charm you and leave you with unforgettable memories. Here you can learn more about the artists and observe nature. They say art does the soul good, so take advantage of the unique setting.
Contacts
Parco Museo Quinto Martini
Via Pistoiese - 59011 Seano (Po)
Tel. 055 8750250-231
The museum is always open
4 - Boscotondo Adventure Park
If you are more the adventurous type, you can't miss an experience which you can share with family and friends of all ages at Boscotondo Adventure Park! With only 15 Euros you can enjoy a full day of fun, with it trails and activities. Located 900 meters above sea level in the protected area of the regional park Alta val di Carigiola e Monte delle Scalette, you will find paths, waterfalls, archery and even rides on a donkey.
Opening Hours
from 11am-10pm Open on weekends and holidays from 10am-6pm
Contatti
Parco Avventura Boscotondo
Strada Provinciale 2
Cantagallo [PO]
Tel. 339-6664409
5 - Parco delle Cascine di Tavola
Another beautiful park which you can explore either on foot or by bike is the Cascine di Tavola Park. Located betwee Poggio a Caiano and the city of Prato, it protects one of the more important farms in the area [created by Lorenzo il Magnifico to represent an "ideal" farm]. To arrive into this green area, you need to enter on via Traversa del Crocifisso or via della Fattoria a Tavola. Be careful not to enter into the PRIVATE property of the park, there are signs: so look out for them.
Opening hours [Closed on Mondays, unless its a holiday]
Jan, Feb, Nov Dec from 8 am to 5pm
March, April, Marzo, Sept from 8 am to 6:30pm
May from 8 am to 7:30pm
June, July, August from 7:30 am to 9pm

Oct from 8 am to 6pm
Nov from 8 am to 5pm
6 - Protected Park Areas of Monteferrato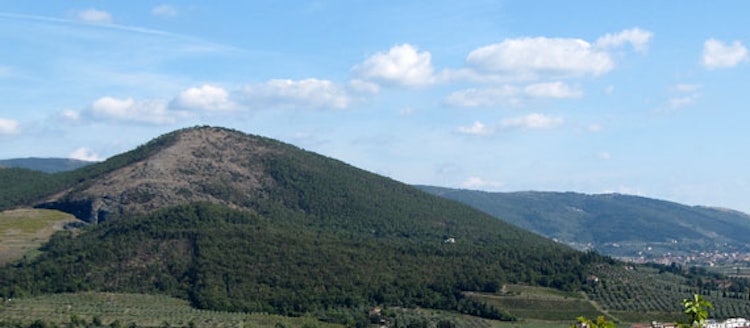 Nestled in the hillsides in the commune of Montemurlo, Prato e Vaiano. This area gets its name from the the hills of Monteferrato which compresses three important mountains:
-Piccioli
-Mezzano
-Chiesino.
A place for those who love nature, love hikes and explore the outdoors. There are 3 visitor centers from where you enter into the park:
-Schignano in via Cintelli 7 - Vaiano tel. 3288754929
-Centro di Scienze Naturali in via di Galceti 74 - Prato tel. 0574 460503
-Centro di educazione Ambientale e Centro Visite di Bagnolo in via Bagnolo di Sopra 24 - Montemurlo tel. 0574 651673
Contact
info@monteferrato.it
Enjoy the great outdoors just on the outskirts of Florence and discover a new world!