Class, Comfort and Tuscany
At the small boutique Hotel Le Fontanelle, perched on the panoramic hills of Chianti Classico, I met with Phoebe Farolfi, the general manager. In a room that resembled more my idea of a cosy living room than a hotel common area, I could feel the magic of Le Fontanelle start to take effect. As we sat chatting in a luminous corner, with the Tuscan landscape at our backs, I sensed the discrete presence of a well educated staff member waiting to take our request for refreshment: quiet, calm, and absolutely no stress.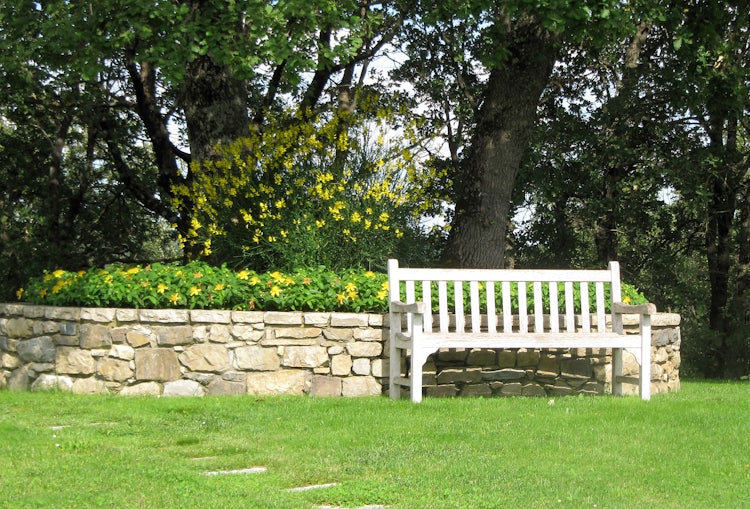 A lovely arranged tray arrived, and I admired the personalized Ginori cup and saucer: a delicate white china with the hotel's signature burgundy colored accents on the edges. It was a small detail, but then Hotel le Fontanelle is "excellence" made up of many small details.
Reserve Direct with Hotel Fontanelle
A Cosy Yet Romantic Decor
A Review of Hotel Fontanelle
We loved: the attention to detail and the familiar yet elegant decor
Ideal for: couples for luxurious & relaxing holiday experience
Phoebe explained that the owner was determined to create something different, she wasn't looking to repeat what others had done before. She wanted a personal variation on the standard phrase that everyone uses: "home away from home". She wanted a decor which spoke of a place to "call" home, especially after a day of being out and about, travelling, touring, and tasting. She wanted to provide her guests with a personalized blend of fine linens, polished floors and elegant spaces (made to be lived and not just tolerated ).
There is an intricate balance between comfort and elegance, between a hotel and a 2nd home and the owner, who personally dedicated her artistic talents together with that of her capable staff, has created an atmosphere of curiosity and delight, finding lots of small ways to infuse genuine hospitality into each room. Weaving the warmth of the culture, its traditions, colors and perfumes in an environment which has not just been restored but, preserved to frame the inner and outer beauty of Tuscany.
"The decor is pure Tuscany," Phoebe points towards the huge picture windows, "The beauty of the exterior should enter into the rooms uninhibited and become part of the interior, that's why there are big picture windows and no curtains."
There are 34 rooms each with its own peculiar floor plan and expression of Tuscany comfort and holidays. Furnished with the same quality of comfort they include fluffy robes, a selection of perfumed soaps and creams, air conditioning, WiFi, personalized sheets and a select collection of snacks and drinks.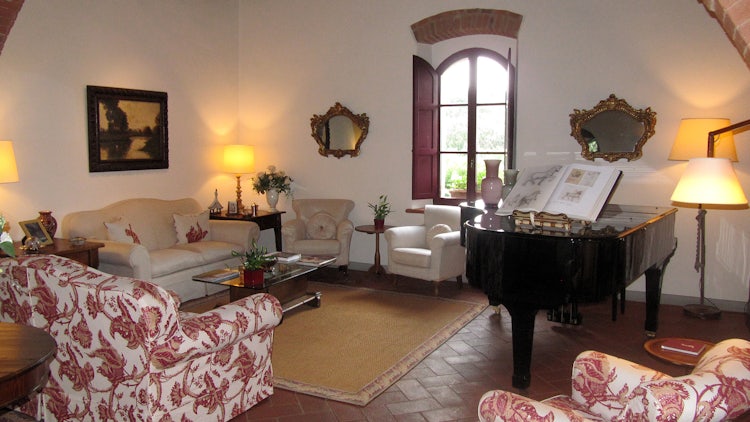 A Great Vacation Includes a Dedicated Staff
Phoebe didn't use a lot of words to describe her team of professionals; she told me very simply, they are "bravi" … translated: they are good at what they do.
There are 42 members who care for the vast grounds, kitchen, rooms, common area, pool and spa services... in the 34 room hotel... that is almost a 1 to 1 ratio. And they are there to help you make the most of your time in Tuscany. That might include organizing your wedding in their gardens, obtaining tickets for museums or joining a tour of the local vineyards.
However, Phoebe, with her extensive international background, also knows it is made up of great services, of which the hotel is loaded. Perhaps one of my favorites was the daily shuttle bus to Siena. Enjoy breakfast on site and catch the 10am bus to town.
Then they will be there at 4pm to pick you up so you will be home in time to use the indoor pool, the sauna or jacuzzi... and if you are so inclined, have a work out session at the gym before heading up to dinner. As I parked my car in the covered garage, I noticed that there were quality mountain bikes available... and the road to the hotel is a clear invitation to explore.
An "Honest" Menu
Hotel Fontanelle at a Glance:
Type: double and triple bedrooms
Location: Castelnuovo Berardenga (25 min)
Distance: Gaiole in Chianti (15 min) or Siena (30 minutes)
Transport: a car is necessary
Rooms: 34 hotel rooms
Sleeps: 75
Type of board: Breakfast & on-site restaurant
She spoke of the restaurant's decision to have an "honest" menu. It was an interesting concept which became clearer as Phoebe explain how the chef offers classic dishes where the true piquancy are exalted, not covered by creams and sauces, therefore giving you the "honest" or real flavor. Fresh vegetables, fruits and savory meats make up the foundation of a healthy and diverse selection of dishes from around the region.
The restaurant "La Colonna", named after the column in the middle of the dining area, has a spectacular view displayed through the large unadorned picture windows. The setting outside on the Belvedere Terrace is just as inviting, dining under the summer stars or catching the last colors of the setting sun with an appetizer of Sicilian Red King Prawns or the fresh flavors of a Zucchini Flan.
The maître d'hôtel, sommelier and wait-staff glide between the tables, silent and attentive. Nothing will create a distract between you, the scenery and your meal.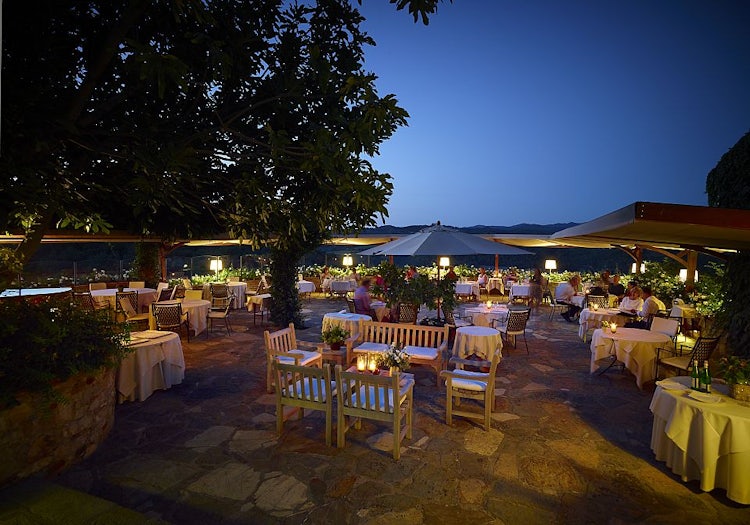 Another member of the staff took me around the grounds, pointing out the many garden areas where guests can search out privacy and tranquility while admiring the stunning landscapes. Up by the pool, only a few steps away is a covered gazebo called the "Light Lunch Area" where guests can enjoy a light lunch without having to "dress" for the occasion.
A Wine & Dine Vacation
I love the idea but then who wouldn't? Wine & Dine was Phoebe's way of explaining how their guests best use the hotel. Encompassing the best of any vacation, a leisurely calm, an indulgent exploration of the many Tuscan wonders nearby in any direction. A vacation with no timetables, or fixed itinerary. A vacation with a bit of romance including candle lit dinners, strolls through the Tuscany landscape and discovering your new favorite vineyard, artists or cappuccino.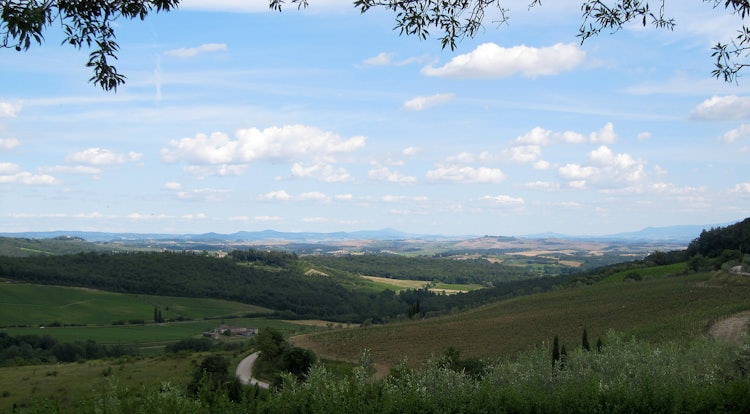 The position of the hotel, a fully gated property set on a prominent hillside presiding over the stunning vistas of southern Tuscany, lends itself to getting around to each one of the picturesque corners of the region. In an hour and a half you can be in Florence to the north or tasting the wines at Montalcino to the south. Head west where you can stroll the streets of San Gimignano or explore Arezzo, Cortona and Perugia to the east. The beauty of it all is: you can still be home in time for a drink by the pool and dinner on the terrace.
"I remember one guests as she prepared to leave turned to me and gave me a huge hug. As she pulled away and tears were forming in her eyes, she told me she didn't want to leave, that she felt like she was in a piece of heaven here."
In 2017, a bit of a surprise: their own Chianti Classico label wine. With over 80 hectares of vineyards, this 5 star property has been cultivating the land and is offering their guests another delicious bottle on their already fabulous wine list.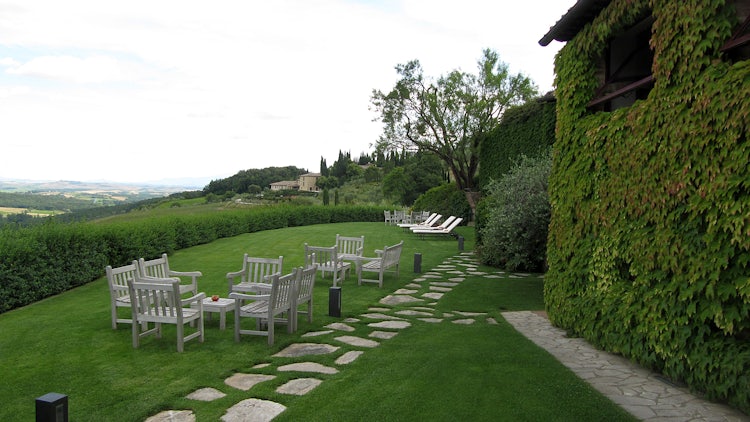 Phoebe and her staff are dedicated to creating an ambiance that coaxes you into relax, creating spaces for tranquility, time to dedicate to yourself and appreciate the uniqueness of the territory while you are on vacation. The quality accommodations, extra services, on site restaurant and the beauty of Tuscany at Hotel Le Fontanelle are a winning combination for your next holiday.
This is a Sponsored Article but reflects the honest opinion and experience of the author. More details »