Siena makes a perfect destination for a visit during the holiday season. The historical center is small enough even for a one-day visit and big enough to offer many events and nice shops for Christmas delights. The narrow medieval streets are already set up with all the lights and decorations ready to welcome citizens and visitors with the magical atmosphere of a Christmas in Siena!
The city administration of Siena every year promotes a series of events during the holiday season from the middle of November until the end of January. Art, gastronomy, and traditions are all protagonists of a rich calendar of events for both adults and kids alike. From the lights along the streets to video mapping in the Christmas Village, markets, concerts and special exhibitions... but, alas, we are not sure whether the majority of these things will be missing this Christmas 2021.
UPDATE 11/2021:
I have to be honest and tell you it is really difficult to find information on what is going on this Christmas 2021 season in Siena. The Mercato nel Campo HAS BEEN CONFIRMED for December 4 and 5, but I can't find the usual program the Comune would put out on when the lights would be turned on, whether there will be a Christmas village (in Florence, a Christmas village is being planned for 2021 around the Fortezza). If things are like in Florence, the city has put lights out and the main city tree will be lit on December 8th but it is likely these things are not being highlighted as there is still a lot of wariness about large amounts of people gathering together, even outdoors. So wear a mask and plan to stroll in downtown Siena if you're lucky enough to be here this holiday season, ask at your hotel or with your host what is going on and just go with the flow. It is still difficult to plan ahead so the main thing we can do is to remain flexible. Enjoy!
A show of lights!
The first thing not to miss is the lighting of the Christmas lights sponsored by shops and hotels from the 1st of December through January 6 - enjoy the streets of Siena lit up with magical colors!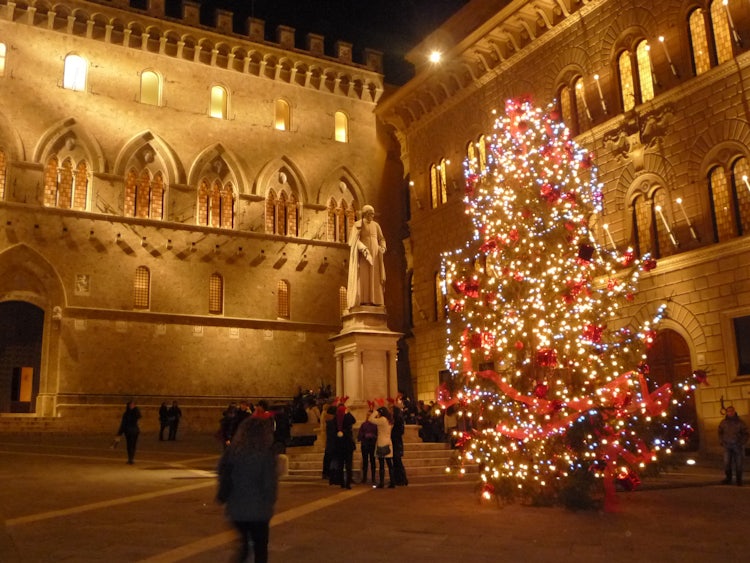 The Monte dei Paschi bank also takes part as it lights up the Christmas tree in Piazza Salimbeni, right in front of central headquarters, from the beginning of December.
Mercato del Campo, the Medieval Christmas Market: December 4-5, 2021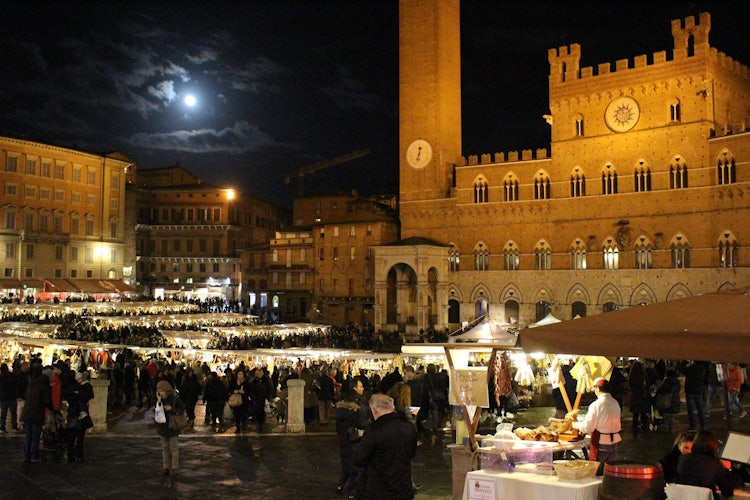 The Medieval Market in Piazza del Campo held at the beginning of December has become a tradition in Siena. The beautiful piazza is transformed into a medieval style marketplace with Christmas atmosphere and stands for all kind of products are available, perfect for holiday shopping for the two days of the market. Half of the square is dedicated to handicrafts and Christmas decorations and the other half for food and wine.
You can also taste delicacies of all types, from ham, salami, sausages and cheese to honey, sweets, and cakes. The market is open from 8am until 8 pm. I really recommend the visit after sunset because you can get the best of the atmosphere when the stands are illuminated. It will be a chance to sample many of the offerings, enjoy street-food, cooking demonstrations and join in creative activities for kids. Usually, the restaurants around the piazza participate in the event; for example, you can buy a sandwich with grilled sausage directly in a stand outside the restaurant for a delicious snack.
The 2020 edition was cancelled and for 2021, the number of stalls has been reduced to allow more space between the stalls. Access to the square and market will be regulated and people have to show their Green Pass to access; a mask will also be required. You can find more details on the market on the new website created for this year: https://www.mercatonelcampo.it/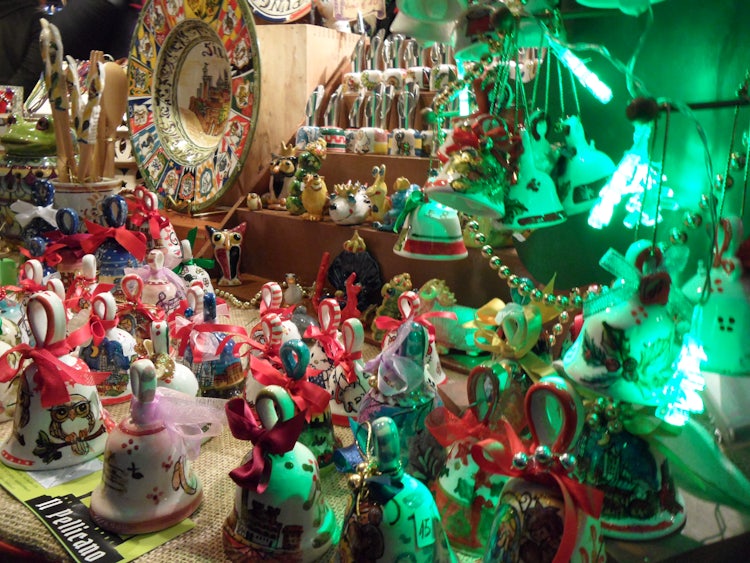 The Christmas Village and Land of Fun @ the Giardini La Lizza
Every year, the park next to the bus station and fortress is transformed into a Christmas village. For 2021, I cannot find any news about it so it would seem it is not planned for this Christmas.
Presepi, the Nativity Scenes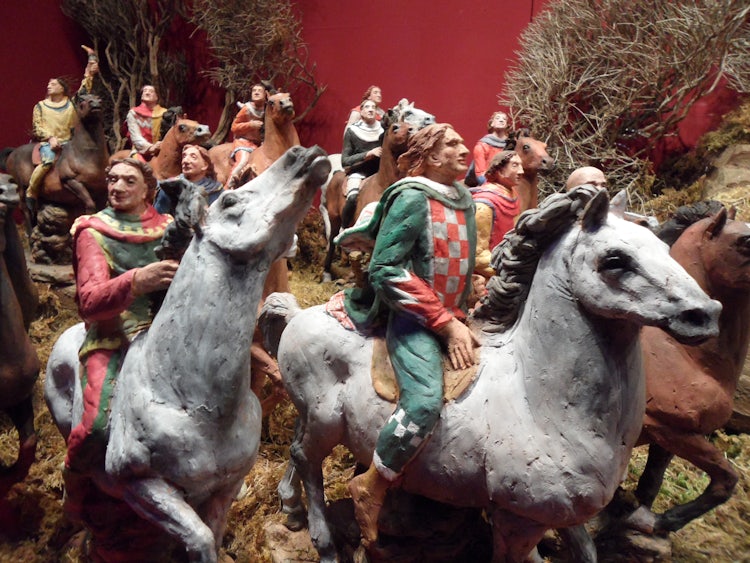 There are several Nativity scenes exhibited throughout the city during the Christmas period. It is possible that for 2021 some will be set up across the city in their usual locations but they are not being given any publicity this year if they will be set up.... or they might not be set up at all. Impossible to know yet (as of this update in November 2021).
Exhibitions

There are various temporary exhibitions organized during this period of the year, particularly within the large Santa Maria della Scala Museum complex. This year, there currently is only one dedicated to the photographs of Carlo Vigni called "The Dust Industry".
Events for children
My impression is that all workshops and guided visits planned for the Christmas season are again missing this year :-(. We can still hope that something will pop up on our radar and that I can come back and update this page with more information. If you don't see an update, it's just likely there wasn't any news to share, unfortunately.
Just make note that over the past year, with the either complete closure of some museums and stop to events, as they have restarted this fall 2021, most have been concentrated on the weekends. So if you're at all able to plan ahead, plan to be in town on a weekend and it's likely you will find more things happening (including markets and street fairs).
If you wish to visit the Siena with a guide, you can always check out the many guided tours and activities offered through Viator here (affiliate link).
How to arrive and move around Siena
If you wish to get to Siena without a car using public transportation, make sure to read our article on how to get to Siena without a car.
If you come to Siena with a car, then make sure to read our suggestions for parking in Siena.