Historic setting for a holiday vacation in Chianti
It is almost too easy to talk about Villa Le Torri near Montespertoli in Tuscany since it seems to have everything one associates with a Tuscan holiday.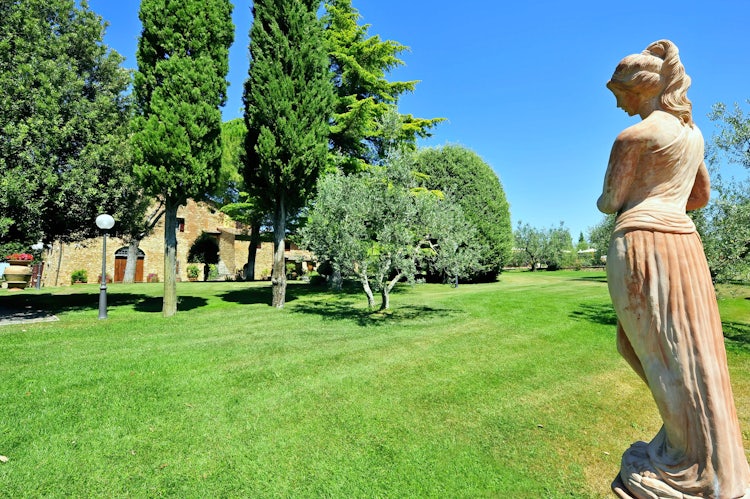 Perhaps what really stood out was the genuine grassroots operation. Mom and Dad, son and wife - they are all involved and they all bring a passion to the activity. This passion translates into fresh vegetables from the gardens, hand decorated terracotta furnishings, authentic Tuscan recipes at the welcome buffet, the search for Km 0 products (locally grown/produced) and when there is time in his schedule, Gabriele, the owner, will make some genuine homemade bread in their wood burning oven. These are all the little things that add to your comfort and pleasure while in Tuscany... or more to the point, your holiday stay at the Villa Le Torri apartment rentals.
Book Direct with Villa Le Torri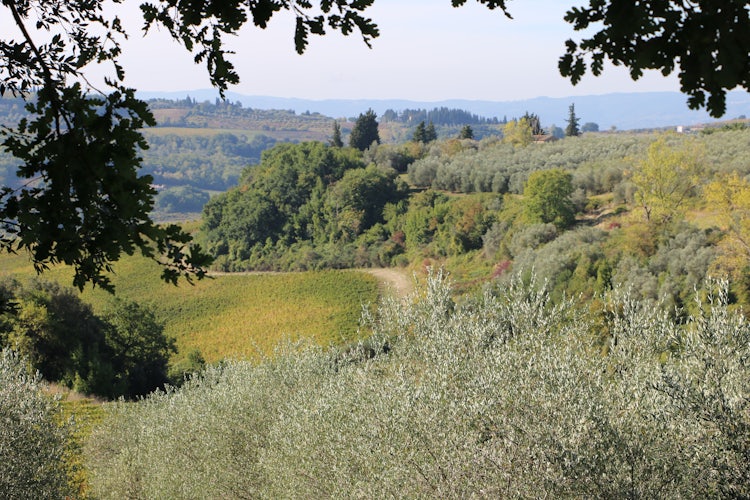 First Impression: a Warm & Green Welcome
The wide garden area which extends behind the Villa Le Torri was just the right touch to the impressive building which dates back to the 1300's. Populated with several shade trees, fruit trees and tastefully decorated with a selection of artistic terracotta statues and tables made by a local artisan, it presents itself as an alluring, open air "salotto." Even though the apartments are adorable, spacious and comfortable, with all of this flora, these irresistible views, and fresh clean air, I can't deny that the garden area was my first love. Simple and tempting.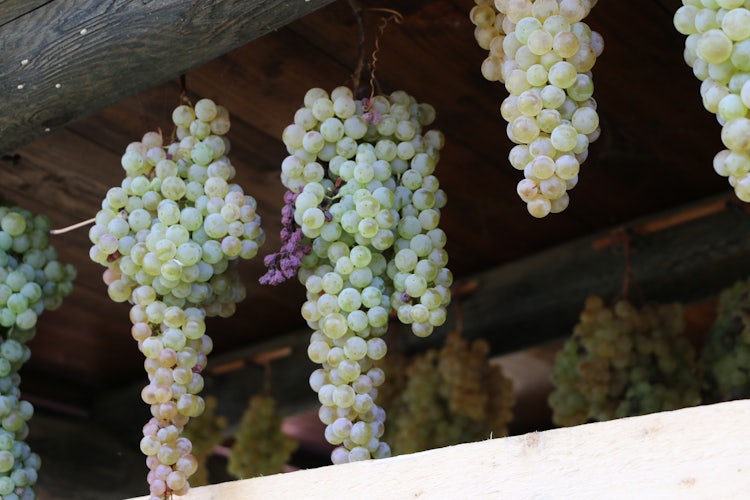 Gabriele's father was exceptionally happy to show me around, especially the newest addition to the farmhouse. The large sunny field behind the house, the one that invites you to stroll over and to explore, held several sweet secrets.
A Review of Villa Le Torri
We loved: the family energy, everyone plays a part in creating memorable moments, flavors and events in your vacation
Ideal for: from couples or singles traveling together, ideal for exploring the countryside of Tuscany
Fun Secrets to Discover
The first surprise was the spacious outdoor dining area with wrought iron tables and chairs strategically placed under a shade tree with an ingeniously rigged net underneath to catch the leaves in flight before they slip silently into an unsuspecting glass of wine. An area large enough for a family group or holiday friends relaxing and lazily enjoying the Tuscan sun and views.
The second surprise was what lies behind the small little forest of trees: fields of olive groves and vineyards. Word is that this little forest will be reduced to open up the visual to a gorgeous panorama perfect for the sunset hours. There is an area to sit and just meditate in the fresh, cool woodlands, inhale the intense flavor of the fertile "terra," rich with wild asparagus, mushrooms, and truffles.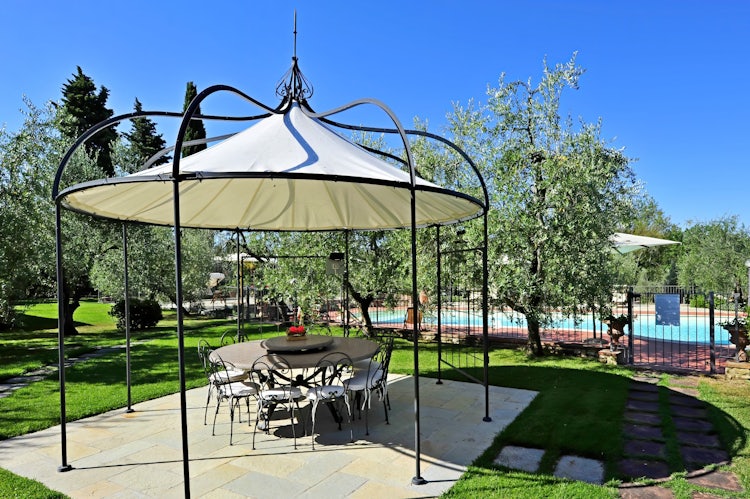 Tomatoes, Zucchini, and Pumpkins
My third surprise stretched from the forest to the pool area and particularly caught my interest. A supersized fresh veggie garden.
Just the basics - but lots of them, with almost 200 tomato plants, and an assorted mix of lettuce, cabbage, zucchini plants that seemed to stretch out over 10 meters wrapping themselves around the olive trees and more. As the Italians would say "ci vuole mangiare verdura fresca" (loosely translated, there was a ton of vegetables!).
From what I heard, they use every single bit in their enormous "Welcome Buffet" planned every Saturday from April to October, the day when guests arrive, tired from their travels and with nothing yet in the fridge.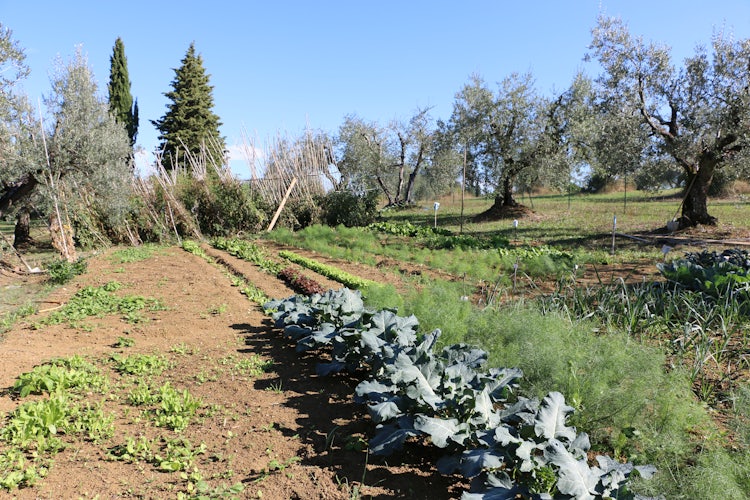 As we finished the tour of the "orto", I could see the aquamarine color of the pool, set-up with sun loungers, umbrellas, and little tables for a poolside meranda or lunch. The pool gets the sun from morning till evening, keeping the water warm and the guests in a continual sunning mode. There was a sweet little corner protected by shade trees and a privacy hedge with a hammock and more tables for a retreat from the warmth of the sun.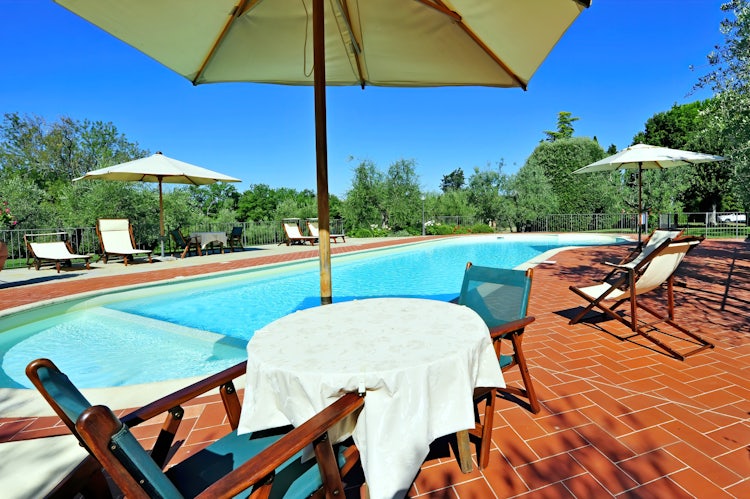 Under the Tuscan Sun in San Quirico
Gabriele and family gave considerable thought to the layout of the garden, making sure that it offered privacy, yet space for socializing. It promises ample possibilities for fine-tuning your tan while guaranteeing quiet little nooks for finishing off your latest novel or catching a nap in peace. And there is abundant space for the pitter-patter of the little ones as they chase the chickens or cavort about for the fun of it.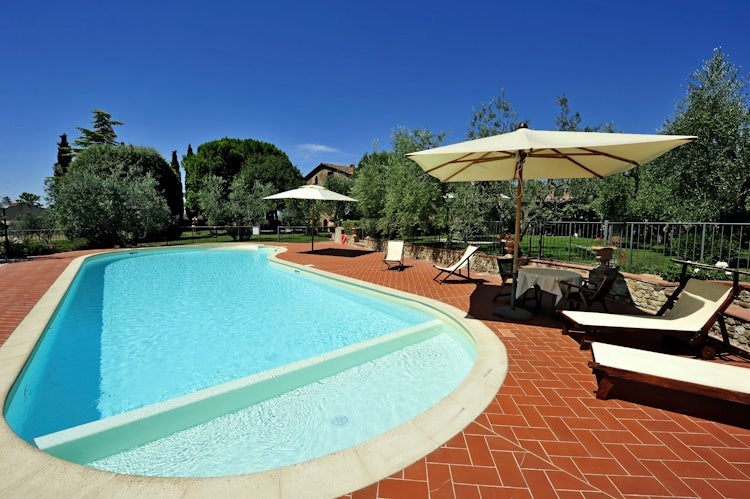 Villa Le Torri in a Glance:
Type: 9 self-catering holiday apartments
Location: Montespertoli - 6 km (9 minutes)
Distance: Florence (40 min) & Siena (50 min)
Transport: a car is highly suggested to get there, you can easily walk to San Quirico for supplies and to pizzeria
Sleeps: 14
Type of board: No meals provided but you can request cooking lessons where you do eat what you make!
It is evident that lots of thought went to what they can offer their guests so everyone can enjoy the unique and singular setting. Le Torri self-catering apartments are not just Gabriele and his family's home, and yours during your holiday in Tuscany, but it is a part of history. Gabriele loves to find ways for you to sense the role Le Torri played in the story of Tuscany. The towers, which once housed a prison for those in transport, have a much-researched past. Ask Gabriele and will retell the tale over and over again with the same intensity. "I never get tired of retelling this story," he tells me with a broad and a reassuring smile.
Plan on a Cooking Lesson at Le Torri
The warm and welcoming common room with a typical Tuscan "focolare" (large fireplace) and mini kitchen is where they hold group dinners and cooking lessons. It just feels like the old time kitchens. They bring in a professional chef and offer an afternoon of experimenting with the secrets of the Montalbino culinary specialties but again, they stick to the basics: gnocchi, spezzatino, seasonal veggies and, of course, dessert and all this, knowing that you only have to go two steps to your apartment after a fun evening of eating … with an abundant dose of wine. Next novità? You never know, it might include a cantina, solar panels or maybe a surprise dish at the weekly welcome buffet.
They Have a Recipe for Hospitality
"We prefer to offer a buffet at the beginning of our guests stay so that everyone can meet each other right away, maybe make friends and at the very least start their vacation relaxing with a delicious meal instead of cooking." Maria Pia, works all day preparing over 20 handmade dishes covering a wide range of Tuscan specialties. What seems to be an all time favorites? The Cipollata. The ingredients are basic … onions (and then more onions) but the recipe is a secret! And the runner ups include Minestra di Pane, Sausage with Beans and her family recipe for spezzatino made with quality meat from the local butcher.
Le Torri holiday vacation apartments offer a cozy place to call home while touring and discovering the wonders and beauty of this vast region. They excel in offering a special type of hospitality because they care enough to keep it uncomplicated and sincere: Tuscany, its landscape, its foods and its warmth are served up in their most natural and basic form.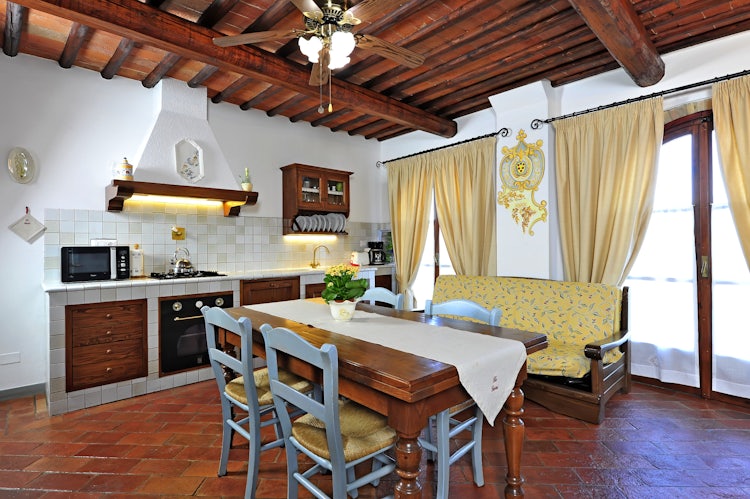 This is a Sponsored Article but reflects the honest opinion and experience of the author. More details »