Even if Tuscany is one of those regions that just keeps on surprising you, December mostly stands for Christmas here in Tuscany (as it does in many parts across the world)! Christmas, in turn, stands for events, delicious food, traditional festivals, colored lights, music and, obviously, presents. This means that all of Tuscany gets dressed in its Christmas clothes, giving life to Christmas markets, exhibitions and traditional manifestations that are typical of this period but, at the same time, bring with them a genuine touch of their local origins.
That said, I wish to point out that not all events in Tuscany are dedicated to celebrate Christmas: after all, it's about Tuscany we're speaking about, an extremely resourceful region! Art, culture and food continue to be present all over the territory, bringing a particular touch of tradition that contributes to make December special and, meanwhile, to extend the delicious tastes of Fall that Tuscany commonly celebrates with its most typical regional products, such as olive oil, wine, chestnuts and mushrooms.
In this article, I'm going to list the main events taking place in Tuscany throughout December - most of them will be dedicated to Christmas and the holidays we all eagerly await - but I'm also going to include a variety of other traditional festivals you might be interested in discovering if you're here during this month.
Sweet Christmas in Siena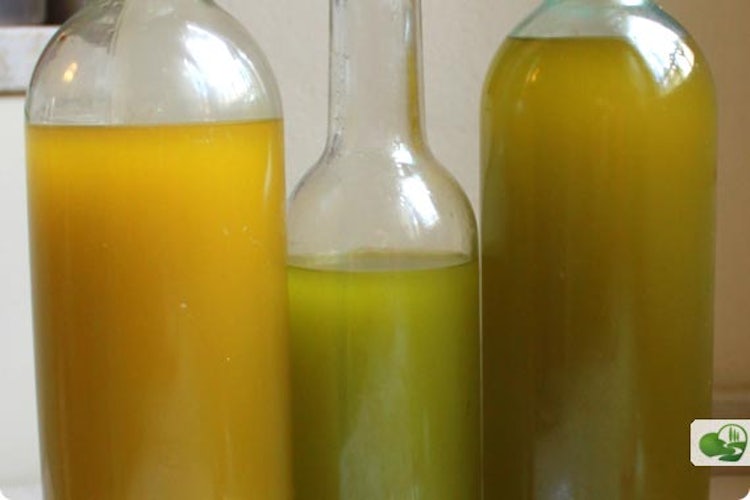 San Quirico, in the province of Siena, just as Prato will pay its last tribute to one of the most typical of fall products, the season's new olive oil, with a celebration taking place from the 5th to the 8th of December (Festa dell'Olio - Oil Festival), while Sarteano celebrates olive oil with a surprising broader perspective beyond its culinary importance to that of the wider cultural and artistic impact through the centuries: Il Tempo dell'Olio: tra arte, cutura e gastronomia (The Time of Oil: among Art, Culture and Food), 6th - 8th of December.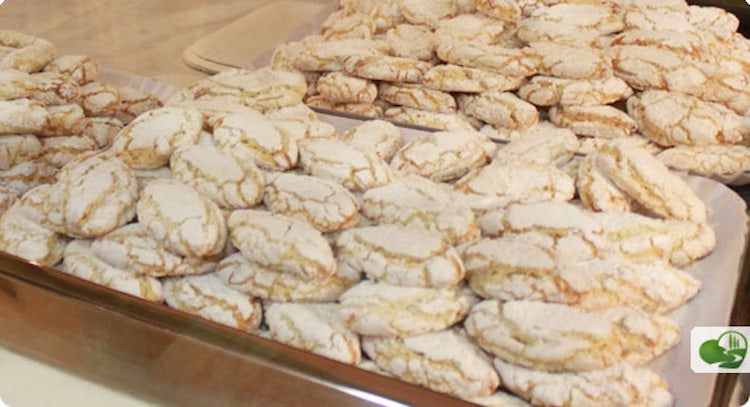 From oil to wine, or to "holy wine" to be more precise: Montefollonico will be home to Lo gradireste un goccio di vin santo? (Would you like to taste a bit of holy wine?) on the 5th and 8th of December. It's a festival aimed to promote the local "holy wine" or vinsanto, as the sweet dessert wine made in Tuscany is called and the products that usually are eaten with it, like cantucci, the almond biscuits typical of Prato. Wine, food tastings and even a competition for the best holy wine of the festival!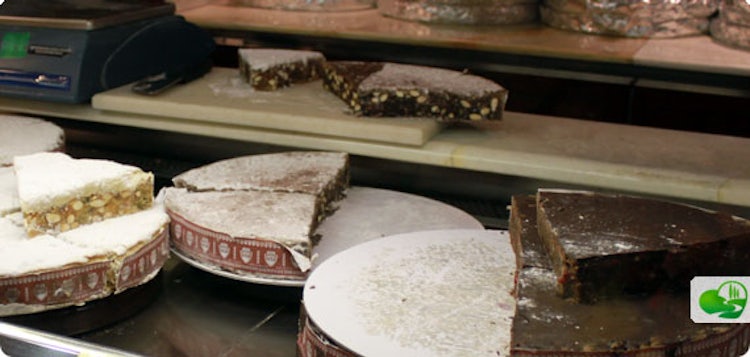 Siena commonly stands for cantuccini, as well as for panforte, a sort of traditional fruitcake containing nuts, honey and many other delicacies. It is so important as a Christmas cake that the closeby city of Pienza organizes every year just after Christmas and till the New Year's Eve (or the day before, dates are still to be confirmed) the Torneo Gioco del Panforte. It's a competition where participants have to throw an entire panforte wrapped in paper over a long table, trying to get it to go to the opposite edge or as close as possible. This game has recently become so popular among both inhabitants and tourists, which are also invited to participate, that I strongly recommend you stopping in Pienza to take part in the competition around this time.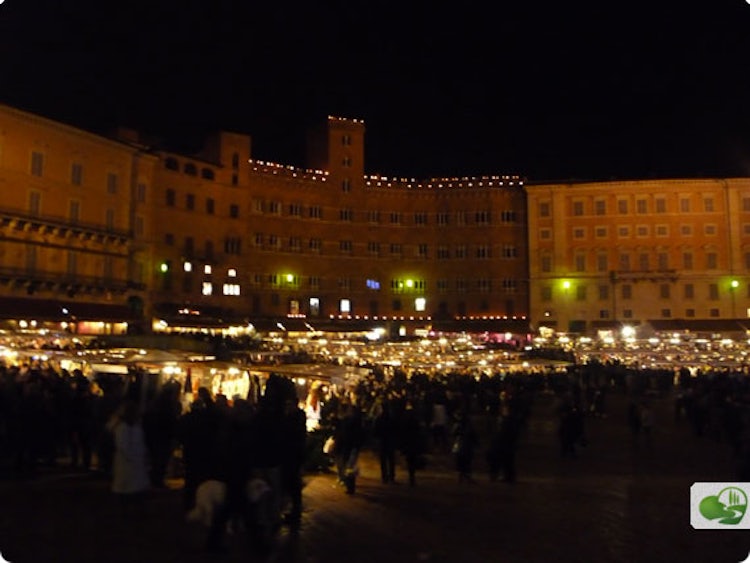 If you are more interested in discovering the historical culinary tradition of Siena, Piazza del Campo will house the traditional Mercato nel Campo on the 5th and 6th of December, from 8 am to 8 pm: It's a jump back in time to the 14th century where you'll have the chance to wander about peculiar stands intended to recreate a traditional medieval market while exhibiting and selling local and international food and quality handcrafted products. You'll be also guided to the discovery of culinary itineraries and workshops; this year, the traditional Christmas market will be dedicated to "Siena, the Italian Capital City of Culture".
What I'm going to propose to you now is an unmissable occasion for all those people who have always dreamt of exploring Siena through the eyes of an expert connoisseur and exploring its most hidden secrets: December will honor this recurring manifestation (in its 3rd year now) with a walk dedicated to "CULTURA, SCIENZA, GENIO E BIZZARRIA" - Culture, Science, Genius and Whimsicality held on December 12 from 3 pm (meeting is at Accademia dei Fisiocritici, Piazzetta Silvio Gigli 2) and led by two exceptional guides and connoisseurs of the city, Roberto Barzanti and Sara Ferri, to offer the key to visiting the city along the steps of academic and brilliant representatives of Siena's cultural past: I Colori del Libro. Passeggiate d'Autore.
Last year, the special event dedicated to the city's contrade ("InContrada") and the old tradition of Palio guided you in a 3 hour long tour to the discovery of the most inner contradas' historical spaces; this year, a December visit to Siena in occasion of Christmas time will give you the chance to take part in InContemporanea, a guided tour through the museum of Santa Maria della Scala in Siena, for exploring its enchanting works of art and learning more about the position of each single masterpiece inside the museum and the relation voluntarily created between the space and the works of art (until December 31st).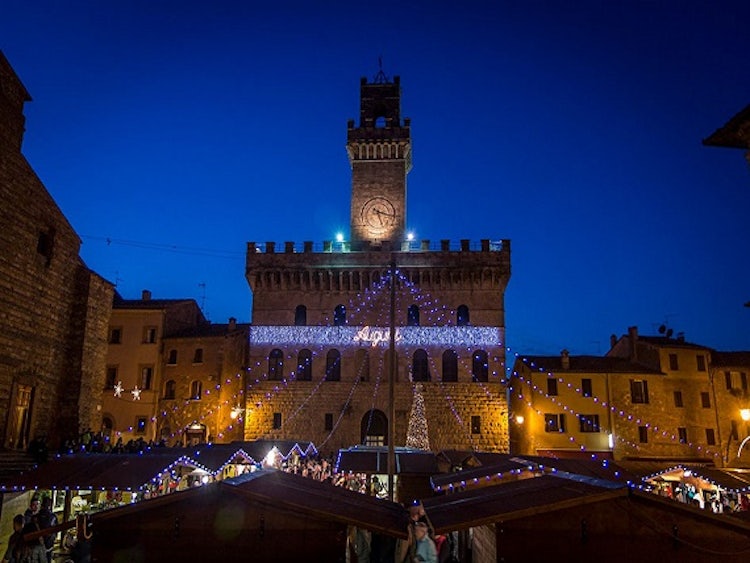 San Gimignano on the 5th and 6th of December, from 6pm to 10 pm, will host Lumière: the city center, the Duomo, the squares and the streets will tell a dream vision thanks to the suggestions created by the works of the artists, the lights, the sounds and the shadows. Free admission.
And now, it's time to turn to Christmas events: traditional markets with local food and handicraft items, entertainment for kids, shows with music and Christmas decorations everywhere to recreate the magic of this period. First, if you want to step in Christmas land, there are several locations in this area: the Santa Claus Village (November 21 - January 6 in Montepulciano), Il Paese di Babbo Natale (Chianciano Terme, November 6 - December 27) and the Elves' Magical Village (Sarteano, 8th - 24th of December), a wonderful village in miniature with lots of creative activities for both children and grown-ups. There is a little bit of everything for everyone! Abbadia Città delle Fiaccole (Abbadia, the Torches' Town) - held from December 5 to January 6 in Abbadia San Salvatore - seeks to highlight the local tradition: from early December, in fact, people begin to realize those torches that will be lit up on Christmas Eve, as it happens every year, while inhabitants and tourists alike will party throughout the town streets. Focus is on the local wine-and-food tradition as well during Christmas time: culinary delights from Monte Amiata and closeby areas will be prepared for the festivities, allowing people coming from elsewhere to learn more about ancient recipes passed down from generation to generation.
From December 19 to January 6 the Palazzo Chigi in San Quirico d'Orcia will be housing the Palazzo delle Fiabe (The Fairy Tale Palace), a magic place where both children and grown-ups will be invited to live one-of-a-kind experiences, inspired to tradition and fantasy at the same time. Creative workshops, entertainment and music, fairy tales characteris telling stories, play games and much much more: entrance ticket 3 euro (free for children under three), further information on San Quirico website.
Monteriggioni will be home to Natale con i Fiocchi al Castello, held on December 8, 13 and 20; a whole Christmas paradise for both youngs and grown-ups with typical markets, shows, exhibitions, live performances and music concerts, included many activities for entertaining children. More info about the location, the complete program, the tickets and relative costs and more on the official website.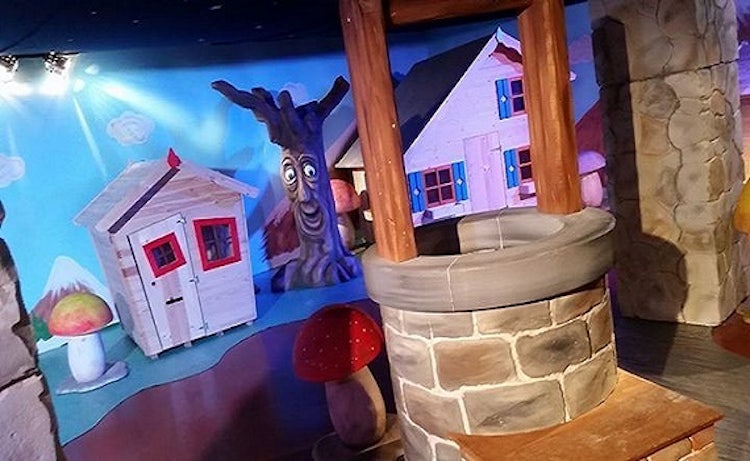 Pisa and province: Dinner at the Medicean Fortress in Volterra
It's Christmas time in the city of the Leaning Tower: at the Leopolda Station, from December 4 to 8 (hours 10am - 8pm), a huge and impressive 4000 square meters location will be housing Santa Claus's Workshop (La Fabbrica di Babbo Natale), a park with many and many Christmas activities, games and entertainment for children of any age, workshops and music, playgrounds and recreational areas, characters of cartoons and fairy tales and, obviously, Santa Claus!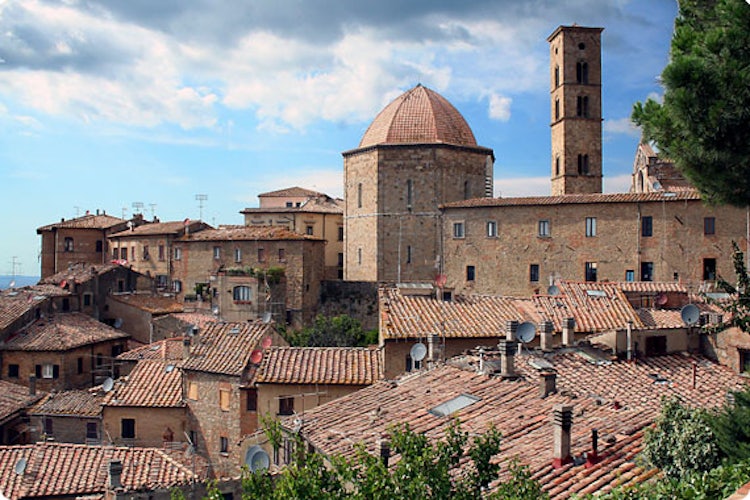 Volterra, instead, will be home to an event whose total earnings will be given to charity. Named after the prison of Volterra where dinners will take place - Cene Galeotte - the event will consist in a collaboration among some of the most renowned Italian chefs and the prisoners in Volterra's ancient prison, which means setting up a delightful dinner open to the public with all proceeds going to charity (18th of December, reservation required).
Garfagnana still smells of chestnuts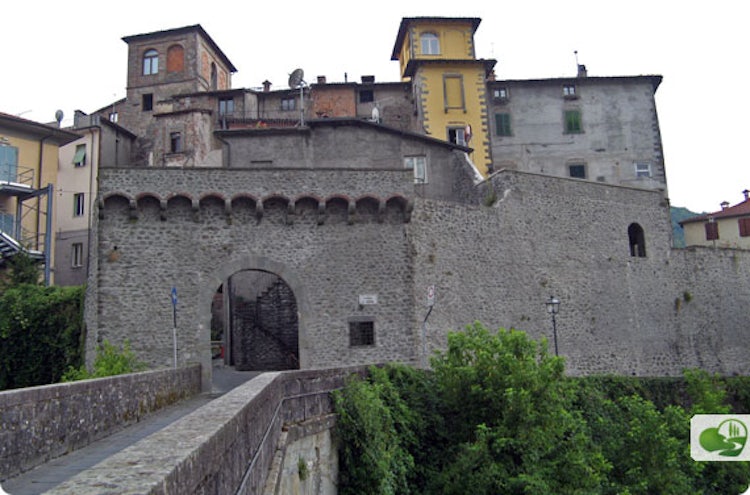 Garfagnana, the lushy area to the north-west of Lucca in the province of Lucca, pays its last tribute to one of the most classical taste of Fall: the chestnut. Castelnuovo Garfagana will be home, in fact, to the Città della Castagna - the City of Chestnuts - from the 5th to the 8th of December. Un unmissable occasion for killing two birds with one stone (as a popular Tuscan saying states): tasting both typical local Autumn and Christmas products, a delicious and irresistible mix! Here you'll find the complete program of the manifestation, with all the activities scheduled.
If you happen then to be in Garfagnana on Christmas time, Gorfigliano will house the traditional festival named Natalecci on the night of the 24th of December. Huge bonfires will be set and lit up in several locations of the village, a tradition believed to bring good luck in the coming year.
Step out from the green valley of Garfagnana and head to the center of Lucca for a total immersion into Puccini's music: the charming setting of Teatro del Giglio will be housing 4 theatre concerts and music performances on the note of this famous Tuscan composer (Lucca, I giorni di Puccini on December 8, 12, 19, 22 and January 10 with the great final show). More info, ticket price information and hours on the Theatre website.
Beer flows in torrents in Prato
Prato will be home to a manifestation named Oleum Nostrum, dedicated to the promotion of its local olive oil and aimed at giving everyone the instruments necessary of learning how to distinguish a local, artisan pressed oil from the industrial, European oils. There will be also wine and food, Christmas and handicraft stands. The manifestation, kicked off on early November, will be running through February 10th in several locations of the province.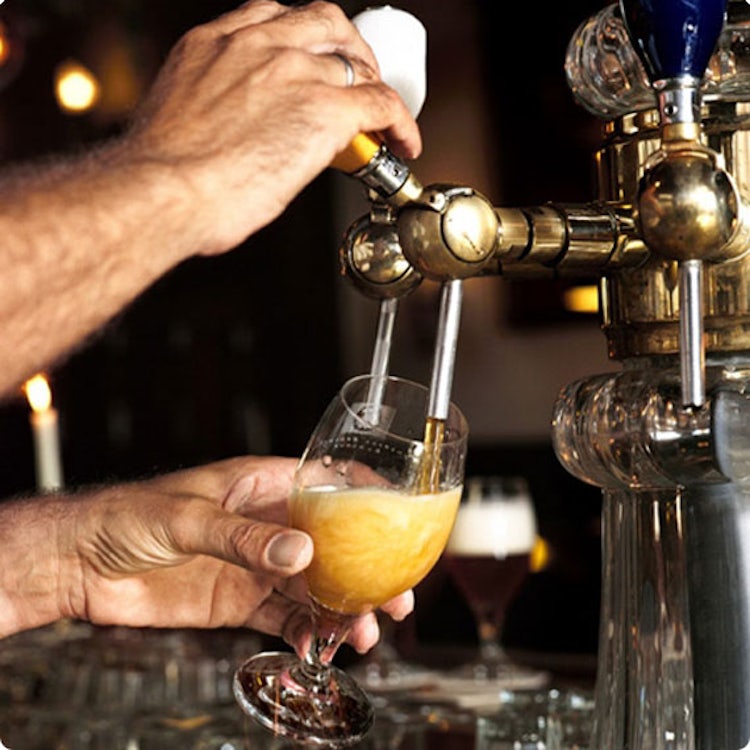 In Prato, there will be also another very interesting event that is not exclusively connected with Christmas time: the Festival Internazionale della Birra (The International Beer Festival), where people will have the chance to taste - and eventually buy - more than 100 different types of beers coming from all over the world (10th - 13th of December). Considering that the event is going to take place just before Christmas, you'll naturally find Christmas stands with many original and odd ideas for your presents, music and entertainment for children and grown-ups! Free entrance.
Could I not include a Christmas festival among all the December events in Prato? Obviously not! An old, not in use 500 square meters factory will be housing the first edition of the Christmas Village in Prato until January 6, with many traditional food and handicraft stands, fun and entertainment for kids and obviously Santa Claus in the flesh, but only during the weekend, when he's off from his toy-making job, of course!
From North Pole, Santa has moved to Montecatini Terme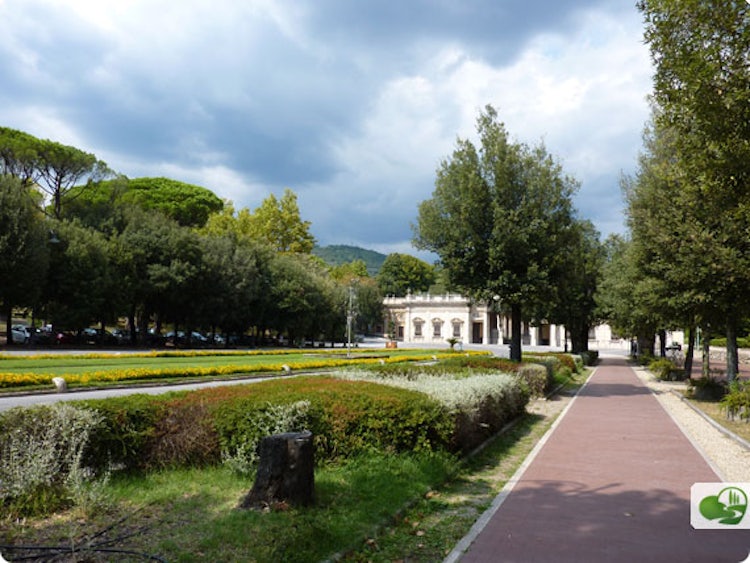 Once again Montecatini Terme is housing - from the 6th of November to the 6th of January in the enchanting location of the Castello Terme Tamerici - the Casa di Babbo Natale (Santa's House) that gained a lot of success over these last few years. A huge magical place where children of any age will find creative and artistic laboratories to create their own toys with the help of elves, music, entertainment and much, much more. Riding the wave of the Santas' house success, for the first time this year Montecatini is hosting additional events dedicated to Christmas aimed at both children and grown-ups.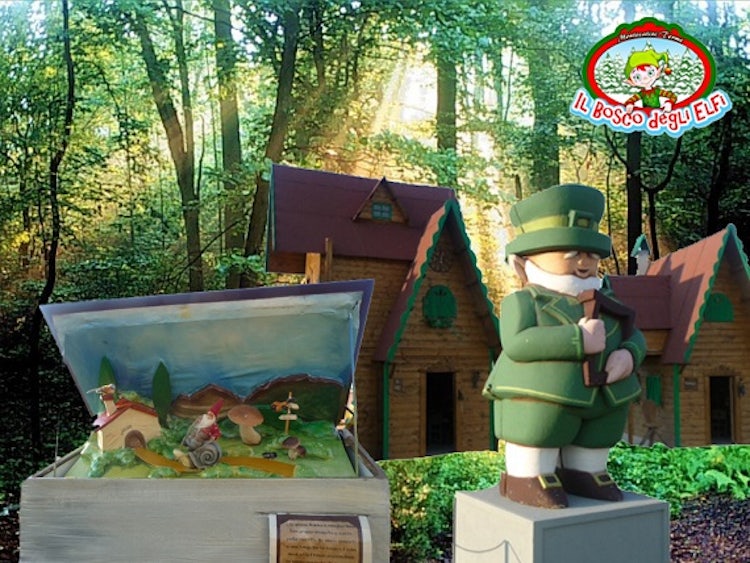 While a magic tour throughout the elves' forest will be set up for the little ones, shopping Christmas presents and people watching will be principally designed to entertain adults. The Elve's Forest will be open every weekend from November 6 to December 6, more info about the location, entrance tickets and more on the website, where you may also buy your tickets online. There's also the possibility to reserve your visit to both Santa's House and the Elves' Forest.
Same dates for the Borgo del Natale (Christmas Town): Christmas markets, stands and illuminated chalet will be crowding Via delle Tamerici - close to the pinewood - in a triumph of Christmas stuff, where visitors will be totally surrounded by the magic atmosphere of this thermal Tuscan location. Kicked off on November 6 as the others, Montecatini on Ice will be running through the end of February, giving everyone the chance to ice skate on Viale Verdi - in the very heart of the town - every day. More info on the Elves' Forest website.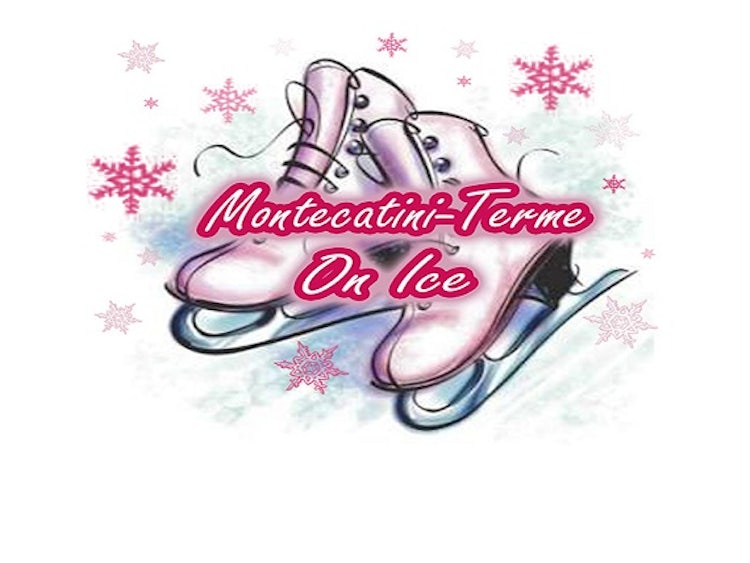 Over the past few years, Santa's Houses have been so successful they have become a tradition all over Italy; but there's another Italian character, maybe more traditional than Santa in Italy but that children don't eagerly await as much either because of her ugly aspect, or because she's the one that leaves coal to naughty children... and she always comes after Santa. I'm obviously speaking about the Befana, the old lady traveling all around the world on a flying broom! A Befana's House will be inaugurated in Cutigliano on the 24th of December, even if the person who will give all good kids their presents is once again Babbo Natale!
Grosseto, enjoy the magic of a Gospel concert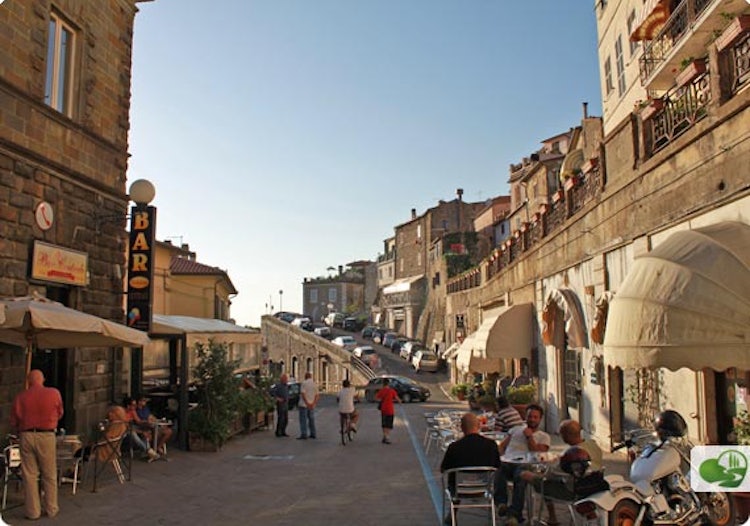 Seguendo un filo d'olio: two whole days dedicated to the new oil (5th - 6th December in Manciano) and all those products that usually come with it - like fettunta, bread with salumi as well as chestnuts!
On the 24th of December, Massa Marittima will be home to a fun Afternoon with Santa, while in Bagnoli Santa will be giving presents to everyone, once again on December 24. Enjoy a special night with the magic of a Gospel concert in the Teatro Moderno in Grosseto (Modern Theatre, The Gospel night, December 11).
Arezzo and province: chestnuts on the Virgin Birth's Day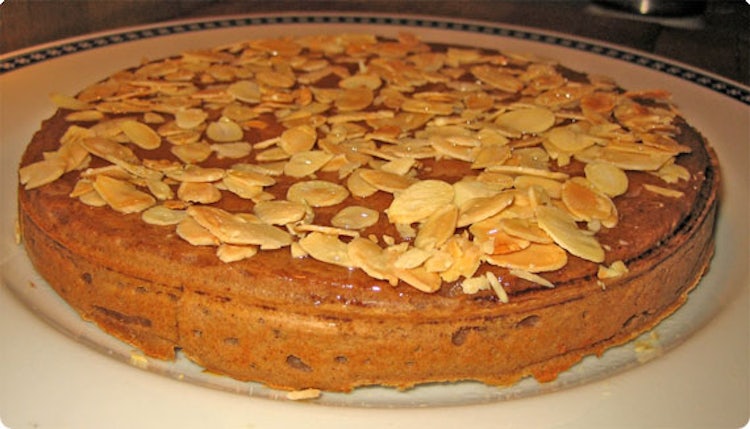 In Faltona - marvellous location set in the Casentino valley, amidst the Pratomgno mountain range - a traditional manifestation is held annually in celebration of its most typical product: chestnut. The Sagra della Polenta Dolce e del Baldino (commonly referred to as Castagnaccio, a cake made with chestnut flour but this one called the Festival of the sweet polenta and Baldino) will house stands offering the chance to taste and buy local products, honey, conserves and typical cheeses. Tradition has it that the festival is held on December 8 every year.
Florence: explosion of the Christmas magic
Our Cradle of Renaissance is a sort of potpourrì of culinary, art and culture excellences, in particular during December. Below you'll find a selection of the main events taking place during this month in Florence and province, but if you are interested in the details, take a look at our article on December events in Florence.
First, in the surroundings: on the occasion of Open Wine Cellar at Christmas - an event promoted and organized by the Wine Tourism Mouvement - Certaldo Alto will be housing a fundraising dinner whose proceeds will fully go to sick children (December 4, more details about the program and the menu on this page).
Keep on touring the province of Florence and you'll find plenty of interesting events you should head to: Gourmet is a date for all traditional food lovers taking place in Montelupo Fiorentino (December 12 and 13), as well as The Ancient Tastes Festival - La Sagra degli Antichi Sapori - held in Lastra a Signa (December 6 to 8). This, instead, goes along with food, but in a quite special way: the Rally della Fettunta is a car race held on December 5 and 6 in Barberino Val d'Elsa and Tavarnelle Val di Pesa: read the official website to find out how food is related to it!
Heading back to Florence for the usual Christmas events, the Fortezza da Basso will open its doors to anyone looking for inspiration for Christmas gifts: originality, creativity and handicrafts will be the leit motiv of Natale in Fortezza (dates are still to be confirmed - we will post them here as soon as we know them).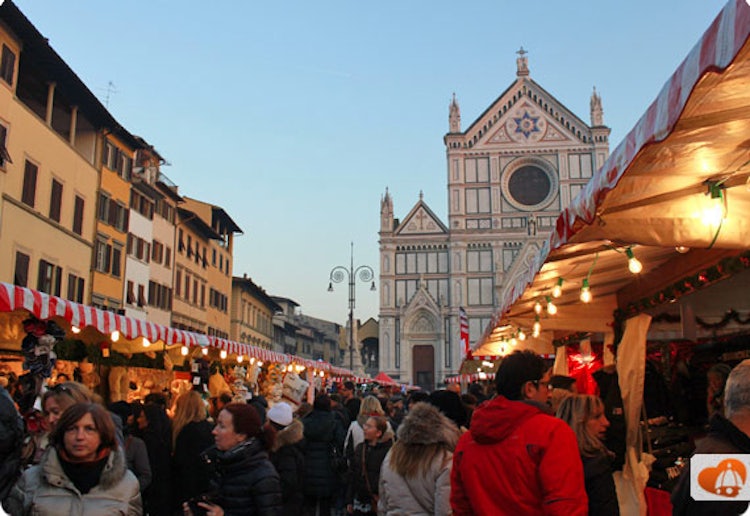 Another traditional date with Christmas in Florence is the Weinachtsmarket in Santa Croce (2rd - 20th of December), where local tastes perfectly blend with a touch of German flavor (you'll feel you're in a real German Christmas market, with the classical vin brulée, the spaetzle and many other tasty treats). For a complete list of Christmas and December events in Florence, read our events in December article.
Heading once again out into the province, there's one of the most interesting and suggestive dates with Christmas in Fucecchio: Natalia. Santa Claus, elves, creative workshops, music, games and a huge parade with more than 100 participants wearing Christmas costumes will give life to a manifestation that you've surely never experienced! It's going to take place on the 8th-12th-13th-19th-20th of December and on the 6th of January.
Not only Santa's Villages, but also... Nativity Scenes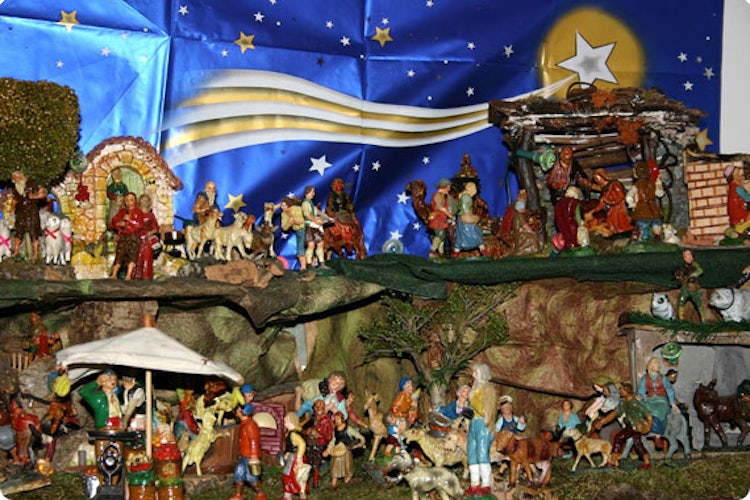 In Cigoli, a fraction of San Miniato (where the famous Truffle International Festival takes place every November), the XVth edition of the artistic nativity will take place from the 7th of December to the 10th of January, drawing lots of people for the complex and detailed representation of the nativity scenes. If you drop by Pisa and the close by locations during Christmas time, I strongly suggest you stop at least for a while to see the Cigoli nativity.
Live nativity scenes will be set up in Londa (province of Florence, 20th of December), while for seeing the Presepe della Limonaia - set up inside a lemon greenhouse - head to Certaldo on December 6 and 8.

Finally, the Via dei Presepi in Castelfiorentino - province of Florence - is actually worth your while without a doubt: an itinerary that winds its way through the quaint village to discoer over 50 nativities created by the residents of the town (until January 9). Remaining in the province of Florence, you'll have the chance to live a similar experience in Palazzuolo sul Senio high up in the Appenines, where the manifestation 1000 Presepi per Palazzuolo will guide you through the tiny streets of the village, to explore over 100 nativity scenes created by residents and hidden all over the town (8th of December - 6th of January). There's one more nativity representation I would like to point out: 100 Presepi a San Godenzo - once more in the province of Florence: another treasure hunt to discover the scenes designed and set up by the inhabitants and hidden all around the quaint location (dates are still to be confirmed for this edition, last year it kicked off on December 7 and ran through January 6).
And finally, a musical note!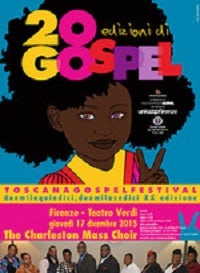 I've come to the end of this article, but before leaving you with this wide choice of things to do, I would like to remind you of a few more events that actually contribute every year to create this magic that we all eagerly await: musical events! The Charlestone Mass Choir will bring sacred and fun gospel music in the heart of our Cradle of Renaissance on December 17 with their Gospel Music Concerts held at the Verdi Theatre: a whirlwind of sacred and profane sensations!
Obviously, during Christmas time you'll find plenty of classic, jazz, folk and even rock music concerts all around Tuscany, not to mention all of the New Year's Eve Concerts in a never-ending list of regional towns, but this is a separate chapter. Music, after all, is like food: simply essential!