An introduction to a Tuscan Family
Everytime I watched as a family home transfored into a vacation homes, like that of Castello di Cabbiavoli, I always find myself wondering what would make someone open up their house; a place of memories and history – a place where they call home and go when they need comfort, strength and re-energizing?
What motivates people to do this? I have heard all kinds of reasoning but, the one reason that always sounds genuine are those who open their homes to offer a glimpse into an existence that their guest could only know otherwise by reading books... a life that has surpassed its usefulness and is slowly dissolving into a mist that no longer has any real points of reference in today's world.
When I asked Ginevra (Ginevere in English), the owner, from why she shared her home, her response could have been classified as what some might consider an attempt to set boundaries between the classes. But, I saw it as the opening of a door.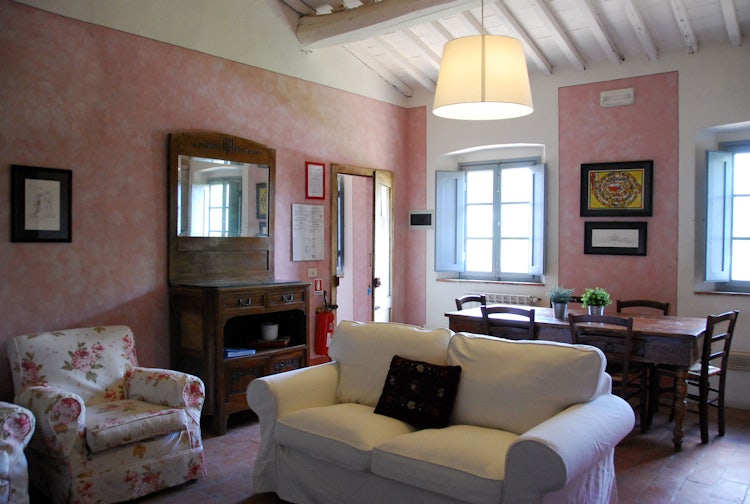 The proverbial door between kings, queens, knights and dasmels in distress and the "common folk", one that has been closed to so many for so many years. "It's the possibility to enter and be part of a family", and though her English is impeccable, she said this phrase in Italian and I immediately understood that the word family was so much more than "Mamma e Papa" ... family was hundreds of years of births, deaths, battles, court appointments and arranged marriages or as the Italians would say vite morte e miracoli (life, death and all the miracles in between.) The opening of her home is an invite to reside with her ancestors and all the history that they bring with them.
Reserve Direct with Castello di Cabbiavoli
In other words, to become – even if just for a short while – a real part of her family.

Understanding the Culture means meeting the people
It wasn't said with a haughtiness expected of the "nobles" but of a sincere desire to share the magic of her life spent in a place that was … and let's admit, still is … absolutely beautiful.
A Review of Castello di Cabbiavoli
We loved: the sense of going back in time and embracing a piece of the family heritage
Ideal for: Villa - perfect for families and groups looking to relax in a true family home and the Agriturismo - is ideal for families and groups that like to use their base as way to explore the beauty of Tuscany
Her memories of this prestigious family villa transform her voice just enough for you to catch the nostaglia of her childhood. It was obviuos that her family's intention, when then opened up the villa and the farmhouse, was a sincere desire to communicate the specialness of vacationing in a place that you can truly call home.
She emphasized that in the villa you are surrounded by photos of the family; there is a décor of elegance and glamour which suggests a fairy tale world of shining knights and duels. The villa has several antique pieces, each with a bit of lore and legend surrounding them. Ginevra told the tale of a pair of dueling pistols, and how her Grandfather was actually excommunicated from the church because he stood as a witness to a duel. Apparently, it took the persistence of her Grandmother to get the Pope's pardon and lift the excommunication.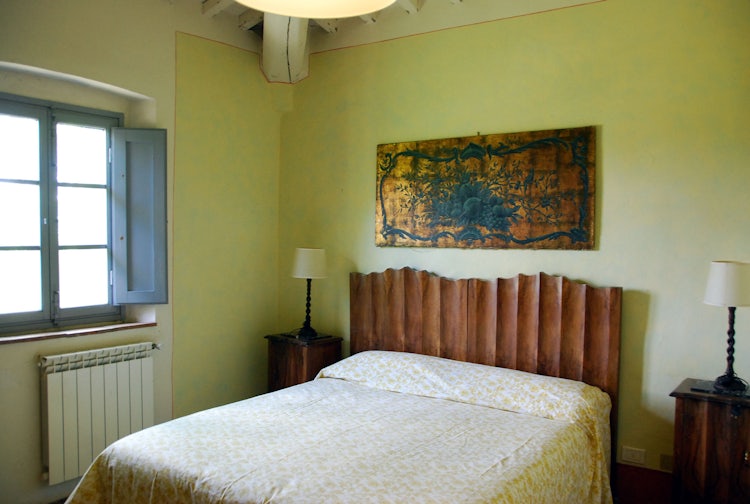 However, the main villa is not the only part of the family estate that can communicate a way of life, Ginevra still remembers the terracotta aia – or courtyard which is the center of the stone farmhouses. These were the lodgings for the farmers who worked the land. Now, these farmhouses are divided into 9 independent holiday apartments.
I asked Ginevra what she enjoyed the most about the restoration of the farmhouses.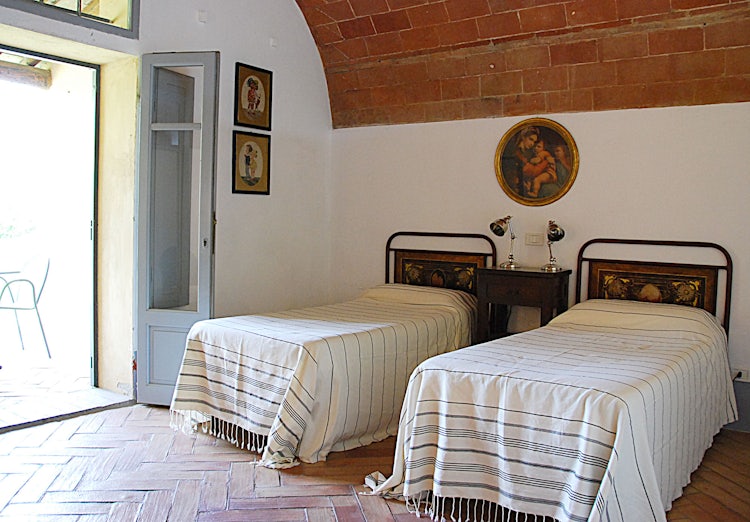 "While I really never spent a whole lot of time there, as our time was split between Florence and our other residence in the country and at the seaside, I do remember how the farmer's families, especially the grandmothers, would sit and use the "aia" (farmhouse courtyard) as their social forum...it was where they talked, worked, laughed and lived."
I loved the way she slyly compared it to Facebook! "When we started to restore the farmhouse I wanted to capture this part of their life." She explained she was always on the outside looking in on this closeness between the families that worked the land and she knew when she started to restore the agriturism it would be important to highlight the lives of those who lived here before her.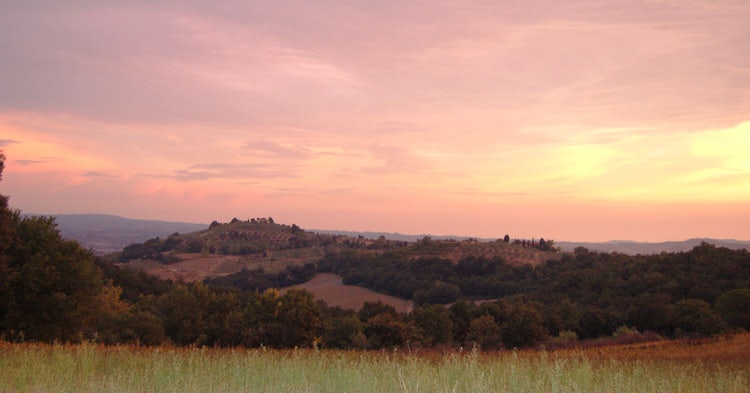 "Then when we started restructuring the agriturism I really enjoyed searching out the material, just finding the wrought iron bed stands, the authentic living room furnishings was exciting."
As she thought about the restoration, she remembered "In one cantina (old basement) we found several of the original stone basins, the low laying, hand-carved sinks found in most old farmhouses. I know they weren't practical at all but we found a way to incorporate them in several apartments...they just seemed to fit."
A Place for the Whole Family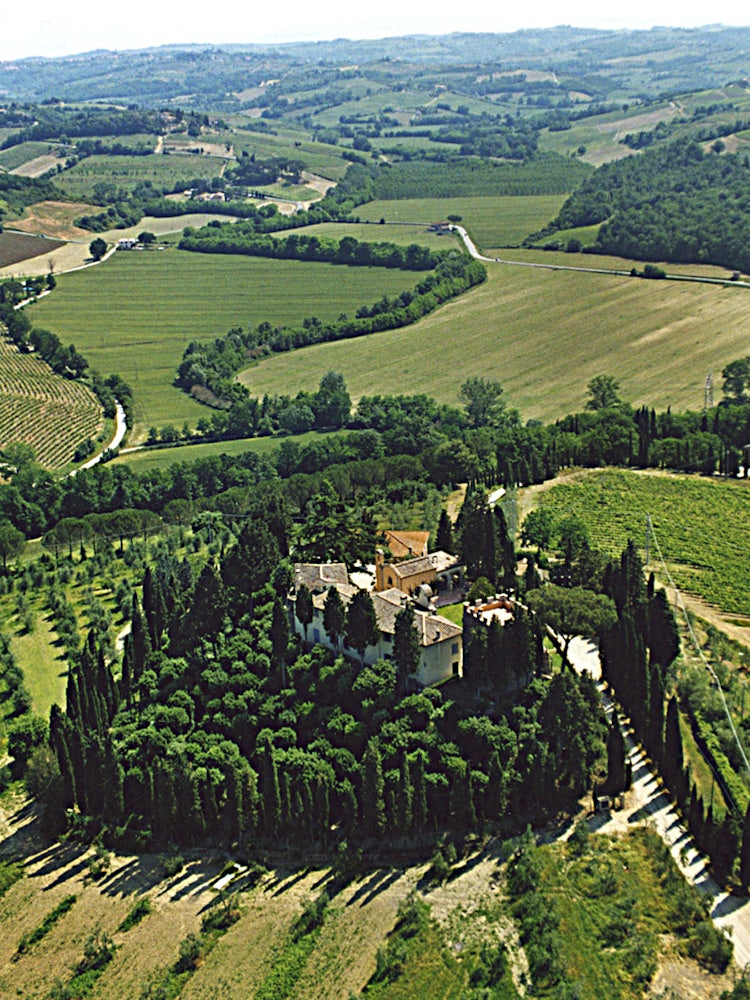 Castello di Cabbiavoli in a Glance:
Type:9 self catering apartments & 2 independent villa rentals
Location: Castelfiorentino, 4 km (11 min)
Distance: San Gimignano (40 min) & Florence (50 min)
Transport: a car is necessary
Sleeps: 57
Type of board: no meals
I was curious if her family, her husband and children, felt the same way about the family home. "My life is here, in fact I try to bring the kids back as often as possible so that they have the same warm memories that I have of home." The children love the open spaces, the sunny courtyards and the contrasting cool and refreshing interiors. There is lots of land to explore as well as the fully functional farm with olive trees, vineyards and much more.
Curiosity got the best of me, what was one of her favorite memories, one that you would hope your children share? She grimaced just a tiny bit as it actually is not a warm memory at all. "In the dining room of the main villa there is an enormous family portrait of a Judge from the mid 1700's... I mean really big! And he has eyes like the Mona Lisa: they follow you everywhere! My Grandmother would tell me, I better eat everything because he was watching me...and believe me every time I looked up, I was really scared because I thought he really was watching me!"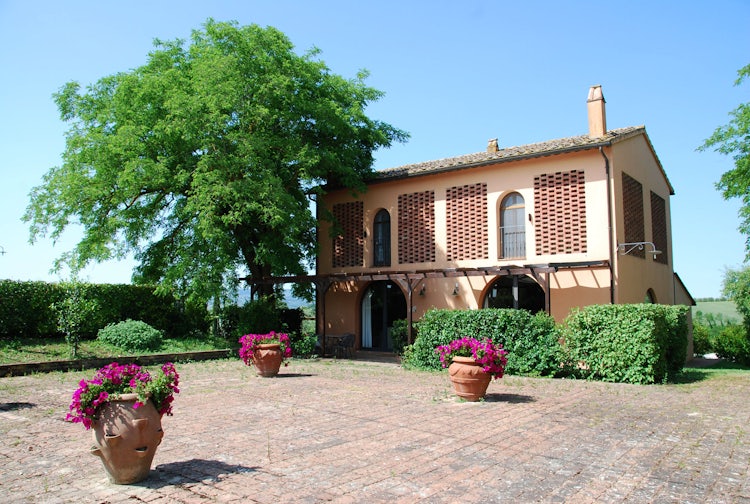 It was easy to laugh with her. Ginevra makes you feel at home and comfortable, even with her long family history well documented back to the 1500's, a life of living here and there, fitting in with a realm that for many has been long forgotten or left for novels of yesteryear. The villa and agriturism just seem to feel like home sweet home. The main villa which houses up to 12 people in pure luxury or the 9 family farm house apartments with their terracotta a floors, country decor and natural Tuscan accents all offer the same exact opportunity, to live a piece of Tuscany … a true, authentic piece of Tuscany that has managed to withstand the test of time and still stands, in all its glory (deluxe or not) to give testament to a way of life that survived for hundreds of years.
This is a Sponsored Article but reflects the honest opinion and experience of the author. More details »