The Autumn months in Tuscany offer a wide range of engaging and entertaining organized tours, highlighting not just the region but the landscape, towns, and flavors of Tuscany in the fall. With the unpredictable weather in the months of September, October and even November, our selection of top tours featuring departure points from Siena, San Gimignano, Livorno, and other cities will make planning your vacation even easier.
And, if you find yourself making your base in Florence then you will want to check our favorite tours with a departure point in the Renaissance city.
Enjoy the Fresh Air in Fall
However, the season has become just a bit unpredictable and you never know when the fall chill is going to descend upon the region. Autumn days can still be toasty warm, almost hot, with clear skies, bright sunshine and a palette of fall colors that will take your breath away. With those types of days, you can (and should) still indulge in some of the fun summer tours, especially those that keep you outside and in touch with nature.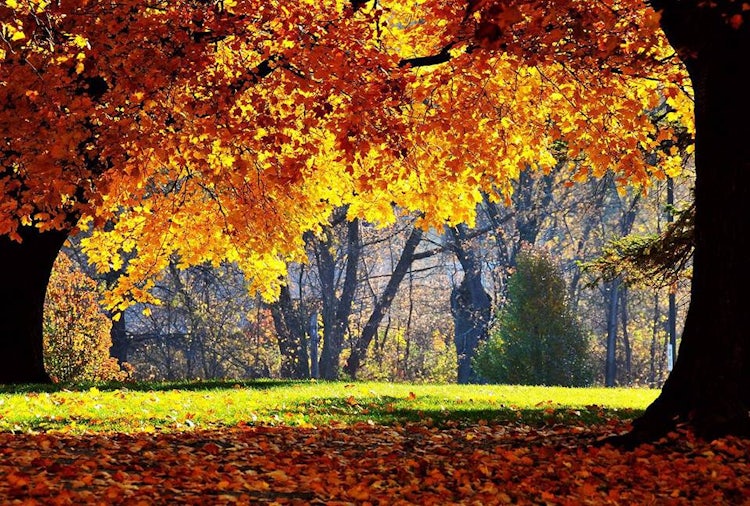 For those of you who are really looking to finding Mother Nature's canvas in all its splendid shades, indifferent of the temps, then you will want to check out the fall colors of Tuscany, or even some our preferred ideas just outside the city walls of Florence.
We have organized our choices by departure points, and each tour was selected because it highlights either the flavors or the atmosphere of Tuscany in the autumn months. Fall is a great time to visit the area and these tours will help you make the most of your precious vacation time!
Tours Leaving from Siena
Fall is the perfect time to explore the wide range of wines that prosper in southern Tuscany and this especially includes the Brunello collection from the Montalcino area in this great full-day tour starting from Siena. We also like this wine tour of the same area because it has pick-up options from both Florence and Chianti, as well as Siena.
Not too far from Siena, you will find the delicious vineyards of Montepulciano, and we recommend a tour which will help you enjoy its diversity and award-winning wines. How about combining the tower town of San Gimignano with its unique wines? The Chianti wine tasting and San Gimignano day trip will do just that.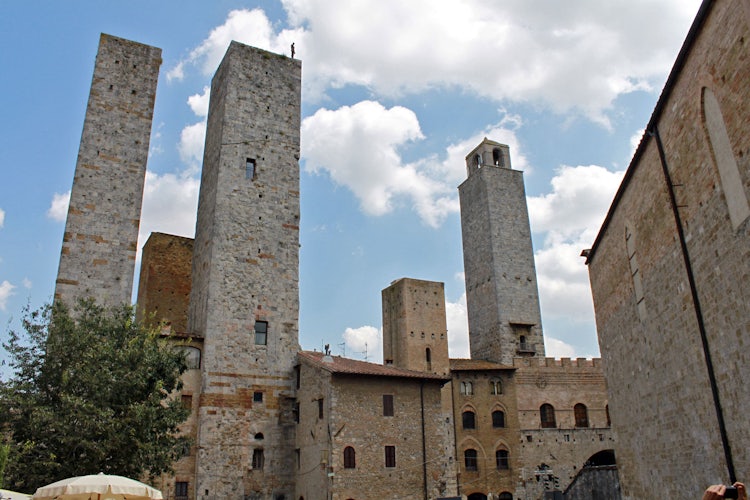 But if San Gimignano doesn't catch your attention, how about discovering the Castles of Chianti? This relaxing and panoramic tour includes two wine tastings and time in one of the best-kept secrets of Chianti, the charming little town of Monteriggioni.
We often hear so many guests visiting Tuscany say how they really want to see Cinque Terre, and how it is so difficult to find a tour that will cover everything in a day - well, here it is, and it departs from Siena!
So far, we have only mentioned tours that take you outside of this amazing city - but don't forget to see the beauty within, and we suggest you start with this tour which will whiz you through the line and into the Duomo and museum with a professional local guide.
Staying in San Gimignano
If you are staying in this medieval town, you may never want to leave. Between the great views, the lovely museums and wonderful restaurants where could you possibly go and it would get any better? But we do have two off the beat suggestions, like Truffle Hunting with a professional guide and his frisky truffle hunting dog...and of course, you don't want to miss out on the lunch and the wonderful wines that will accompany this flavor-filled nugget.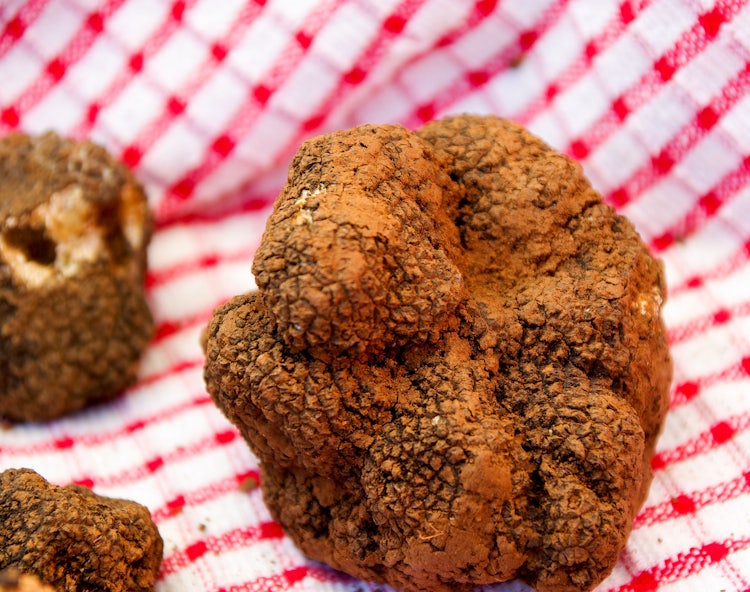 Another great way to enjoy those mild fall temps and the blaze of colors is on a horseback ride accompanied by a wine lunch! Sometimes a vacation is just the right time to step out of your comfort zone and learn to ... horseback ride. This experience is ideal for beginners, novice riders and adventure seekers looking to create a special memory while enjoying the thrill and unique feeling of horsemanship, the Tuscan landscape, and wine.
Just outside of Florence in Pontassieve
We fell in love with this great combination tour, mixing some of the best aspects of Tuscany all in one great 3-hour long package. You'll visit a privately inhabited 900-year-old castle and wine cellars, then cook 2 different types of handmade pasta, 2 sauces, and taste 3 wines during the light lunch of self-cooked food. Sounded really good to us!
Getting out of Montecatini for a day
Especially in the month of November, this exciting tour towards the hills of Chianti will really give you a view of the Tuscan landscape. Besides the great views, it is packed with other surprises, including two wine-tasting sessions, light lunch and the opportunity to taste local products, including extra-virgin olive oil.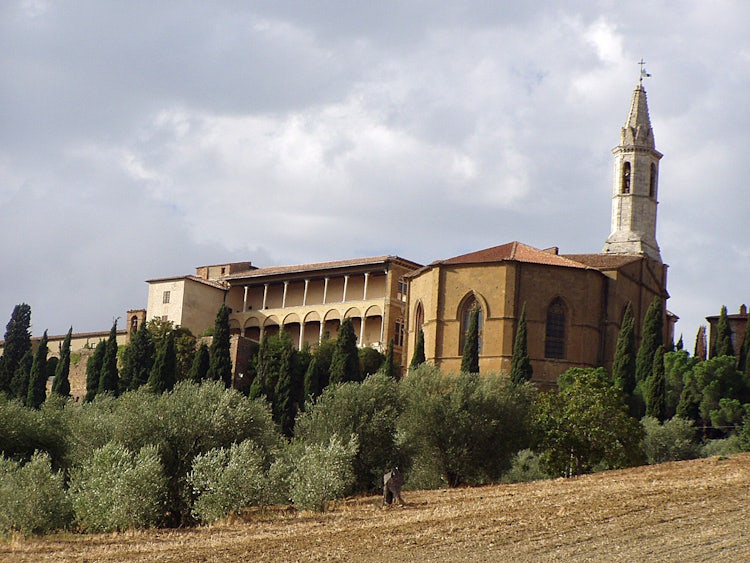 Arezzo & Nearby
Can anyone really say no to a day in the kitchen when visiting Tuscany? Le Cesarine makes it next to impossible with these private cooking classes and market tours, you will find several departure points including Arezzo, Montepulciano, and Siena.
Le Cesarine is Italy's first network of home cooks coordinated at a national level by a dedicated staff. The Cesarine are welcoming ambassadors of the Italian culinary heritage, animated by an authentic passion for traditional Italian cuisine. Every Cesarina has been carefully selected by experts to host gastronomic events in their own homes with local produce and refined menus, the result of authentic local recipes, handed down from generation to generation.
A Day Outside of Pisa
Pisa, which offers so much more than just the Leaning Tower, provides the option of visiting the Chianti wine area in a 5 hour tour. We especially like the idea of spending time outdoors in the vineyards, weather permitting, before tasting wines, olive oil and cold cuts and cheese.
Cruising into Livorno
If you are docking in Livorno, either because you are on a cruise or because you like the idea of basing yourself in this coastal area, you will find lots of options for exploring Tuscany (and beyond). We choose to start with a day in San Gimignano and Volterra touring the medieval towns and tasting the local wines.
Or you may prefer a cultural tour of the monuments and historic cities of Florence and Pisa, the semi-private tour takes in the highlights of Tuscany with these two stops.
Another great option includes a visit to Pisa and then an adventure beyond the Tuscan borders to Cinque Terre in a full-day excursion. Let your driver navigate the roads while you visit Riomaggiore, Manarola, Vernazza, and Monterosso. With two tour options, you can either enjoy a tasting of the famous "Sciacchetrà," a typical DOC wine from Cinque Terre vineyards or lunch in a genuine "trattoria".