November Signals the Beginning of the Harvest
Just in Time for the Holidays
Through the years, I have had numerous occasions to participate in the celebration of the newly pressed olive oil which arrives in November, just in time for holiday gift giving. I remember my first Christmas here in Tuscany. I was working for a rather well to do family, getting the kids ready to go skiing in the Italian Alps: packing suitcases, preparing last minute gifts and ushering the kids towards the car. At one point, the "mistress" of the household comes out lugging six recycled wine bottles with fresh pressed extra virgin olive oil.
"Don't forget the Christmas gifts for the family"... yikes, that didn't look good. I mean who gives a bottle of oil to friends and family for the holidays?
I can still see the wistful look my Italian friends had on their faces as I relayed this bizarre family tradition. The questions came from all directions: where do they have their trees? how many liters did they get this year? did you get a bottle?
It became obviously clear that what I thought of as a cheap holiday gift was actually a much desired exchange between the "have" and the "have nots" (as in, have olive trees and make their own oil… and have not any olive trees and rely on good friends who do to share, at least a little, itty bitty bottle).
The local harvest is hard work; it relies mainly on manual labor and the help of family and friends. And it is usually always followed by a promise (once the oil is pressed) of a meal.
A meal with precise recipes that exalt the flavour of the oil. So if you're lucky to have a bottle of freshly pressed olive oil, read on to find a list of classic recipes for a "tasting menu" that are easy to reproduce (where ever you live) and will have you looking like a pro when you invite friends and family for a genuine extra virgin olive oil harvest dinner.
Your first taste is the perfume
The first thing anyone does when they open a new bottle of olive oil is inhale. Deep and long.
Ahhhh, you can almost taste it with this first breath. To get the most of the flavor, the oil should be at a specific temperature (26-30°C) and a swift swirl to release the aroma. The first inhale has even been regulated by the International Olive Oil Council, dedictating the type of container: a dark blue glass with precise measurements.
The second thing they do is taste. Though a true connoisseur will taste it straight up, I suggest a little culinary support. The secret for tasting in Tuscany is the bread. Though for many the bread in Tuscany is a "love or hate" kind of thing since it is made without salt and for many it is tasteless.
But. It is actually perfect for tasting extra virgin olive oil because it will not influence the flavor, giving you a plain solid base for which to gauge its aroma, intensity and overall feel. And that is why the first recipe is the easiest and the simplest in terms of ingredients and absolutely the first recipe you should ever try with new olive oil.
The fett'unta
For many, it is simple "pane con olio" (bread with olive oil) but for the Tuscans, in particular those from Florence, it is called fett'unta … greasy bread. Yes, very unappetizing as far as translations go but, it does give you the idea, doesn't it? You will need several slices of bread, lightly toasted so that the bread has a bit of a crunch and is more likely to soak up the oil. The purist will have you eat it just like that - and actually, if the oil is really flavorful then that's perfect. However, the alternative is to rub an unpeeled garlic clove on the toasted bread, drizzle the olive oil abundantly and dust it with a light sweep of freshly ground black peppercorn and salt.
There you have it, probably one of the simplest, most genuine and delicious Tuscan dishes ever. A very Tuscan alternative, for those who need a bit of green in their diet is Crostino di cavolo nero (and extra virgin olive oil). This particular kind of cabbage is boiled down until tender and then layered on the bread above with an extra does of olive oil.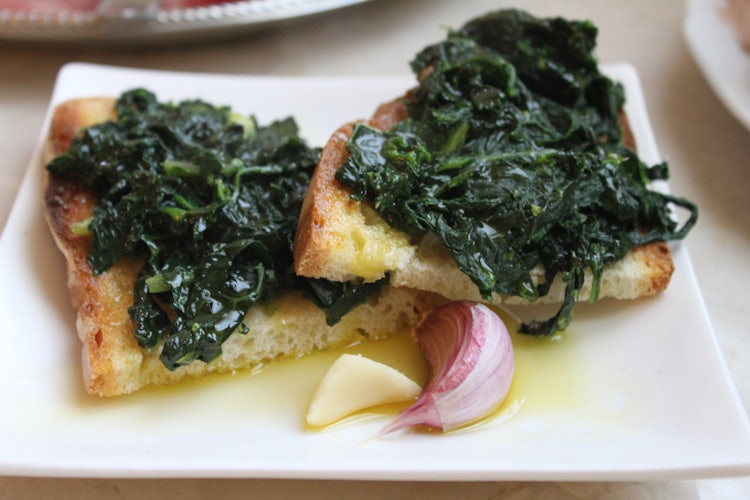 Tuscany Adores Its Bread
Moving on to the best "primo" for testing out the olive oil.
And here it must be said, Tuscany adores its bread. It is in its simplicity that it becomes the best main ingredient to several dishes such as ribollita, minestra di pane, panzanella, pappa al pomodoro, acquacotta (to name but a few). And it is here that you will find the first dish to taste test the new harvest of olive oil. A personal favorite is pappa al pomodoro. Pappa is an Italian word that is often used to refer to dinner or lunch, especially for children (not to be confused with papà which means father).
It implies something soft and maybe a bit mushy. November supplies the Tuscan kitchen with many flavours, one of which is the last of the tomatoes. This sweet ripe fruit with its rich red color, chopped into small cubes and used to soften up the bread is a match made in culinary paradise. Read here for an authentic and easy to make recipe.
Serve this up with a heavy handed drizzle of olive oil and quickly become known as an expert chef. Again, simple - but genuine.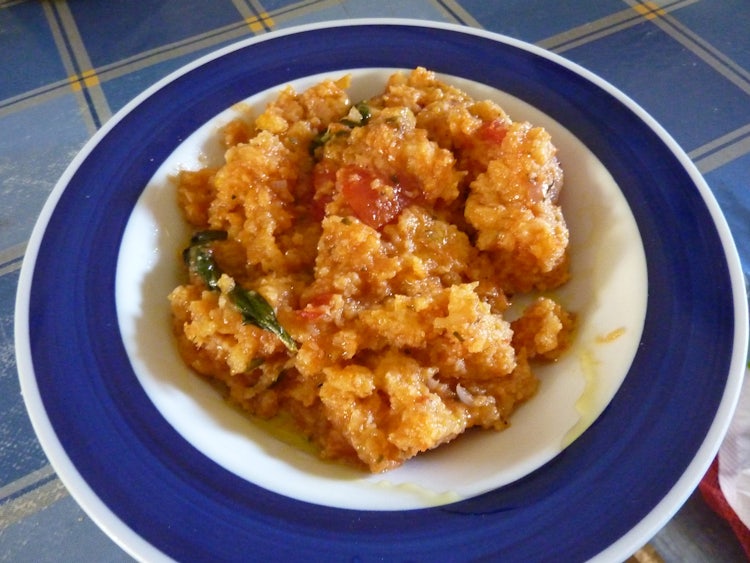 Use it Raw the First Time Around
Though there are a hundreds of main courses one could make to put the olive oil to the test, I would always suggest keeping it simple. The less flavors you have floating around competing with the olive oil, the easier it is to look good, and, of course, make your olive oil look good. Fagioli al Fiasco is a recipe that has been passed down in Italy for hundreds of years; when meat was scarce, the classes relied on legumes for protein. Beans lasted a long time, are easy to conserve, easy to cook and went with everything.
A classic recipe calls for a fireplace or a wood burning stove, a seamless glass bottle, a bit of garlic, black peppercorn and fresh sage leaves. The olive oil is always added at the end, when you are serving (not during the cooking) - so as to keep its fresh flavor. Serve with a fresh loaf of bread and you are set... did I mention you should also have some wine? ;-)
Another classic way to use olive oil for a main course is the delicious "tagliata," a rare cooked beef steak served in slices with a few twigs of rosemary on top and a liberal drizzle of fresh pressed extra virgin olive oil.
The last step is dessert
Never underestimate the creativity of an Italian when it comes to using one of their favorite ingredients.
I remember the first time someone tried to explain this dessert to me, I just wasn't believing a word of it. Chestnut flour, water, olive oil, rosemary and if you really want to spruce things up, then raisins, walnuts and/or pine nuts. My imagination just could not work its way around how this would turn into a dessert that would have my mouth watering. Yet…. Yes. I ventured forth, I ate, and now I am a believer.
This dish, called castagnaccio, definitely has its roots in what many call "cucina povera," the poor man's kitchen. Made from chestnuts which have been dried and then ground down into a fine powder, a pinch of salt, water and olive oil. The mixture is a rather liquidy batter - almost like buttermilk (kind of thick but not too thick) - poured out to form a very, very thin layer on a baking sheet and then sprinkled with rosemary (absolutely) and to your descretion nuts and raisins. (The batter is laid out so thin that the nuts and raisins stick out even if they have sank to the bottom.)
There is a bit of a debate if the original has the nuts or not, but I prefer to think it did...it gives just that necessary bit of umph. It is cooked until the top begins to crack like the desert when it needs a good rain. Best served warm. If you need a backup plan (because chestnut flour can be tough to find,) then you can always rely on the Schiacciata Fiorentina. A batter cake made with olive oil instead of butter.
So there you have it, a menu which will have you cooking like an Italian (Tuscan) pro at the time of the olive harvest.
Let us know how the experiment goes and send us pictures of your favorite recipe from above. Buon apettito!!