The perfect oasis for enjoying Tuscany's hallmark views
Do you love horses? Then Tuscany Equestrian is the perfect place that mixes your love of horses with a vacation!
Do you love Tuscany? If you've seen images of Tuscany's rolling hills and lanes lined with cypress trees, then you want to come this area, called the Val d'Orcia. This is where the scenes of the movie Gladiator with Russell Crowe running his hands along the wheat was filmed. You will get gorgeous views in every direction you look. Do you see that in the image below?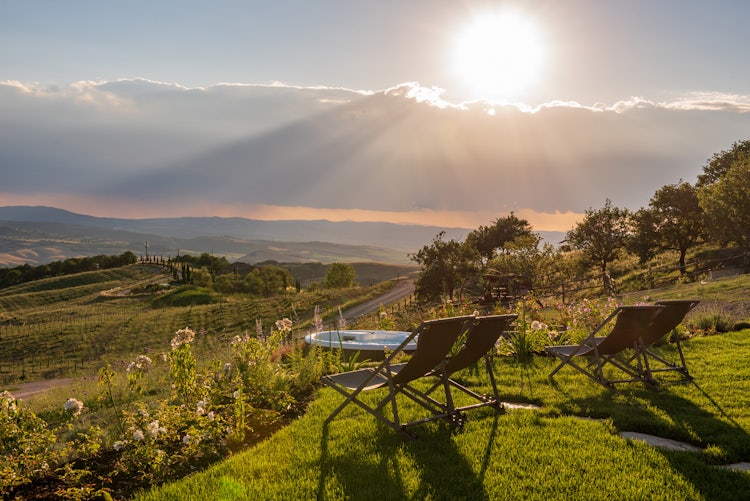 Do you want to recharge and relax with great views of Tuscany? Then Tuscany Equestrian is also a great choice since it has both great views as well as many opportunities for relaxation, from the pool to the Spa area to lots of chairs on natural terraces to just sit and enjoy the views.
Tuscany Equestrian is a country resort based around horses and their stables that just opened this year (2019), but it isn't just for someone that loves horses. If you've always been intrigued with the idea of riding but have never done so, they have a riding school that will teach the basics...and get you riding around the estate within the morning!
Take a look at what Tuscany Equestrian offers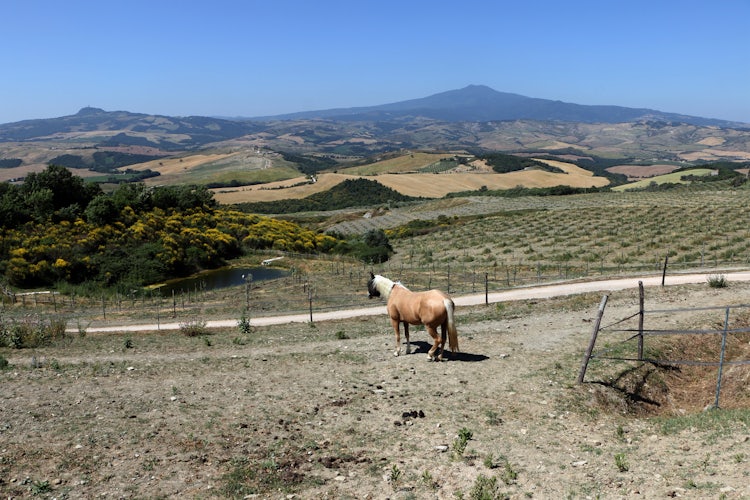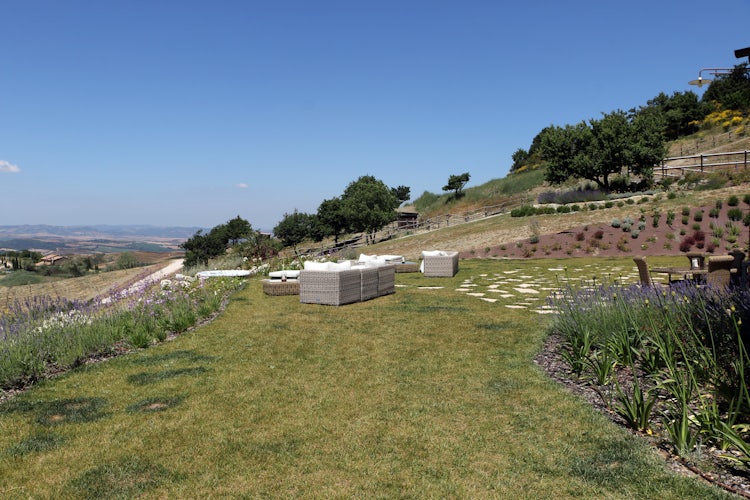 Our Review of Tuscany Equestrian
We loved: Nestled in the hills of the Val d'Orcia, there are splendid views of the hills in every direction you look. The location is simply magnificent!
Ideal for: The estate is new and very well decorated and furnished so everything is in great shape. It is ideal for couples and families, anyone wishing to celebrate a special destination wedding or family get-together. It is ideal for anyone that wants to stay put and enjoy this corner of Tuscany, it is a great base for exploring southern Tuscany, from the Val d'Orcia to the coast along the Maremma.
A working farm that has everything
The resort is actually based on a working farm estate, the Podere Val d'Orcia, that specializes in extra virgin olive oil. The estate is new because it was just purchased a few years ago and lots of passion has gone into it to quickly renovate the 3 homes on the property and prepare it to offer high quality services, from the riding school and stables to hospitality in suites and rooms to its own on-site restaurant focused on highlighting its own special product, extra virgin olive oil. It's name, appropriately, is "Extravergine". The restaurant is open to the general public, not just the estate's guests.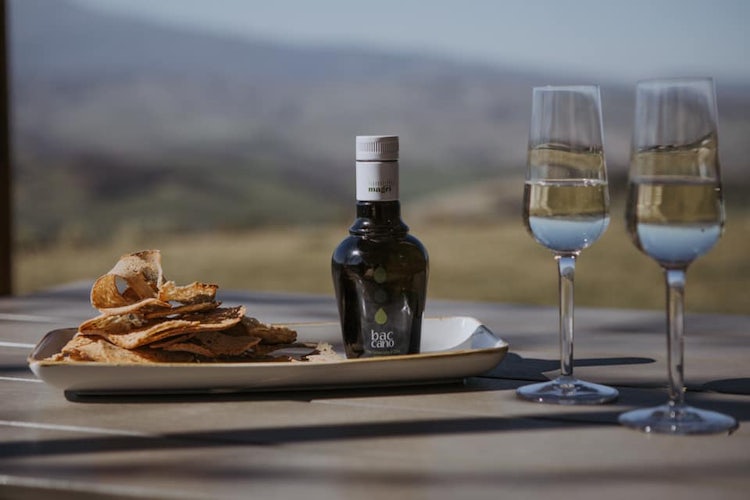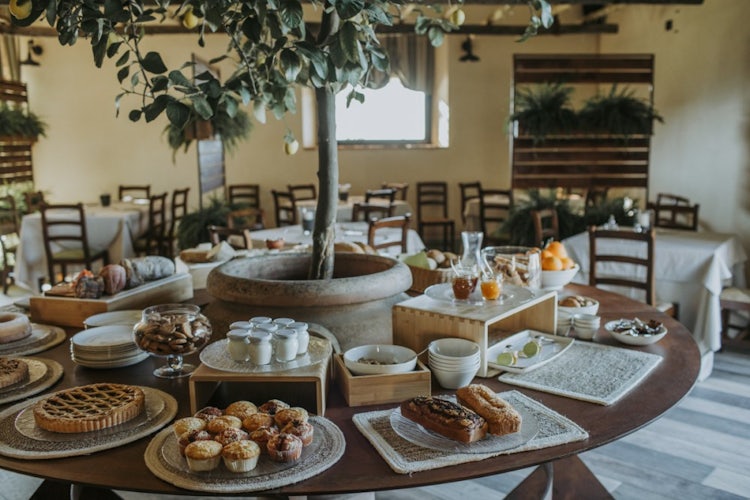 The splendid background is the Val d'Orcia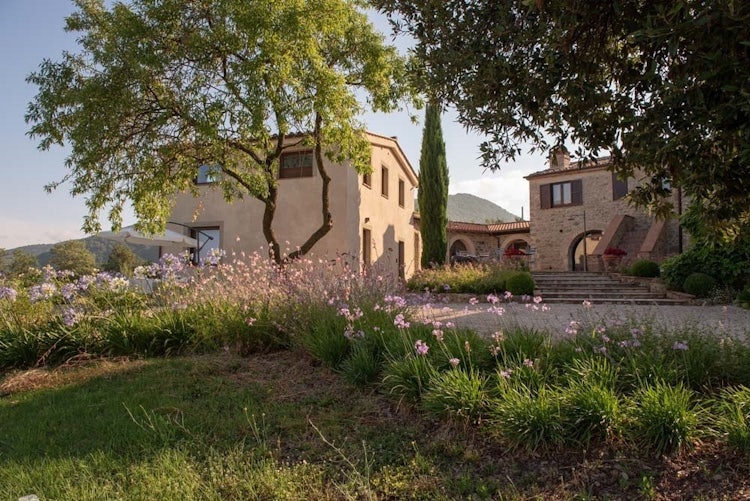 The location of the estate is on the southern end of Tuscany, in the UNESCO listed Val d'Orcia area almost to the border with Lazio just a few kilometers west of Sarteano. It is a full 2 hour drive from Florence, making it closer to Rome than to Florence actually. Aside from all of the services Tuscany Equestrian offers, it is its location in these splendid hills that will be the highlight of every moment you spend on the estate. It is a great base for exploring the area, since it is just below Pienza, San Quirico, Montalcino, Bagno Vignoni and Montepulciano.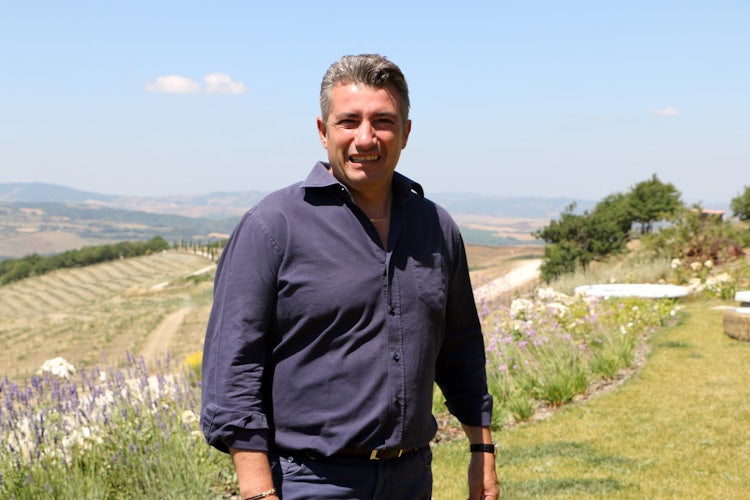 We were invited to go check the property out and all of its services recently, meeting the mind behind the ambitious project, Gianluca Magri. Mr. Magri's family worked in northern Italy in industry, creating single-use plastic plates and utensils. After many years of growing the company, he was in search of a change. A love of horses and dream of living in closer touch with nature influenced his decision to get out of the market; when he got an offer he couldn't refuse, he knew the time had come for that change. Shortly thereafter, destiny brought him to discover this gorgeous part of the Val d'Orcia. He fell in love with the views and his search led him to the run-down estate that needed much love. Starting completely anew, he has given devoted himself completely to learning everything he needs to of the world of hospitality and farming and olive oil making.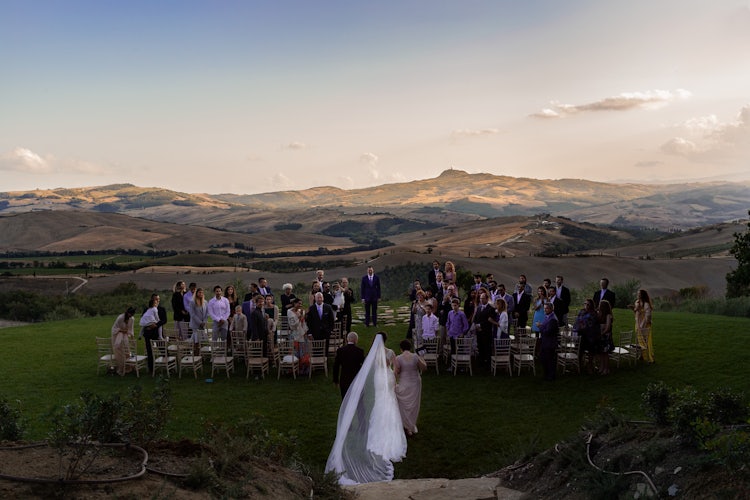 Tuscany Equestrian at a glance
Type: B&B rooms, self-catering suites in 3 villas (which can be rented as a whole)
Location: Castiglioncello del Trinoro, 20 min from Sarteano
Distance: Siena (85 min), Florence (2 hours) or Rome (2 hours)
Transport: a car is needed. If you plan to stay put, you can reach the estate with their free transfer service from Chiusi
Accommodation: 3 villas with 19 rooms and 2 suites
Sleeps: 48
Type of board: self-catering/B&B/half and full board.
Investing in a dream of a better world
Gianluca has done a life-altering pivot in the opposite direction of his previous self: the restaurant has its own vegetable garden behind the main building whose "fruits" are offered to guests at every meal, the olive trees are grown organically to produce the best olive oil there is and a part of the estate is dedicated to growing grains such as spelt. All other ingredients are sourced from local farms nearby, from the cheeses made at another farm just across the valley to the wines and meats purchased in the area. He has literally gone from being a source of plastic pollution in our world to one supporting all things local and natural, particularly rides in the countryside on horseback. Getting back in closer contact with our natural world.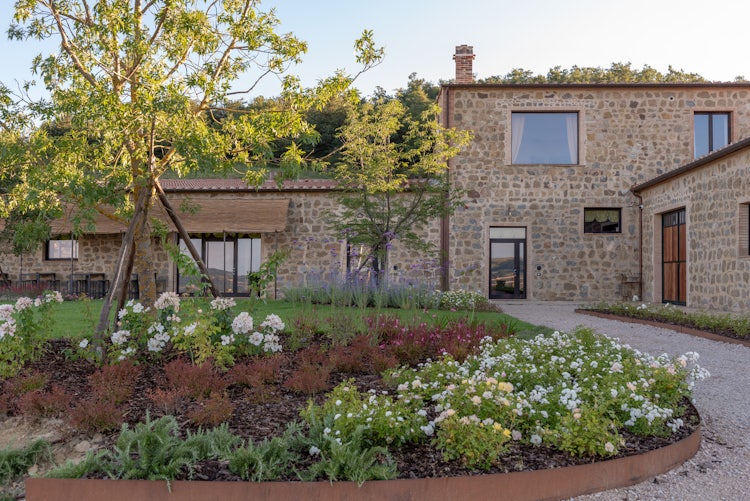 Enjoy your love of Horses
As I mentioned before, the estate revolves around the stables and horses. If you already love horses, you will be ecstatic to be able to ride every day, including going on rides on the estate and beyond. Rides are organized to local farms to try out the locally produced cheeses and wines, as well as to just explore the beauty of the region.
If you're curious about trying horseback for the first time, Tuscany Equestrian is the perfect place to take this step! This is the case for families with kids too that have never gone on horseback. All you need to do is request a lesson during your stay: the expert teachers offer basic lessons and will have you and your kids out riding on the estate before the day is out.
The stable has 13 horses, we got to meet Chimera here below on the day of our visit. We saw several guests out riding in the morning hours, returning to enjoy a meal and time at the Spa right after ;-).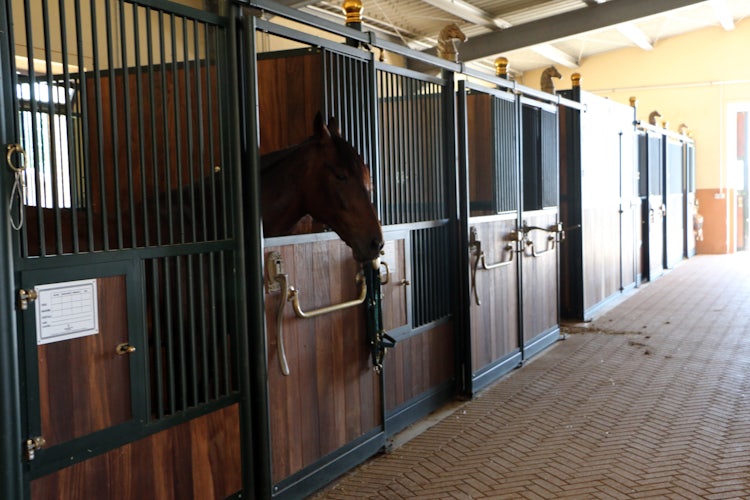 Relaxation at the heart of your vacation
It is hard to define Tuscany Equestrian as a simple farm stay or a hotel since it is a mix of all of the above. You are certainly on a farm and you can stay there, but I've chosen to call it a resort for the amount of services it offers in addition beyond the bed on which to rest your weary body after a day of sightseeing. Actually, as we took in the views and the various areas a guest can enjoy here, I was thinking if I stay here, I wouldn't be leaving it much during the entire stay.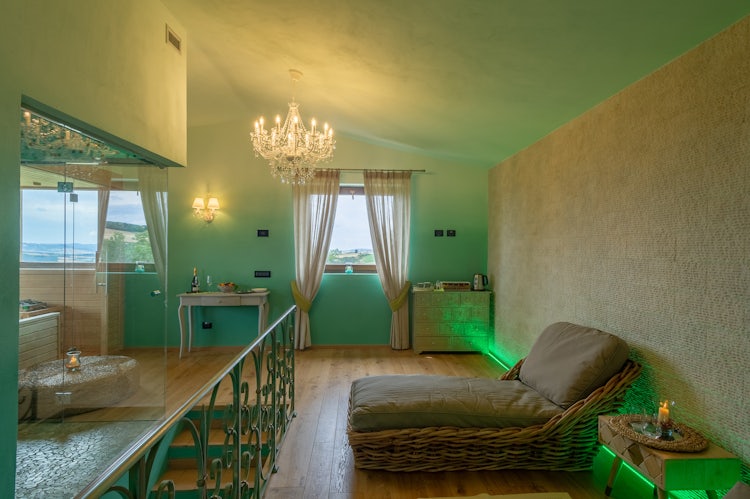 Why not? Because I'd probably – and you would too – enjoy doing a morning yoga session with a gorgeous view in the morning, reading under a tree enjoying the breeze and views or by the pool, a meal or glass of wine at sunset, again enjoying the view. This is addition to going out on horseback to see the area.
Then there is the Spa area which has a sauna and hot tub decorated in small colored tiles, where you can request massages or a facial to just relax and recharge your body and mind. If you want to relax outdoors with the view as your setting, there are also 2 hot tubs placed by two of the main houses where you can soak in, preferably again at sunset enjoying the views.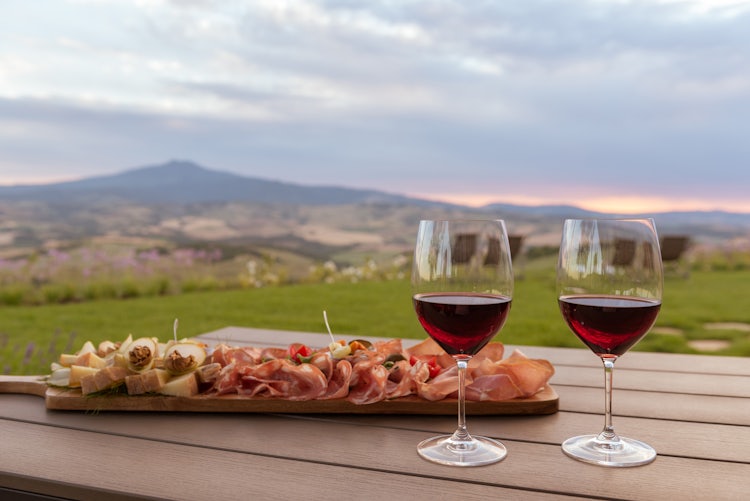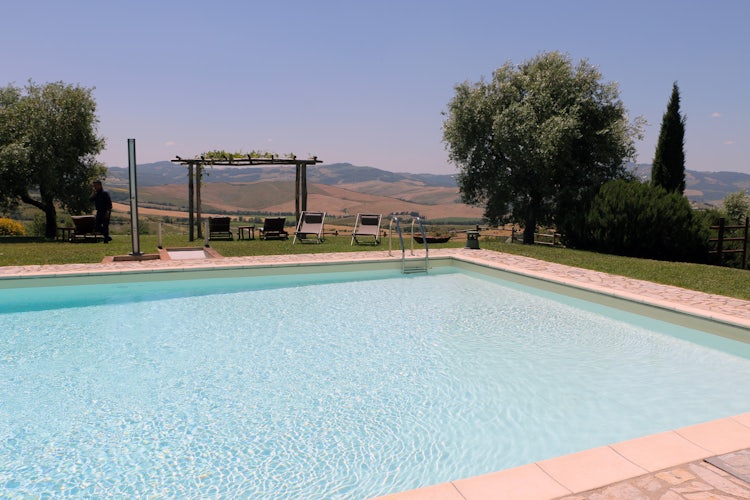 A complete array of services
Think of anything you'd like to do on your holiday in Tuscany. Massages or sauna or hot tub? Sunbathe with great views by the pool? Hot tub with a view? Enjoy delicious food or do a cooking class? Tour to nearby wine estates or to sample local cheeses? You can do it on horseback or by car. These are just some of the many things you can do at Tuscany Equestrian!
I believe the part of Tuscany Equestrian that might appeal to most will be that you can do a mix of relaxing and more "active" involvement with the outdoors. You can spend a day doing "nothing" but just enjoying life and relaxing, then the following day go on a full day horseback ride of the Val d'Orcia countryside, maybe visiting local cheese producers, wine estates and enjoying tastings of both wines and cheeses. Another day with massages and time spent in the Spa in the sauna, with some time in the gym. Or just walking around the estate, enjoying the fabulous views the Val d'Orcia offers. What would you like to do while staying at Tuscany Equestrian?
Book your stay at Tuscany Equestrian today
This is a Sponsored Article but reflects the honest opinion and experience of the author. More details »