The Flavor of the Landscape:
Wines to Taste & Vineyards to Visit
It can't be easy making a name for yourself when you are growing up between two greats: Brunello (from Montalcino) and Vino Nobile (from the Montepulciano area).
But with determination, and a good base, the DOC wines of Val d'Orcia are entering into the market and drawing attention to their quality and diversity. The Orcia DOC is a recent addition to the recognized denomination wines in Tuscany, acquiring their official designation on February 14, 2000.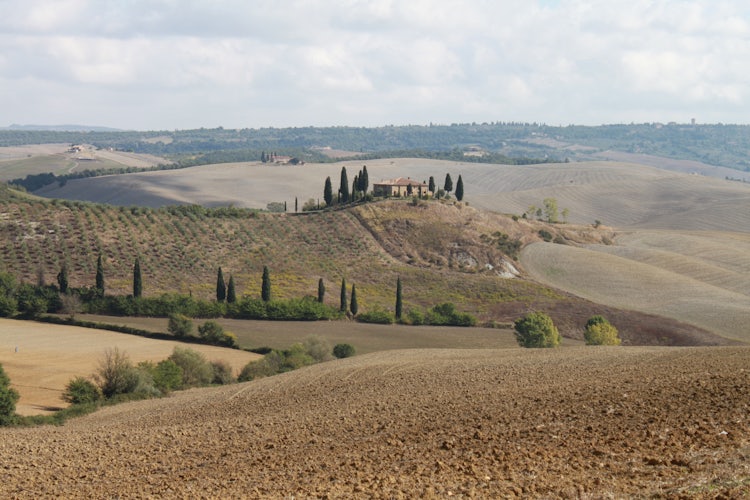 Besides the fabulous landscapes which have been awarded World Heritage Status from UNESCO the Val d'Orcia excels in handcrafted items, especially in the area of food.
Aside from the wine which we already briefly mentioned, this area is well known for its production of extra virgin olive oil, white truffles, salumi, saffron, their own special brand of pig called "Cinta senese", the big white chianina cows and who can forget the sheep, which result in a wide selection of pecorino cheeses.
Why a Denomination in Val D'Orcia
The rich finds of Etruscan and Roman artifacts related to wine and the growing of the grapes in the area are proof that Val d'Orcia has a long history of producing renowned wines. Even the names of some of the towns, like that of Bagno "Vignoni" - from the word vigna which means vineyards, are a testament that this area has always been producing wine.
The production area is nestled between Montalcino and Montepulciano, and includes the following communes: Buonconvento, Castiglione d'Orcia, Pienza, Radicofani, San Giovanni d'Asso, San Quirico d'Orcia e Trequanda as well as including parts of Abbadia San Salvatore, Chianciano Terme, Montalcino, San Casciano dei Bagni, Sarteano and Torrita di Siena.
Due to climate change - and the reduction of the spring frost - which would once play havoc with the grape production - it became possible to start taking wine production in this area to another level.
What Distinguishes A Orcia DOC Wine
D.O.C. wines - Controlled designation of origin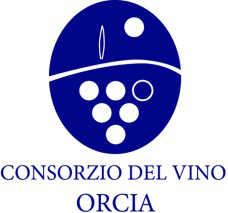 D.O.C. wines are regulated by a set of production rules and are distinguished by a very precise area of origin which may also include sub-areas that limit like a certain village, hamlet, farm, or vineyard. When you find a label with D.O.C. attached to the capsule of the bottle, they you know that it refers to a government guarantee of the origin of the wine.
Two of the traditional Tuscan grapes (Sangiovese/red and Trebbiano/white) excel in this area and they are the base for the wines which are produced under the Orcia Denominazione di origine controllata (DOC) status. The DOC red wine is composed of at least 60% Sangiovese and the remaining 40% is a blend of other local varieties. The dry white wine and Vin Santo style DOC wines are composed of at least 50% Trebbiano with other local varieties filling out the rest of the blend.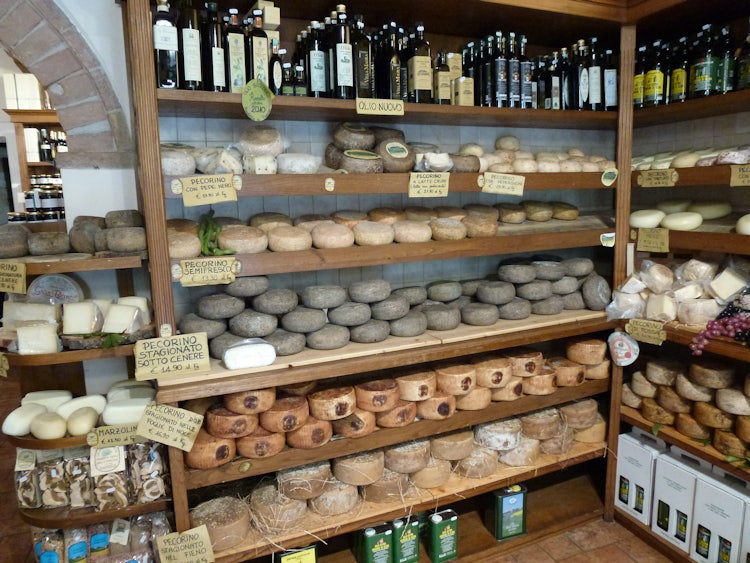 Organoleptic Characteristics
Orcia and Orcia Riserva
Color: ruby red, tends to be garnet with aging
Fragrance: vinous, fruity
Flavor: secco, flavorful, harmonic
Orcia White
Color: White sometimes yellow with green tints
Fragrance: delicate, fruity
Flavor: dry, harmonic
Orcia rosè
Color: from pale pink to cherry pink
Fragrance: delicate, fruity
Flavor: dry, harmonic, fresh
Orcia Sangiovese and Orcia Sangiovese riserva
Color: ruby red, tends to be garnet with aging
Fragrance: vinous, sometimes with a fruity note of cherries or violets
Flavor: dry, full-bodied, harmonic
Orcia Vinsanto
Color: from straw yellow to golden or even deep amber
Fragrance: intense, ethereal, characteristic aromas
Flavor: from dry to sweet, harmonic, velvety, soft
Off to Explore
This area invites not only those curious to do some wine tasting but also those who love the Tuscan landscape and a genuine Tuscan meal. The consortium for the Val d'Orcia wines is well organized with a site and map for picking out those vineyards that can offer a visit to the cantina, vineyards, a wine tasting and some can even provide a tasting of many of the other typical products from the area. In fact they quite a lofty, yet much appreciated, goal:
of turning casual visitors into avid consumers, connoisseurs, and ambassadors for Orcia wine.
The offical website for the Val d'Orcia Consortium provides you with a list of vineyards at this link.
If you find yourself wandering the hills of Val d'Orcia in April then save the date for the Orcia Wine Festival held at San Quirico every year. For those of you looking to combine the traditional sheep cheese, a bit of folklore and wine then mark your calendar for the first week of September, because besides soaking in all those lovely fall colors you can partecipate in the Fiera di Caccio (the cheese market) in Pienza.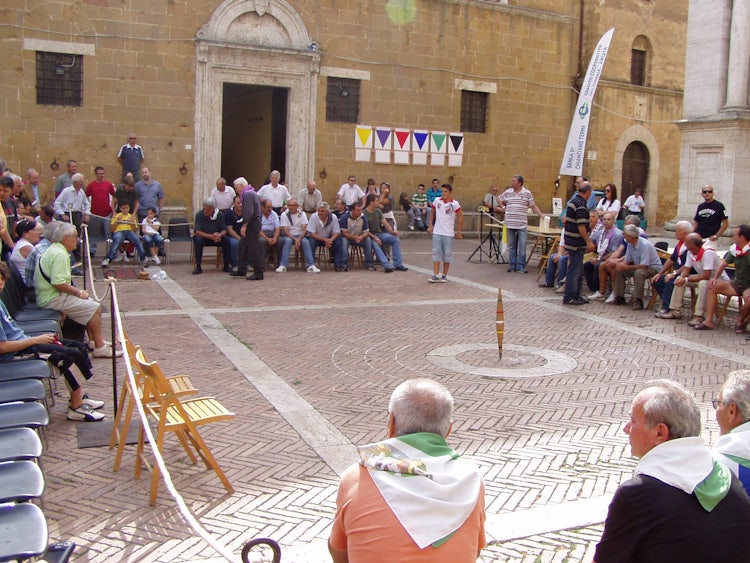 Since this is a wine which is relatively new, many of the vineyards - though steeped in family tradition, are now boasting modern facilities, organic methods of planting and growing and are family owned operations.
A Few Ideas for your Wine Tasting Itinerary
Below we list a few of our favorites that you might want to include in your list of places to visit. Remember to always book before you go - just send an email and they will help you plan your intinerary:
Castelnuovo Tancredi | BUONCONVENTO
The castle located just west of Buonconvento boasts a long and varied history, which comes together with their delicious wines. The panoramic position is ideal for photos, you can even see Siena in the distance.
Contact the offices directly to book your tasting
Sasso di Sole | MONTALCINO
This vineyard is located 300 metres above the sea level on approximately 8 ha of land in the Montalcino area.The entire vineyards is made of native Sangiovese vine. A particularity of this vineyard is that they within the both the Brunello area as well as Orcia DOC - so with one visit you get two types of tastings.
Contact the offices directly to book your tasting
Le Buche | SARTEANO
In the cellar we use barriques, tonneaux and barrels of the best qualities of French oak originating from different forests, constantly seeking for the perfect combination between wood and wine. In addition, this father/son team age in barrels accompanied by a constant soft sound of classical music, for a more balanced and harmonious development.
Contact the offices directly to book your tasting
Podere Forte | CASTIGLIONE D'ORCIA
"We work the fields just as they did 2000 years ago but in the cellar we are 200 hundred years ahead". The vineyard and other products are cultivated organic, biodynamic and Demeter approved. Reserve online for a full tour … including all 5 floors of their cantina.
Contact the offices directly to book your tasting