Colors, Fragrances & Panoramic Views
I started to explore on my own at Agriturismo Taverna di Bibbiano while waiting for the owner Marzia to finish up the last minute controls on the rooms, the menus, and the shop before she dedicated some time to showing me around. The layout of the outdoor restaurant, the way the bright red geraniums accented the windows and the butterflies that were hovering over the roses, jasmine and lavender were just too enticing - I had to go and and take a few photos.
You could so easily fall in love with every corner of the park; a wild kaleidoscope of colors and fragrances, mingling with the always-green rosemary bushes and olive trees. I was hopeful that the rooms would mirror her gardens: lively and elegant style.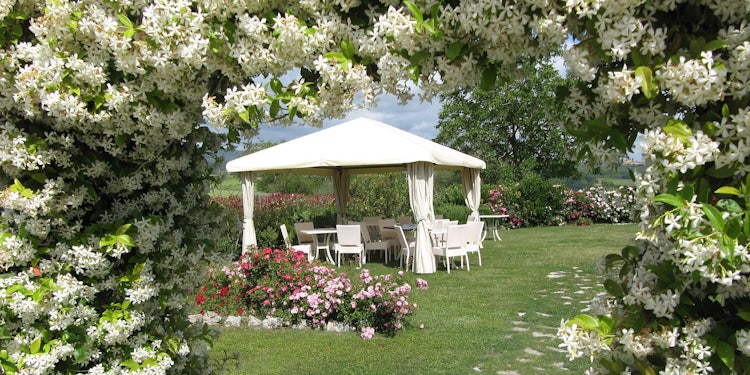 This splendid little jewel, less than 10 km from San Gimignano, is a sensorial experience. The yard which spreads out behind the B&B Taverna di Bibbiano was thought out and planted by Marzia long before she even began to restore the first building. The whimsical colors and bouquets that charge your senses today are filled with memories of her grandmother, who skillfully mixed the "necessary with decorative" in her Tuscan styled garden of vegetables, herbs and flowers. Marzia now re-creates her grandmother's mixture of contrasts.
Book Direct with Taverna di Bibbiano
And she goes one step further, harvesting lavender and proposing several creative souvenir ideas highlighting the perfumes, colors and traditions of Tuscany at her new gift shop; a pale purple bungalow, snuggled up in the fields of flowers.
Deciding on the Best View
Our first stop was to go down by the pool, where you can't help but notice the impressive backdrop behind the large crystal blue waters. San Gimignano sits majestically and it is a subtle reminder of the rich history that makes up this part of Tuscany. This is the very same view that guests at the B&B have when enjoying breakfast on the outside terrace. The wrought iron gazebo, with its white curtains fluttering to the side, was an invitation for a vacation of relax, just the perfect opportunity to absorb the fantastic atmosphere that Marzia has created with her precise organization; yellows, reds, and deep pinks added a vibrancy to the green lawn that outlined the pool, lounge chairs, and umbrellas.
The pool is set below the bed and breakfast style agriturismo and the restaurant, promising silence and discretion. Not to mention a tantalizing idea for a wedding reception. Each double bedroom has a view over the yard, all you have to do is open the window and look outside to appreciate the sounds of the countryside and natural goodness that awaits you by the pool or in one of the many little alcoves throughout the park around the house.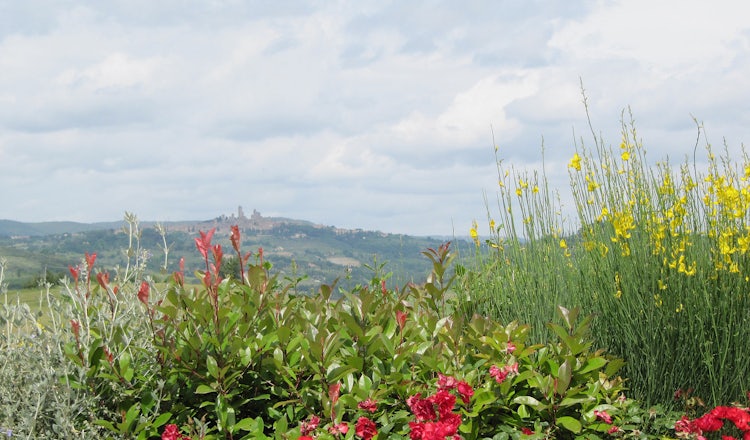 And now that I mentioned it, the Tuscan-style farmhouse, built of the typical gray and brown stone with brick and travertine accents presides above the pool. The extensive restructuring has transformed the strong walls and picturesque cortile into 10 elegant and romantic double bedrooms. Six of these are comfortable standard rooms all with an en-suite bathroom and shower, TV, refrigerator and private air conditioning.
There are two junior suites, named after floral bouquets, offering panoramic views of San Gimignano and the countryside. Ideal for a honeymoon or "sposi" (the Italian word for the bride and groom) there are two extra large suites with a double bedroom and a sitting room featuring a sofa bed. Each room is distinguished with original murals in rich colors and creative flower designs for a bit of whimsy.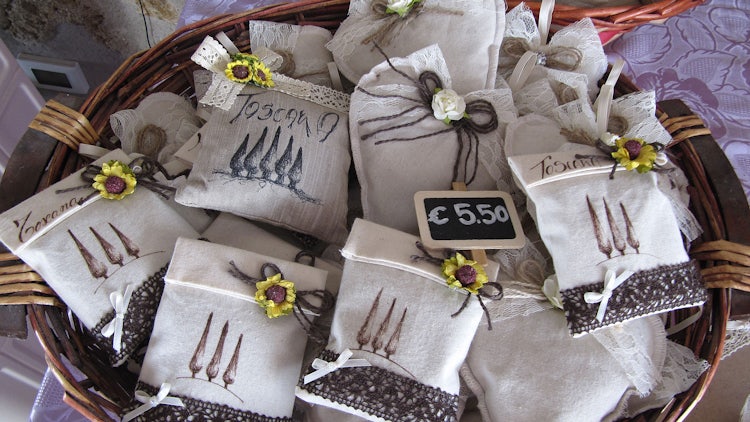 Taverna di Bibbiano in a Glance:
Type: B&B style rooms & suites on a real agriturismo
Location: San Gimignano, 8 km (15 min by car)
Distance: Florence (60 min), Castellina in Chianti (31 min) or Siena (35 minutes)
Transport: a car is necessary
Rooms: 6 B&B rooms, 2 Junior Suites & 2 Large Suites
Sleeps: 10
Type of board: Breakfast. Lunch and/or dinner available at the onsite restaurant
"I loved how my father and brother work holiday apartments, and of course the wine estate, but I wanted to do something all mine, something feminine and romantic" with a happy sigh Marzia told me, "This place, with all the flowers, the lavender, my shop and the restaurant...these are my dream."
The Feminine Side of Tuscany
Though most would be fast to associate the golden yellow of the sunflower with Tuscany, Marzia was quick to assure me that lavender, with its sweet perfume and pale purple flowers, filled the everyday Tuscan garden - probably even more so than sunflowers since the plant and flowers have always held special curative powers. Her passion for flowers comes from her grandmother but it wasn't until she began displaying handmade items and wedding favors in her gift shop in Poggibonsi, did she begin to consider specializing in objects that truly highlighted the flowers of Tuscany. As she pursued her dream to create a romantic get away, it was just natural for her to combine this early passion for flowers with the rebuilding of Taverna di Bibbiano.
There is an on-site wedding planner is there to make your dreams become reality. She will take your ideas and help you transform them into loving and lasting memories. The grounds of Taverna di Bibbiano lend themselves to organizing an outdoor symbolic ceremony where you can combine the sensations of the magical gardens with the prestigious towers of San Gimignano in the background. Marzia shared with me how couples come to declare their commitment to each other here in her gardens; she has even had several gentleman plan their proposal with the help of her private "sala", creative chef and even a live serenade.
A Review of Taverna di Bibbiano
We loved: the romantic decor and scenery. Marzia's enthusiasm for her fragrant and spectacular garden
Ideal for: couples, especially those planning on creating special romantic moments like proposals, weddings, honeymoons & anniversaries
Flowers in the Cooking Lesson?
Flanking the bed and breakfast is a wide field that provides the ingredients for her sachets, pillows, babydolls and bookmarks, all unique and singular gift ideas made right here in Tuscany. From July to August, these hills are covered with the soothing shades and perfumes of lavender...what a fun photo opportunity!
Marzia invites you to drive by and browse her new shop (2016) maybe pick-up a souvenir, take lots of photos and stop in for a tantalizing treat at their restaurant. Her menu features traditional Tuscan fare as well as specialty dishes like Ravioli with spinach and ricotta served with a lavender flavored butter.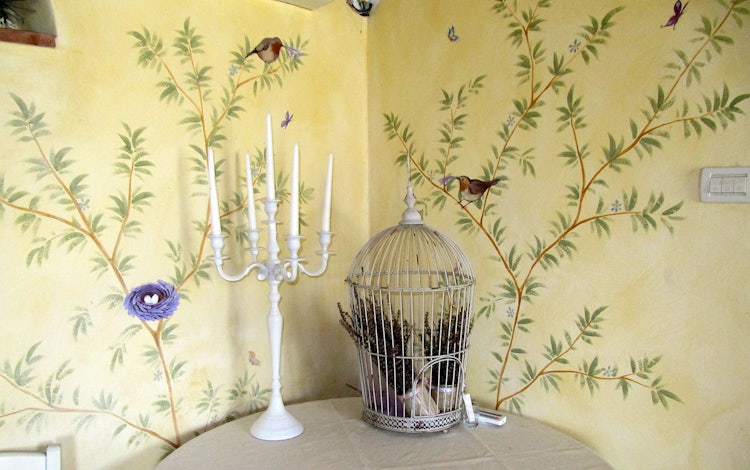 Guests (and non guests) are encouraged to contact Marzia and her chef to arrange for cooking lessons featuring not only techniques for pasta (like tagliatelle and pappardelle) but also the secrets of making a perfect ravioli or tortellini (stuffed pasta). An extra special course in cooking honors the lavender which she harvests in her gardens, that teaches you how to use this aromatic flower in recipes. These activities are wildly popular with couples who come on holiday to celebrate their weddings and create a fun filled activity to share with the party in attendance.
A stay at B&B Taverna di Bibbiano captures the romance of Tuscany, and whether you are planning to "pop the question", declare your commitment in a symbolic ceremony, vacation with your special someone, or celebrate a romantic honeymoon or getaway - you can't deny that the setting, just outside of San Gimignano, couldn't be more perfect. Marzia and her team of experts are prepared to assure you a wonderful holiday with comfortable lodgings, delicious food and a spectacular garden.
Reserve Now at Taverna di Bibbiano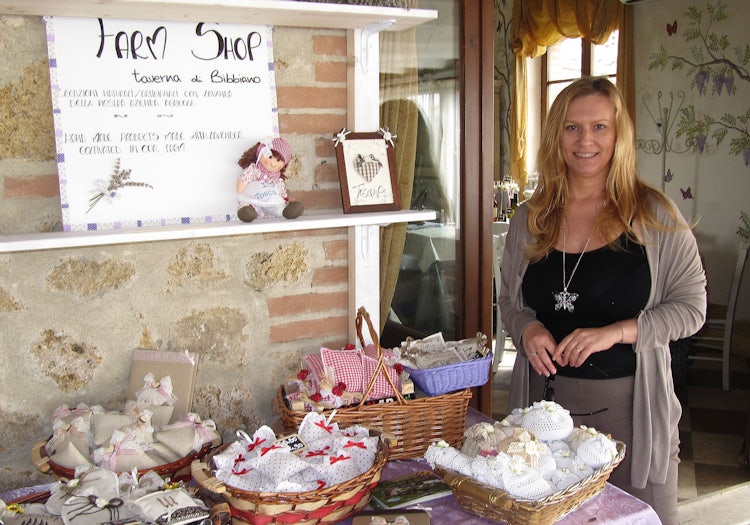 This is a Sponsored Article but reflects the honest opinion and experience of the author. More details »