Here is some basic information that might be useful when planning your trip to Tuscany, as well as useful numbers to have on hand while you're visiting the region.
Tuscany Tourism Board
The official Tourism Bureau for Tuscany is in Florence, and if you want printed material, they are your best resource.
Via Manzoni 16 - Florence
Tel. +39.055.23320 - +39.055.2332234
Fax +39.055.2346286
http://www.turismo.toscana.it/
See our Getting to Tuscany and Moving Around Tuscany sections to get a better idea of what the best method for getting to Tuscany as well as how to move around once you are here.
City information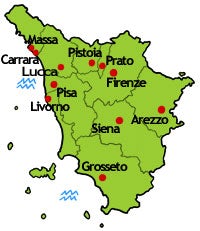 Weather
Airports, Trains and Buses
Taxis
Florence - Radio Taxi: call 055-4242 OR 055-4390
Pisa - Radio Taxi: 050-541600
Prato - Radio Taxi: 0574-5656
Siena - Radio Taxi: 0577 49222
National Public Holidays observed all over Italy
Know the national holidays that could effect your vacation schedule. Read our article about the national holidays and important information on how to avoid unwanted surprises.
Emergency Numbers and Useful Services
These numbers are nationwide, so anywhere you are in Italy, these are the numbers to call in an emergency.
Police / Polizia: phone 113
Carabinieri: phone 112
Fire Department / Vigili del Fuoco: phone 115
Medical Emergency Service: phone 118
ACI car breakdown service: phone 116