19 Beaches Along the Tuscan Coast
This is a hard article to write because everyone has their own personal preferences as to what makes a beach great, or not so great. So I took the "easy" way out and decided to start with the list of the "top" beaches in Tuscany of the ones that have received a "Blue Flag" recognition. There are 19 (latest is for 2017), right after Liguria and le Marche who gained a pair. However, let's be clear that there are many more wonderful beaches in Tuscany that are not on this list which are equally beautiful and spectacular.... for example, all of the beaches on the island of Elba!
So what is a Blue Flag?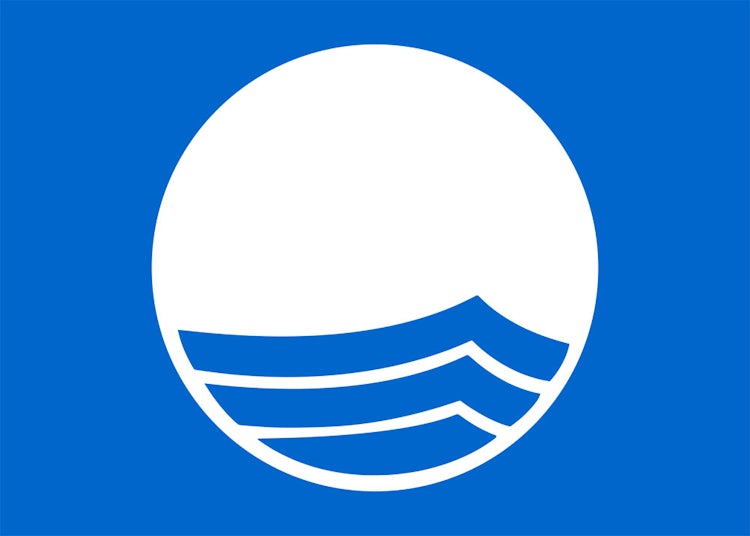 The right to fly a Blue Flag at a beach or a marina is given to beaches that have been recognized with high environmental standards and is a much sought after accolade around the world. The recognition is awarded on an annual basis to beaches and marinas around the world by the non-profit & non-governmental organisation: Foundation for Environmental Education (FEE) consisting of national member organisations representing 59 countries in Europe, Africa, Oceania, Asia, North America and South America.
The criteria for a Blue Flag designation include:
environmental education and information
water quality
environmental management
safety and services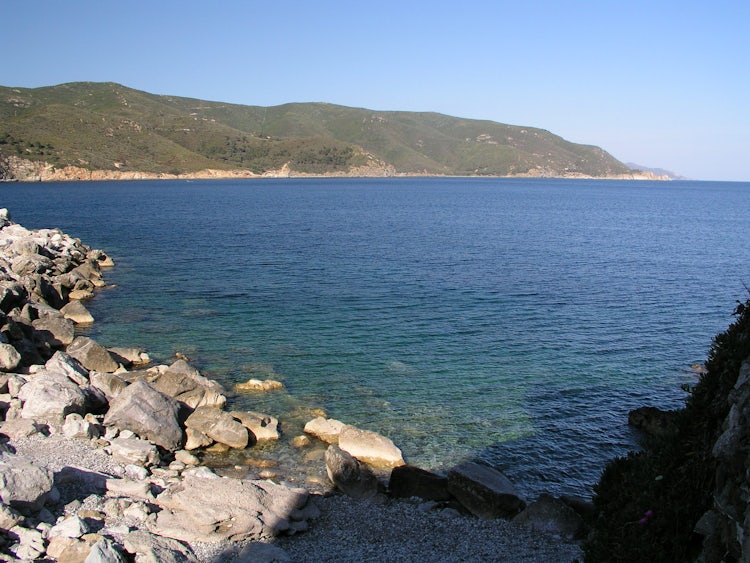 Checking the environmental standards is a good thing but this list doesn't take into consideration lots of other factors we generally consider as personal preferences when choosing a beach, for example:
at the sea are the beaches sandy or pebbly?
is the current generally gentle?
is there parking, bars (cafes), restaurants and/or picnic areas for visitors
is it a wild west and everyone for themselves or are there umbrellas and life guards?
Actually the list does take into consideration the the parking, bars, fresh water supply, bathrooms and life guards...but some are more "kid" friendly and some are more suitable for an adult - and the list doesn't make this kind of selection. Most of the coast in Italy is highly colonized with bathing establishments but there are some beaches that are still "free."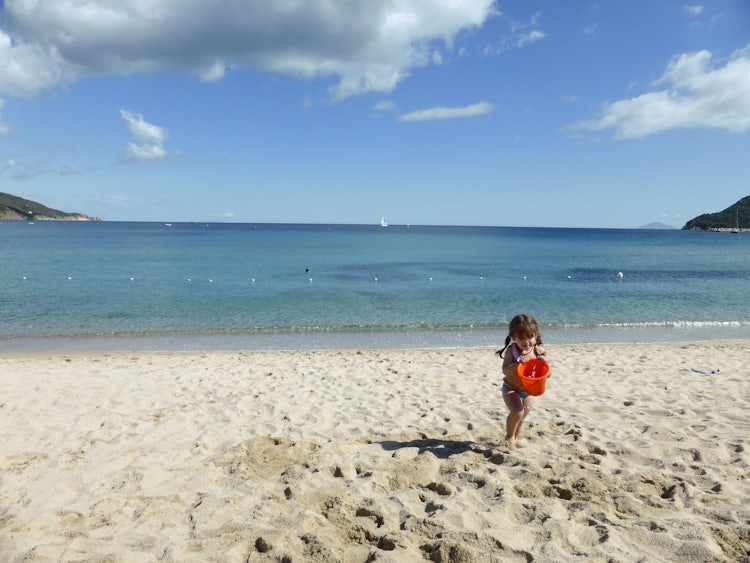 Important Note:

The Tuscan coast vs. the Adriatic coast where the water level is very low and you need to walk and walk to get into a deeper area, most of the Tyrrhenian sea (Tuscan coast) has short shelves.
Always pay attention to how far you've set off from the beach and watch your toes as you might find a deep end right in front of you.
Grab the Lotion, Beach Towel & Buckets
Let's group the beaches into areas starting from the north to south so that we can describe the general characteristics of the areas where they are located: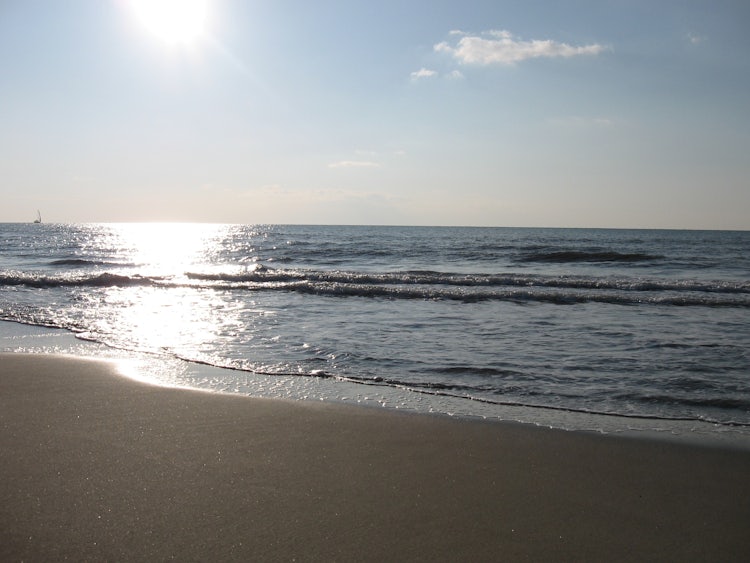 Versilia
Marina di Carrara, Forte dei Marmi, Pietrasanta, Camaiore, Viareggio
The Versilia area is decidedly high end. It is famous for its summer night life, and therefore the height of the season is during the summer. Visitors at any other period will not see the Versilia at its fullest and many establishments actually close down at the end of September.
The beach in the Versilia is very wide and long - there is basically a kilometers-long beach that goes from Forte dei Marmi to Viareggio. Forte dei Marmi and Lido di Camaiore are the higher end areas, where most of the beach is taken over by deckchairs and umbrellas set up by bathing establishments that also provide changing rooms, showers, bars with snacks and pasta. You won't find spiaggia libera or "free beach" along this track. Head to Viareggio and Pietrasanta for one of those. The spiaggia libera is basically a part of the beach where you can arrive with your own umbrella, towels, cooler and sit down wherever you want without paying. If this is the sort of beach-going experience you want, then the Versilia really isn't for you - head south toward Livorno and Grosseto (keep reading as we get to those beaches in a minute).
The water is clean but the current tends to be strong, making the water somewhat torrid. Versilia is definitely a place to catch sun rays and to be seen. In the evening, enjoy a stroll on the promenade that runs behind the beach, with hotels and restaurants looking over the sea. Enjoy a romantic meal at sunset looking over the sea.
Pisa
Marina di Pisa, Tirrenia, Calambrone
As you head south, the beaches get shorter and more narrow. Many of them start having copses as well as stretches of actual woods right behind the beach.
The beaches on this stretch near Pisa tend to receive strong currents. The Marina di Pisa, however, is particularly adapt for families as the beach is protected from the open sea by large rock walls that have been piled to act as barriers making the beach-going experience much more pleasant.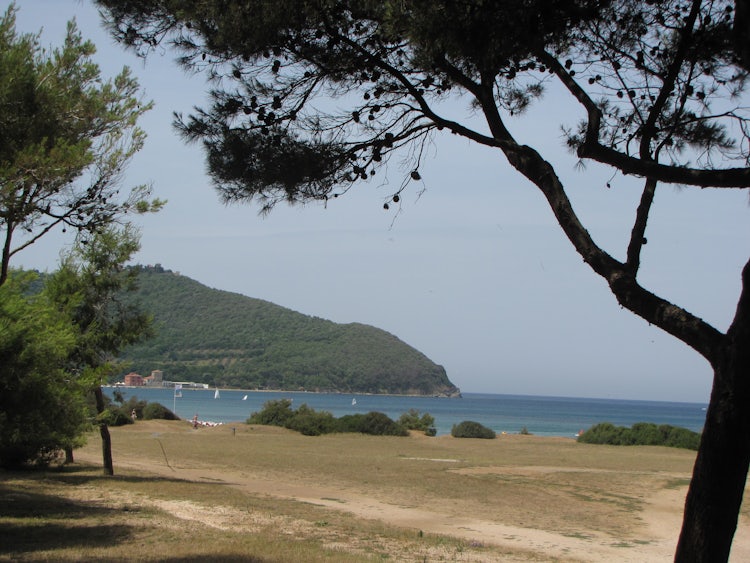 Livorno
Antignano, Quercianella, Castiglioncello, Vada di Rosignano Marittimo, Cecina, Marina di Bibbona, Castagneto Carducci, San Vincenzo, Riotorto-Piombino, Marciana Marina-La Fenicia
This area includes some of the most popular beaches in all of Tuscany. From Antignano down to Rosignano the waterfront is actually reef but this does not discourage anyone from spending the day at the sea. You actually climb on - make sure to bring water shoes or buy some from the many vendors - lay your towel, get some sun, then go snorkeling, then rest and get some more sun! Repeat as often as you like. The towns here all offer boardwalks with bars (cafes), gelato shops and restaurants as well as any beach paraphernalia you might have forgotten to bring along. Castiglioncello, Vada and Cecina are some of the easiest to reach with public transporation as the towns (and train station along the Pisa-Grosseto line) are on the coast or not far.
From Rosignano down to Riotorto the beach turns into small pebbles or coarse sand, the beaches tend to be very short before you reach a barrier of rock into the sea but there are lots of them. The water tends to be calmer in this area in general. You definitely generally need a car to visit these beaches, as public transportation is limited.
While not all of the beaches on the island of Elba are listed as "blue flag", they are incredible! No matter which one you to, you won't be disappointed: the island has every type, from sandy to pebbly beaches. To decide to which area of the island to go, just check wind conditions and head to the ones that are "protected" so that you can have calm waters, particularly if you have small kids.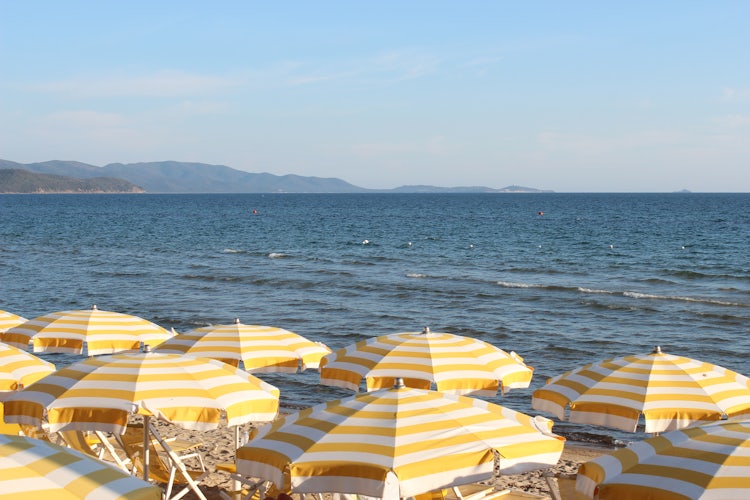 Grosseto
Follonica, Castiglione della Pescaia, Marina di Grosseto, Principina di Grosseto, Monte Argentario
This area, also known as Maremma, is the most popular in Tuscany among Italians for the beaches and many foreigners have recently discovered the area. Many families tend to rent small apartments along the seacoast during the summer and basically transfer themselves here for the month of August.
You'll find both long stretches of sandy beaches as well as some areas with reef, many spiagge libere as well as colonized areas with chairs and umbrellas. You can lay out and work on your tan or go exploring the outer reefs.
A short way south of Marina di Grosseto, the Marina di Alberese beach is quite busy but perfect for families. This is a long stretch of sandy and free beach with extensive woodland behind the beach.
To the north of Castiglione, the Cala Violina is a lovely beach at the end of a 15-minute walk along a woodland trail.
In this area, many of the parking lots are far from the beach and require a short 15-20 minute walk to the beach, all worth it from our "unbiased" point of view ;-).
The Best Family-Friendly Beaches
This will vary depending on the kid's ages. For small infants and toddlers, you'll want sandy beaches as well as not too open to winds to keep waves down to a minimum. Older kids will instead love climbing over rocks and exploring the pools in between for treasures.
SANDY BEACHES: You can find them up and down the entire coast of Tuscany, so to be honest, you won't have problems finding a good spot to head to with smaller kids. Versilia for the most part is sandy, as is Maremma in the southern end. The area known as the Etruscan Coast and Val di Cornia also has many sandy beaches, some better for smaller kids than others. Take a look at the list for Val di Cornia - the best ones for kids are Baratti and Sterpaia, as they are a bit more protected from winds (both are bays) and therefore the water tends to be calmer. There are also great sandy beaches south of Ansedonia, around the Orbetello lagoon (in the Gianella) and we really love the long sandy beach within the Regional Park of the Maremma at Marina di Alberese. On Elba, the long sandy beach at Marino di Campo is perfect for children, as is Fetovaia and Cavoli.
ROCKY/PEBBLES: There are many pebbly beaches all around Elba, as well as in Monte Argentario and Castiglioncello.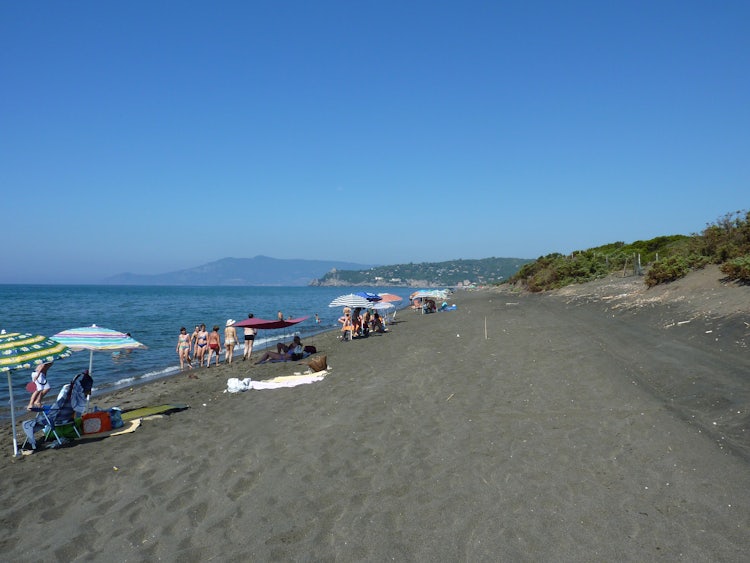 View photos of Tuscan beaches & the seaside! »