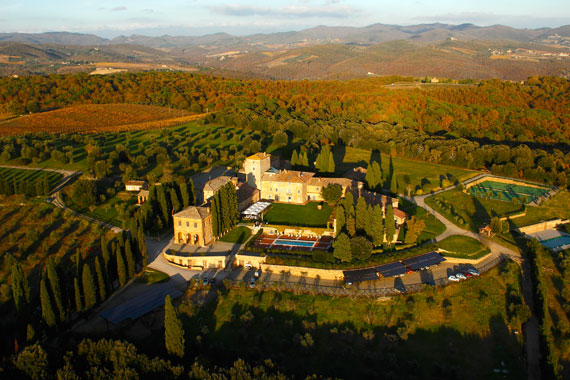 As we made our way down to Siena and then out into the Chianti countryside covered with vineyards, I was thinking of how driving in Tuscany makes you seem as if you've stepped into a movie. We likely have, as the setting we drive through has been caught on screen many times before.
If the landscape in late March, not yet fully awake from its winter sleep, is this gorgeous already, we can only imagine how stupendous it will be once everything is in bloom and the vineyards ripe with fruit. For now, we enjoyed the light sprinkle that created a double rainbow!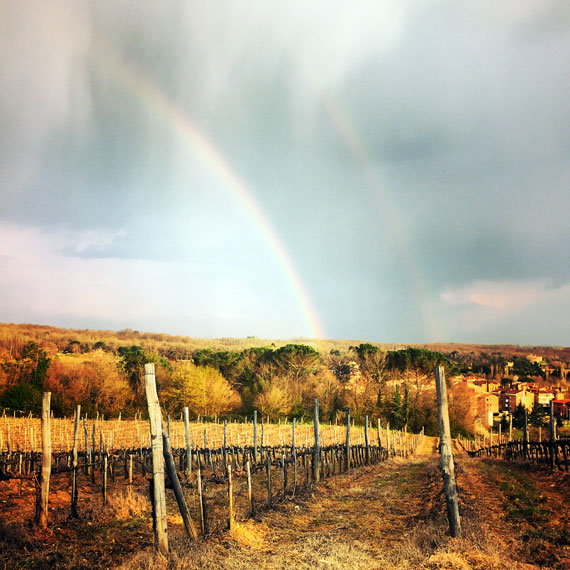 We were making our way to spend this year's Easter weekend at Borgo Scopeto Relais, a medieval hamlet set atop a hill enjoying a great view of Siena in the distance. The view of the estate itself as you draw near is magical as you follow a long cypress lined road to enter the property. The hamlet has been restored and renovated into a four star luxury hotel. As such, service was impeccable from the moment we arrived and we're welcomed at the reception desk to the warmth with which we were greeted with each time we arrived to enjoy the superb meals at the estate's restaurant. Borgo Scopeto Relais is, in fact, part of JDB Fine Hotels & Resorts and won the Condé Nast Johansens Awards for Excellence for 2016.
The estate presents a fine mix of old and modern, conserving an elegance of the past with newer designs. The corner tower, the oldest part of the building dating to the year 1000, proudly shows off its stone structure while welcoming you to sit and chat in rooms such as this inner courtyard just off the bar area. Since the 1300s when the Sozzini family took over the estate, and for five centuries, rooms and other buildings necessary for life on the hamlet grew around the tower. We were invited to come visit and explore the estate and this corner of Chianti and quickly snapped up the offer to learn more about the estate that still produces Chianti Classico wine, vinsanto and high-quality extra-virgin olive oil.
We were quickly enchanted by such rooms within the ancient residence. Make sure to look for the hole (covered with glass) that shows the dungeon below the tower ;).
Easter weekend was busy so we ended up in what we believe is the most exclusive of the medieval residence's suites, in an executive suite we were soon told features in several scenes of the movie Letters to Juliet, a 2010 romantic drama movie starring Amana Seyfried based on a 2006 non-fiction book, Letters to Juliet, by Lise Friedman and Ceil Friedman.
Amanda's character, Sophie, travels from Verona to Tuscany to help hew new friend, Claire (played by the great Vanessa Redgrave), in the search of a long lost love. They stay at Borgo Scopeto as they continue their search. We have seen the movie and remember the beautiful scenery and villa, now we have to watch it again to find the room and areas of the villa in the movie.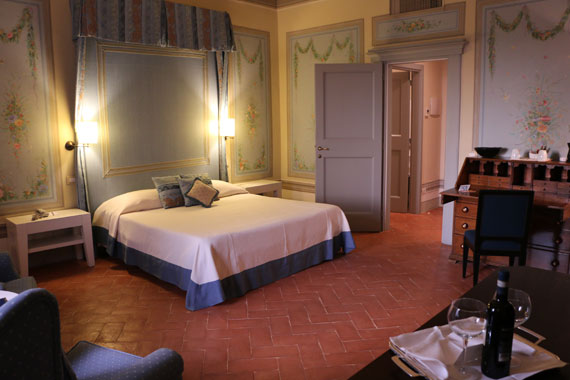 The room in particular is spectacular with its balcony and view, the walk in closet, and two separate bathrooms with marble fixtures (where you'll enjoy fine quality courtesy products made with wine, oil and honey for the estate). The fireplace and all of the birds and flowers frescoes painted around the room for the movie give the room a particularly fanciful and romantic air. I would recommend the suite to anyone in Tuscany for a honeymoon, and, in particular, the entire estate for anyone planning a destination wedding in Tuscany!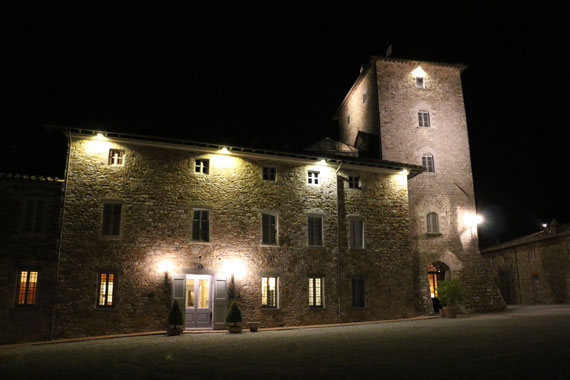 The hotel is large, with over 50 rooms, all offering air-conditioning and great wi-fi access in each room (we loved that part!). The gardens, pool, spa and fitness areas (we wish we had more time to explore these) and restaurant make the estate ideal for staying put and enjoying a relaxing vacation in the heart of the Chianti wine region. Since Easter was so early this year, leaves and blooms were still in their budding stage and we're lucky to have gotten a lovely sunny weekend. We spent it wandering around the estate, making our way into their "secret garden", a labyrinth of miniature oak trees set away from the buildings, where we were surrounded by silence as we were the only ones there. In centuries past, falcons and hawks used for hunting were trained there. The estate also has tennis courts and a second pool. The main residence contains an area downstairs where you can do wine tastings of the estate's products, as well as wines from two other Tuscan estates near Montalcino and another in Maremma belonging to the same group.
The estate is perfect for large meeting groups and private events as well as for weddings. You can request exclusive access and have the entire place to yourselves to make your dream in Tuscany a reality.
While Borgo Scopeto is most definitely an exclusive location, we always felt comfortable and made to feel welcome at all times, even with our toddler (seen in the photo above).
Go ahead and explore your dream, check out Borgo Scopeto and contact them to start planning your stay!
The restaurant "Tinaia"
When the estate's wine production was still housed here, the area that today welcomes guests for meals was once the wine cellars. You can see traces in its structure, as well as the arched brick entryways.
The breakfasts and dinners we enjoyed here were all superb! The restaurant specializes in traditional Italian recipes, but all presented with an original twist. We saw this in our sformatino di pecorino, a light souffle starter made with sheep's milk cheese laying on a cream of cannellini beans, with a scent of rosemary. In the delicious local Sienese specialty of pici pasta flavored with duck and orange zest sauce to the asparagus risotto we had another night. Every dish paired with their estate's fine white and red wines (the wine list was extensive). We highly recommend you dine in when you are staying at Borgo Scopeto.
Ready to make your dream stay in Tuscany a reality? Contact Borgo Scopeto Relais via TuscanyAccommodation.com.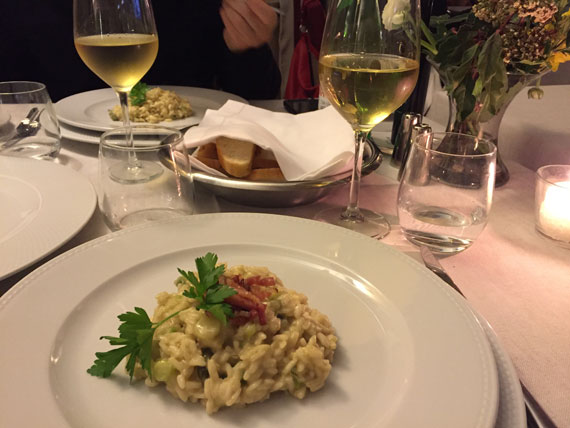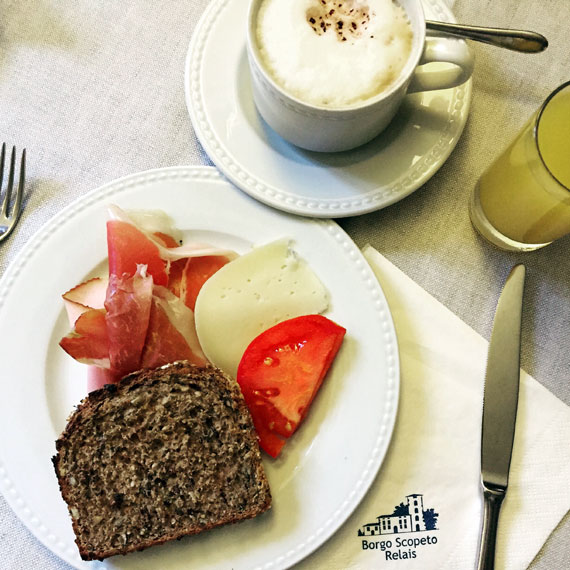 About Lourdes Flores
An American living in Florence for over 10 years, Lourdes continues to explore and discover new places in Tuscany with the eyes of a tourist but with the experience of living in Italy. She shares her experiences on this blog and website, particularly offering lots of travel planning help on the Forum!