For a limited time only, the Hard Rock Cafe in Florence is offering a very special Sunday brunch menu in April. As part of the pilot program that includes important European cities such as London, Paris, Rome and Florence, you can take advantage of the "Easy Like Sunday Morning" menu every Sunday this month of April (April 3, 10, 17 and 24, 2016). What makes the brunch extra special is that you have a live band playing during your morning meal!
We went this first Sunday to try out the special brunch and came away quite happy: a full belly and with a smile for having enjoyed good live music provided by the great band "Last Minute Dirty Band", who specializes in classic from the '60s.
Keep reading for more details!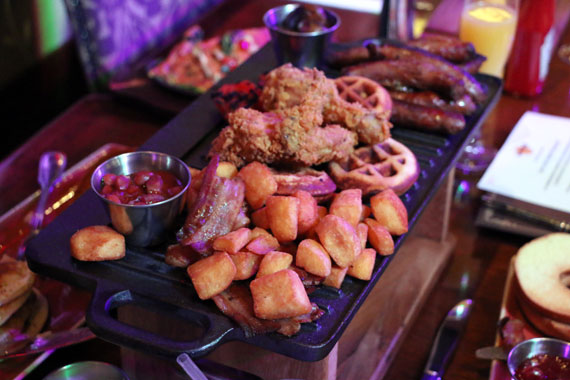 When:
every Sunday in April – 3, 10, 17 and 24
from 10am until about 1pm
What – the MENU:
a rich brunch menu consisting of individual plates of pancakes and a toasted bagel, with shared platters with waffles, scrambled eggs with red bell peppers, zucchini, spinach and feta cheese (these were really delicious!), fried "southern style" chicken, crunchy slices of smoked bacon, grilled sausages, "Southwest" seasoned potatoes, cowboy beans (had bacon and sweet taste), grilled tomatoes and portobello mushrooms. You can sweetened or flavor your pancakes, waffles and bagel with maple syrup, whipped butter, fruit preserves and salmon-flavored cream cheese.
Drinks: You can have tea, coffee or a cocktail: a Mimosa, Hard Rock Bloody Mary or the possibility to create your own Bloody Mary – a tray with all the ingredients in brought so you can mix your own.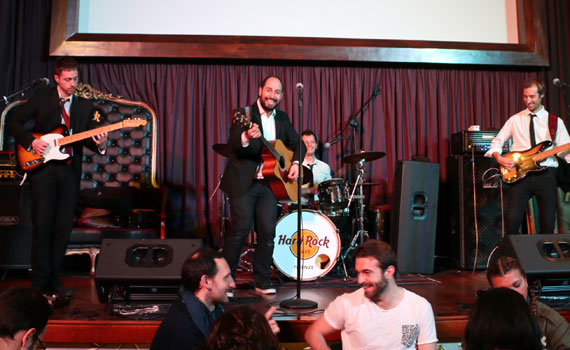 At 24 euro for the brunch, it isn't too much, considering all of the food you have at your disposal which I considered to be extra bountiful even for two people. I enjoyed all of the flavors of the food (while not having to prepare any of it ;), and I suggest you order extra water or drinks.
Of course, if you are NOT used to eating a hearty breakfast ever and don't ever it savory food for breakfast or brunch, I would recommend you just go for the breakfast menu that the Hard Rock also offers (which runs from 8:30am to 11am and which is offered every single day of the week, not just Sundays).
What I most enjoyed (as did our 3 year old) was the live band. While the Hard Rock Cafe often has live bands throughout the month, they are always at night so this made for it myself a bit extra special. The mood was light and festive, we took our time and enjoyed the morning out and downtown in Florence.
For more information, take a look at the Hard Rock Cafe in Florence website and at their Calendar of Events to see what is planned for any day you might want to head their way.
Remember, there is a special gift for readers of our blog which you can download here: https://www.discovertuscany.com/eating-and-drinking-in-tuscany/dt-hrc-voucher.pdf
About Lourdes Flores
An American living in Florence for over 10 years, Lourdes continues to explore and discover new places in Tuscany with the eyes of a tourist but with the experience of living in Italy. She shares her experiences on this blog and website, particularly offering lots of travel planning help on the Forum!