If you want to view incredible views of Florence during this summer and fall with the added plus of great outdoor art, I recommend you add Forte Belvedere to your itinerary. The Forte Belvedere – and Boboli Gardens too – are currently hosting a major exhibition dedicated to the international artist Giuseppe Penone (who just finished an exhibit Versailles in France). The exhibit "Prospettiva Vegetale", or Plant Perspective gave the sculptor the challenge of creating works that would adjust to the magnificent ramparts of the fortress and gardens, both UNESCO World Heritage Sites.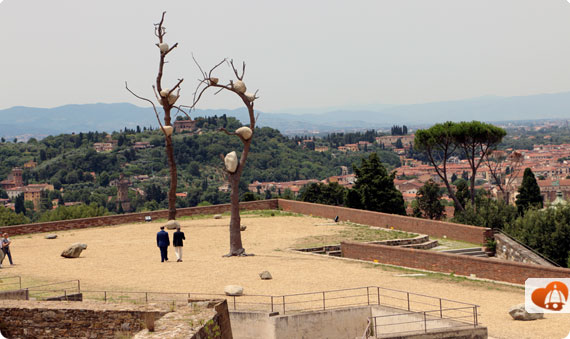 I went a few weeks ago (likely on the only day that it was actually hot this summer) and, despite that, loved how the sculptures both stand out and blend in with the fortress and the landscape. I do recommend you go towards evening, when the bar offers drinks and aperitivo when you'll also enjoy the sun setting over Florence! I need to go back at that time of the day 😉
Penone is known as a sculptor of various materials. Many of the works here are in bronze, but there is also marble and wood. These materials themselves connect to nature and life, which you can see that through the various works: in the Trees with man-made light transforming and freeing them, in the bronze with tree-like forms and in the marble blocks of Anatomy where the veins are evident. The work is very interesting because while it is contemporary, there is no disruption with the spaces in which they have been placed.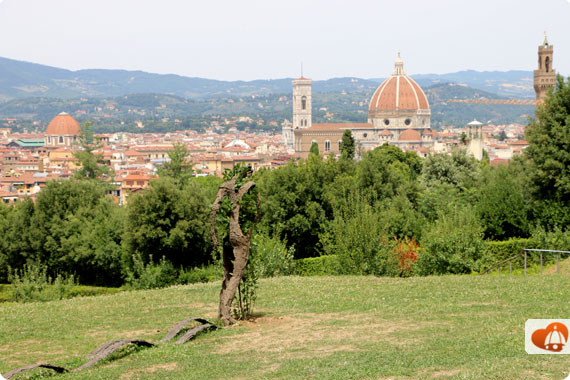 It is the first time the two venues are hosting one exhibition… and I'm not sure everyone has made the connection that the exhibit continues, whether you start at the Forte Belvedere or in the Boboli Gardens. In the gardens, you really do have to explore to find them. I loved finding this "Sentiero" or "Path" above right below the Kaffehaus.
The exhibition continues until October 5, 2014. In the meantime, here's just a small preview of some of the views and works – you have to go, explore the gardens and enjoy them yourself!
Giuseppe Penone – Prospettiva Vegetale
Forte di Belvedere and Boboli Gardens
July 5 – October 5, 2014
About Lourdes Flores
An American living in Florence for over 10 years, Lourdes continues to explore and discover new places in Tuscany with the eyes of a tourist but with the experience of living in Italy. She shares her experiences on this blog and website, particularly offering lots of travel planning help on the Forum!