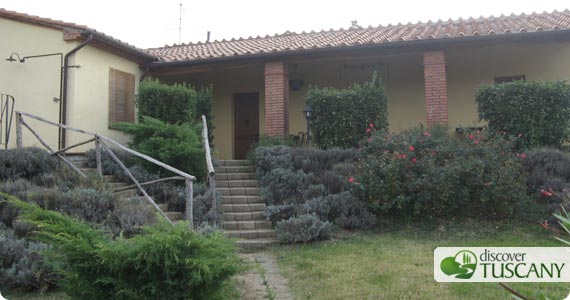 In the area of the upper Maremma hills where we went to explore, an agriturismo (farmhouse) seems to be the most common form of accommodation. The area is largely cultivated and is home to the Montecucco DOC wine region and, while it is lesser known than its neighbors, the Brunello di Montalcino or the Morellino di Scansano, it is no less good and enjoyable. For our last minute trip to Maremma we searched online and finally decided on contacting the agriturismo Il Passo degli Ulivi which offered independent apartments.
October brings in the low season so we knew it shouldn't be hard to find availability for a last minute get-away. October is also when you have to admit to yourself that summer is definitely over and the weather gets a bit grey and cool. So not only were we surprised to get the whole agriturismo to ourselves, we also got really lucky with the weather warming up and we enjoyed almost a full week of sun!
Since we enjoy relaxing as well as hiking and exploring every time we go out somewhere in Tuscany, we appreciate places that offer a little kitchen corner and allow us the luxury of sleeping in and getting our own breakfast when we feel like it, or the possibility of being able to make our own sandwiches and snacks to take on our hikes.
The Passo degli Ulivi was perfect: it offered a comfortable apartment with a large kitchen with sofabed and TV, a double bedroom and bathroom. The agriturismo has 3 such apartments that share the outside terrace and swimming pool (covered at this time of year). The apartment was clean and the kitchen was really well-equipped and even included a toaster and American coffee machine. The rooms were furnished in old country style, the bed in wrought-iron and the ceilings had exposed wooden beams and the floors were terracotta. Everything was very comfortable, and the heating/AC system in the living room/kitchen area and in the bedroom were definitely a plus when the evenings were cool.
The property sits on a hill and enjoys a great view of the village of Civitella Marittima. The apartments have their own entrance and parking area, but they are right behind the family farm and surrounded by olive trees from which the family produces olive oil. One day we woke up and found the family beginning the olive harvest just outside our windows. The farm also makes their own wine. We met Donato, the owner, on our first day and he was very helpful in explaining the basics to get us settled in and in providing information on the area and the nearby restaurants. He had a map and a list of useful information on hand to give to us and which proved to be a great resource.
We had a great experience visiting and getting to know this area of Maremma. Staying at Il Passo degli Ulivi was certainly a part of it, and we highly recommend it to anyone wishing to enjoy a relaxing vacation in the countryside just as we recommend visiting this truly undiscovered corner of Tuscany!
About Lourdes Flores
An American living in Florence for over 10 years, Lourdes continues to explore and discover new places in Tuscany with the eyes of a tourist but with the experience of living in Italy. She shares her experiences on this blog and website, particularly offering lots of travel planning help on the Forum!