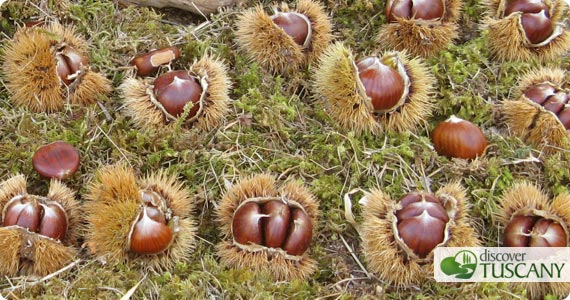 The tiny village of Marradi organizes every Sunday in October the traditional Sagra delle Castagne or Chestnut Festival, and this year marked its 45th edition.
This last weekend we participated too!
Marradi is a characteristic little village of the Upper Mugello almost on the border between Tuscany and the Emilia Romagna territory. The Chestnut Festival organized in Marradi is dedicated to marroni chestnuts since these delicate chestnuts grow here and across the Mugello. They even are identified and protected by law as the "Marrone del Mugello IGP", considered one of the best quality chestnuts in Italy.

During the days of the festival the main streets and squares of Marradi are filled with stalls selling tasty specialties based solely on chestnuts, mostly pastries and cakes. We enjoyed most of the local specialties and especially enjoyed the Torta di Marroni (chestnut cake), the Castagnaccio, the original Cannolo filled with ricotta cheese and chestnuts and, of course, the "Bruciate", as fresh-roasted chestnuts are called here.
The stalls also offered many other local products such as honey, mushrooms and organic jams and it was possible to buy fresh marroni chestnuts and chestnut flour at a good price. Salty food lovers could appreciate piadine and crescione, the flat sandwiches typical of Romagna, just a few kilometers away.
Last Sunday was a perfect day for being out in the open and we spent a few pleasant and relaxing hours at the Sagra delle Castagne in Marradi. Not so fun was the drive to Marradi and back because we found a lot of traffic along the way given the popularity of the festival. Parking was also a problem. The train seems to be a more comfortable and faster alternative for reaching Marradi and if we head back again next year, we will definitely travel by train.
Anyone interested in attending these sagre and enjoying chestnuts, mushrooms and other typical seasonal products over the next few weeks will find ample opportunity to visit Marradi and other lovely villages of Mugello and enjoy the fall's bounty!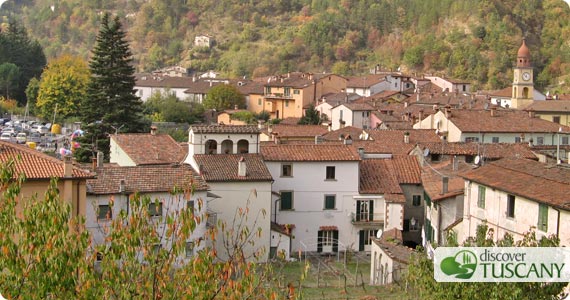 About Cristina Romeo
Born in Florence at the end of the fabulous '70s, Cristina has always lived in the famous "cradle of the Renaissance". She's in love with her homeland, but also enjoys traveling and discovering new places. Cristina is mum to a lovely little girl, to whom she hopes to pass on all the passion and love of our precious, wonderful Tuscany.