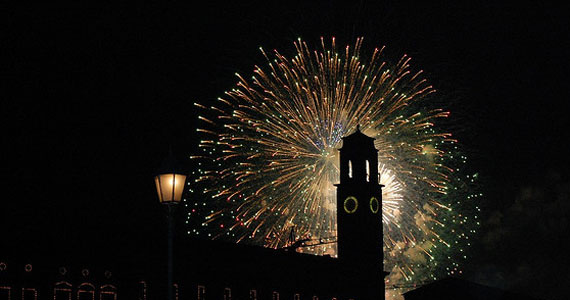 Will you be welcoming 2012 in Tuscany? Many restaurants, discos and pubs organize special dinners or events (at fixed prices, where you need to reserve ahead of time) but there are also events planned for spending New Year's Eve at the opera, watching a play or listening to music in the the main squares of the main Tuscan cities!
To help you plan exactly where you'll be on the stroke of midnight December 31st, here are some ideas:
In Florence
If you prefer to join the crowds outdoors, the city of Florence selects five squares across the city to stage 5 different types of musical concerts. You can head to Piazza della Stazione in front of the Santa Maria Novella train station for rock/pop music which turns out into the main New Year's Eve event in Florence. This year, starting at 9pm, dance to the Street Clerks then enjoy Pippo and his Polar Penguins and then dance to the beat of the Brunori Sas. At midnight, Italian rapper and big bill Caparezza takes the stage to make the city dance!
If you'd like a more classical atmosphere, head to Piazza della Signoria where Palazzo Vecchio and the Loggia dei Lanzi are the perfect backdrop for the Ukraine Philharmonic Symphony of Donetsk directed by Giuseppe Lanzetta. The concert is set to start around 11pm.
Another option is to go to Piazza della Repubblica for electro-swing and ethnic beats by the Les Italians Orchestra starting at 22.30 and after midnight by The Sweet Life Society.
Head to Piazza della SS Annuniziata for gospel music to listen to the Golden Voices of Gospel or head to Largo Annigoni to dance to deejay set before midnight and continue with the DJ beat of Strange D(J)ays starting at 1am.
If you prefer an indoor celebration, you can go to the big classical musical gala at the new Teatro dell'Opera di Firenze with a rousing ringing in of the the new year as orchestra director Zubin Mehta conducts pieces by Beethoven, Ravel and Rimskij-Korsakov. Cost: €110 for concert, dinner can beforehand at €80 additional (you can buy tickets at this link.
Another great musical gala will be held at St. Mark's Anglican Church: the Operetta Gala will feature selected acts from Verdi's La Traviata, Bizet's Carmen, Die Fledermaus by Johann Strauss and others, as well as buffet dinner and champagne along the Arno around midnight (www.concertoclassico.info) Cost: € 96.
In Siena
If you'll be in Siena or close by, the celebration to welcome the new year in the stunningly beautiful Piazza del Campo should be unforgettable. The first part of the evening (from 10:30pm to midnight) Danny Rose Paris will present video projections celebrating 150 years of Italian unity. After midnight, the square will turn into a time machine going through all the famous night clubs worldwide over the last two centuries. If you want to continue the party after half past mdnight, head over to the Fortezza Medicea where the New Year's party will continue on to 5am . Entry fee requested.
In Pisa
Lots of music in Pisa as well. In Piazza Carrara, starting at 6pm, the stage will host the Betta Blues Society, Alex Britti, Manu PHL e Working Vibes. Music of all types, but especially to make you dance – funk-rap show, reggae rock, funk and hip hop.
In Piazza Garibaldi, the hard-fold Tuscan group I Matti dell Giuncaie will entertain the public while in Piazza Gambacorti you'll find a live band and later on a DJ set.
The evening will end with the fireworks show from Ponte di Mezzo.
Elsewhere in Tuscany
In Arezzo, Pienza, Chiusi, Montepulciano – to name just a few – just head to the main piazza to celebrate with the locals with music, a large bonfire and lots of cheer to say good-bye to the old year, and welcome in the new!
Wishing you a happy and prosperous 2012!!
About Lourdes Flores
An American living in Florence for over 10 years, Lourdes continues to explore and discover new places in Tuscany with the eyes of a tourist but with the experience of living in Italy. She shares her experiences on this blog and website, particularly offering lots of travel planning help on the Forum!