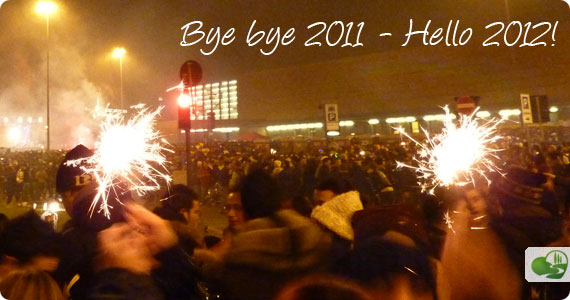 So once again this weekend we have another holiday coming up: New Year's Day! Practically everything will be closed on Sunday, even those museums usually open on that day.
Like last weekend, on New Year's Eve most everything will be open but closing about an hour earlier than usual. This includes the Uffizi and Accademia.
So after your late-night celebration on New Year's Eve (see our post from yesterday offering suggestions of what to do), you might want to sleep in a bit on Sunday. No problem at all! But eventually you'll get hungry and then after a meal you might want to do something in the afternoon, like see a little more of Florence ;-).
Don't despair – not everything is closed! 🙂

In particular, you'll find the Capella Brancacci open in the afternoon, from 13-16.30 and Palazzo Vecchio from 14-19. If you've never seen the Palazzo Medici Riccardi, we highly recommend to go just so you can see the beautiful frescoes by Benozzo Gozzoli (open from 11-19). What else is open? Here is a quick list: Casa Dante, the churches of San Miniato, Santa Maria Novella, Santa Trinità and Santo Spirito. If you're in for a little trek to Fiesole, we highly recommend visiting the archeological area there which will be open :).
On Monday, January 2, most museums that are usually closed on Mondays will remain closed, including the Medici Chapels and the Pitti Palace museums. However, very important since it is a last minute news: the Uffizi and Accademia Gallery will be open!!
January 6 – Epiphany
Yep, right on the heels of Christmas and New Year's, we have another national holiday on January 6 when we celebrate the Epiphany. In Florence, there is a beautiful Cavalcade of the Three Magi with parade in 16th century costume in the afternoon that crosses the historical center, from Piazza Pitti to the Duomo. The magi deliver their gifts to the baby Jesus, part of the living crèche (nativity scene) set up in the Duomo. The procession starts around 2.30pm – don't miss this spectacular procession if you're in Florence!
As for what is open, on January 6 the Duomo will be closed since there will services throughout the day. The same goes for many other churches, such as San Lorenzo and Santa Felicita. The cupola will be closed, but the bell tower and baptistery will be open in morning. The Uffizi and Accademia and other main state museums will be open following their regular hours, including the Bargello, the Pitti museums and the Medici Chapels. Here is a complete list of museum hours: notice that the Uffizi and Accademia are marked as being closed on January 2, but a very recent notice by the museums say they will be having a special opening. Remember to buy your tickets to the Uffizi online to avoid any lines!
We wish you have a spectacular start to 2012!!
About Lourdes Flores
An American living in Florence for over 10 years, Lourdes continues to explore and discover new places in Tuscany with the eyes of a tourist but with the experience of living in Italy. She shares her experiences on this blog and website, particularly offering lots of travel planning help on the Forum!