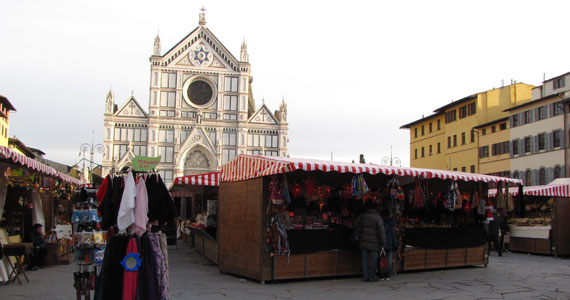 It's almost mid-December but it's still warm. After a couple of freezing days we came back to mild, gray weather. So let's see the main events for this second weekend of December:
Florence:
This weekend, head to the German Christmas Market in Piazza Santa Croce, open every day from 10am to 8pm. Then visit Florence Noel at the Leopolda Station until Sunday.
In Piazza Santo Spirito on Sunday December 12th there will be the monthly arts and crafts market, while within walking distance in Piazza Tasso, at the Ex-Leopoldine Mercanatale, you'll find a market of local farmers selling only organic products.
Tuscany:
In Greve in Chianti on Sunday there will be the Christmas market of local craftsmen. In Mugello there will be four different and characteristic Christmas markets that will be held in Dicomano, Firenzuola, Palazzuolo sul Senio and Marradi.
If you want to taste something special I suggest you go to Prato on Saturday and Sunday where Dolcemente Prato, Sweet Prato, will be taking place. There will be tastings of sweets and cakes made by the best pastry chefs. Tastings will be accompanied by local liquors and cocktails. In addition, you can admire the large Christmas tree made of 12 kilos of cantuccini, the typical Prato cookies.
For further Christmas markets going around this weekend, read our post on the Christmas markets in Tuscany.
Have a nice weekend!