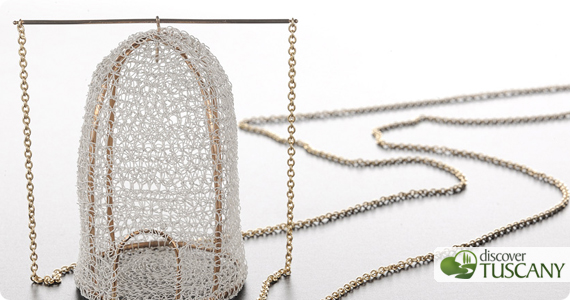 1 x 1 Collection
From December 3rd to 5th the historical borough of San Frediano in Florence Oltrarno, worldly renowned for Florentine craftsmen workshops, will host an interesting exhibition of contemporary handmade jewels. At the workshop Laboratorio 28rosso in Via dell'Orto, 14 young female artists from all over the world, will show their last creations.
On display lots of jewels made of different materials in various shapes and with different techniques. Colorful wooden bracelets, aluminum rings, necklaces with ancient textiles. Each jewel is a unique piece of art, entirely hand made by the artist. The jewels on display are by Daniela Boieri, Catalina Brenes, Margherita de Martino Norante, Elinor de Spoelberch, Marina Elenskaya, Eugenia Ingegno, Maru Lopez, Lucia Massei, Geri Nishi, Marzia Rossi, Yoko Shimizu, Elena Spanò, Camilla Teglio, Gabi Veit.
The workshop will also be a temporary shop where you can purchase directly from the artists their creations and jewels. The exhibits will open on Friday at 5pm until 8pm and at 7pm there will be offered a delicious buffet. On Saturday and Sunday it will open from 10am to 10pm. For more information visit www.1x1collection.com.