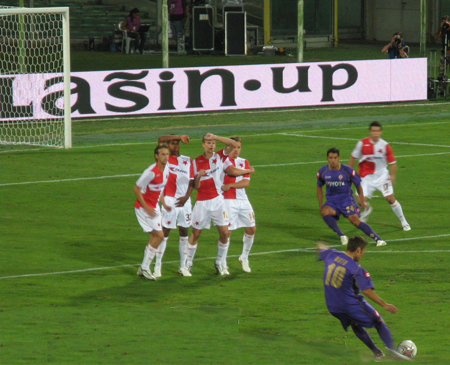 Last night we joined over 35,000 Fiorentina fans at the Artemio Franchi stadium in Florence to cheer the Viola team as they battled the Slavia Prague in the first leg of the Champion's League qualifier. It was a good match, Fiorentina dominated the field throughout the entire game and won the match 2-0 which places the team in a favorable position to win the tie match on the 27th of August and move forward into the exciting group stages of the European contest.
Even if Florence is deserted these days since many Italians are away on vacation, devoted fans made the trip back into town to watch this important match (the same can't be said for other Italian teams that have faced other qualifying matches this August to almost empty stadiums). It was the first real game of the season and the first chance for fans to meet the team's new players. The new players played well and the returning guys seemed to be in good shape. Adrian Mutu scored early on a great free kick and new addition Alberto Gilardino scored pretty late, both part of the front line that generated a lot of attention over the summer.
Great sportsmanship was also on display at the end of the game as the Viola team formed a corridor and shaked hands with the Slavia Prague team as they exited the field to applause by the whole stadium.
Overall, the team played well and gave fans a great game. We're looking forward to next week's match and to a great season!!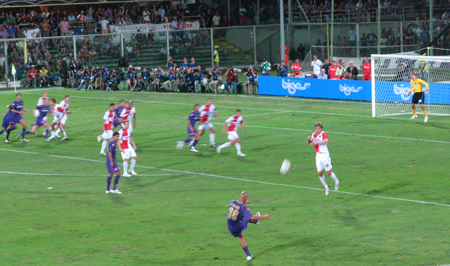 About Lourdes Flores
An American living in Florence for over 10 years, Lourdes continues to explore and discover new places in Tuscany with the eyes of a tourist but with the experience of living in Italy. She shares her experiences on this blog and website, particularly offering lots of travel planning help on the Forum!