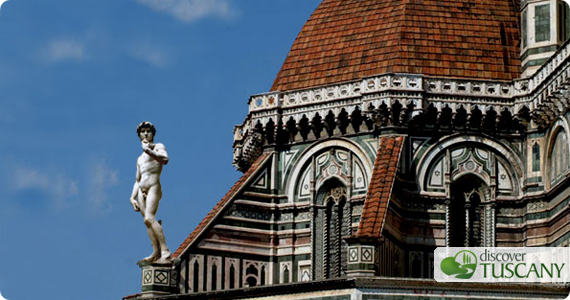 From November 12th to 20th Florence will be the cultural heritage and landscape capital of the world for the first edition of Florens 2010. The city will be a global lab of art, culture and economy for eight days with an international forum, many meetings, exhibits and events.
The majority of the events and conferences are aimed at people that work in the sector, but among the main events the general public can enjoy is the celebration of the Miracle of St. Zenobius which will take place on Saturday, November 13th in Piazza Duomo. The square in front of the cathedral and between the baptistery will be turned into a flowered field in remembrance of the saint's miracle of making an elm tree and surrounding plant life flourish in the middle of January. At 10.00 am there will be the flag throwers show and at 6.00 pm there will be a concert of the Maggio Fiorentino Formazione in the square.
During the week long celebration, an exhibit called "David, The Power of Beauty" will place an exact size copy of Michelangelo's David in various spots between Piazza del Duomo and Piazza della Signoria in Florence. From the spurs of the cathedral (Nov. 12) to the cathedral's square (Nov. 13), then on to Piazza della Signoria (Nov. 14) to finally end within the Salone dei Cinquecento inside Palazzo Vecchio (Nov. 15), the various spots where you'll see the David reflect the public dispute of 1504 on where exactly Michelangelo's masterpiece should be placed.
Another exhibit we recommend you check out is the reconstruction of the ancient market in the center of the city that will spread from Piazza della Repubblica to Piazza Strozzi from November 13th to 15th. Like in old times, you'll be able to buy local food products, wine, sweets and more including objects and tools of local craftsmanship. From November 19th to 21st, the Florens Wine Event will be dedicated to tastings of wines from Florence and all of Tuscany. This will take place within the Ammannati Courtyard in the Pitti Palace.
I recommend you check out the official Florens 2010 program for more information about all the events.