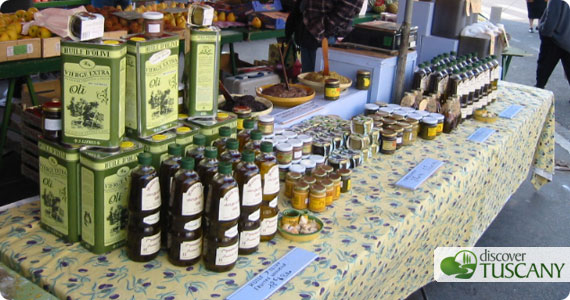 As I wrote last week, November is the rainiest month in Tuscany. This week I almost thought I would have become a mermaid ;).  It luckily seems that the weather will be better during the weekend but unfortunately it's not predictable. Here you have a selection of the main events in Florence and Tuscany.
Tastings and typical products:
In Florence there is the Food and Wine Biennial 2010 and from Friday to Saturday there will be the Market of Flavors and Crafts in Piazza della Repubblica and Piazza Strozzi from 9am to 8pm. There will also be the "Cantine del Leone", free wine and oil tastings in several wineries of Chianti Colli Fiorentini.
From Saturday to Sunday in Bagno a Ripoli, few miles away from Florence, there will be Prim'Olio, olive oil market and tastings that have just been pressed in the Tuscan  countryside. In Scarperia, in the Mugello valley, there will be the Trade market of truffles and local products, as well as in San Miniato near Vinci, there will be the Market fair of white truffles, that are renowned all around Italy. Last but not least events related to Crete d'Autunno go on and this weekend in San Giovanni d'Asso there will be the Trade market of white truffles.
Arts and crafts:
For collectors, but also for shopping lovers, on Sunday November 14th in Tavarnelle Val di Pesa in the Chianti region, there will be a nice antiques market, while in Piazza Santo Spirito in Florence there will be the Santo Spirito Fair, where you can buy hand-crafted products and artworks. In Asciano there will take place the Crete markets where you can find local had-crafted products, as well as you can taste local flood and wine.
Hoping that it won't rain in the next few days I wish you all a nice weekend!