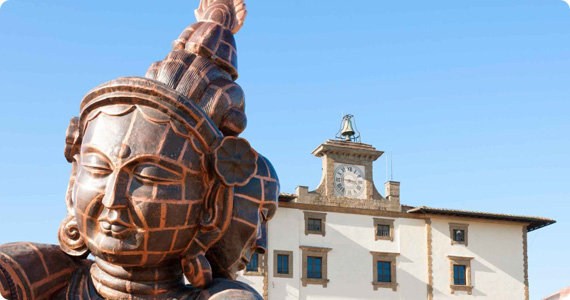 The Forte di Belvedere has finally reopened its doors today with a special exhibit dedicated to Zhang Huan, a Chinese artist prominently present in today's contemporary art world.
The exhibit is actually divided in two of the main symbols of the city: Palazzo Vecchio and the Forte Belvedere.
The pieces on display showcase the artist's reflections between great masters of the past such as Donatello, Michelangelo and Vasari after his stay in Florence with today's experimentation between worldly and spiritual affairs.
The show, amptly named "Zhang Huan: The Soul and Matter", marks the great reopening of the Forte, symbol of contemporary works in Florence after having hosted artists such as Henry Moore, Fausto Melotti, Mimmo Paladino, Mario Merz, Giuseppe Penone, Anish Kapoor and Folon.
Today, for the grand opening of the exhibit and the Forte Belvedere, anyone can visit the Forte with free admission from 6 to 9pm. You can visit both locations with a special ticket at €14 (or just Palazzo Vecchio for €10 or just the Forte Belvedere for €5)
Zhang Huan: The Soul and Matter
July 8 – October 13, 2013
Palazzo Vecchio Museum and Forte di Belvedere
Palazzo Vecchio – Open everyday except Thursdays
July-September 9 – 24
October 9 – 19 (Thursdays 9-14)
Forte di Belvedere – Open everyday except Thursdays
July-September 10 – 20
October 10 – 17 (Thursdays closed)
Ticket offices close one hour before.
Combined ticket Forte di Belvedere+Palazzo Vecchio € 14,00
About Lourdes Flores
An American living in Florence for over 10 years, Lourdes continues to explore and discover new places in Tuscany with the eyes of a tourist but with the experience of living in Italy. She shares her experiences on this blog and website, particularly offering lots of travel planning help on the Forum!