The first exhibit of Florence's rich program "Art for a Year" recently opened at the Uffizi Gallery and I had a chance to go see it on the first day. Gerrit van Honthorst, known as Gherardo delle Notti in Italy, was a Dutch Golden Age painter with the exhibit centered around his time in Italy in the early 17th century.
While I had seen his work at the Uffizi Gallery in the past (they are toward the end of the museum's route), I have to admit that by the time I generally reach these rooms I am tired and ready to leave the museum. If you're going to visit the Uffizi this will likely also happen to you, so I am asking you to plan ahead of time to leave yourself at least half an hour of "energy" to stop and go into the temporary exhibitions rooms and see the works by this artist, it is worth it!
Early in his career, Gherardo delle Notti was one of several artists from Utrecht (Netherlands) that visited Rome (either in 1610 or 1611) and we know he remained in Italy for less than 10 years. Despite this relatively short time, his own style was significantly impacted by Caravaggio (who had just very recently died under mysterious circumstances in Tuscany). Caravaggio is known both for his realistic observation of the human state and for his dramatic use of lighting. The exhibit begins with some of van Honthorst's early work after his arrival in Rome, before shifting to a much larger selection of works painted in the later part of his time in Italy and where you can see his shift in technique.
The period he spent in Italy and his successful use of Caravaggio's style quickly increased his popularity. You can see that by the amount of commissions he received for large altar paintings for churches in Rome and Genova, which are present here in the exhibit.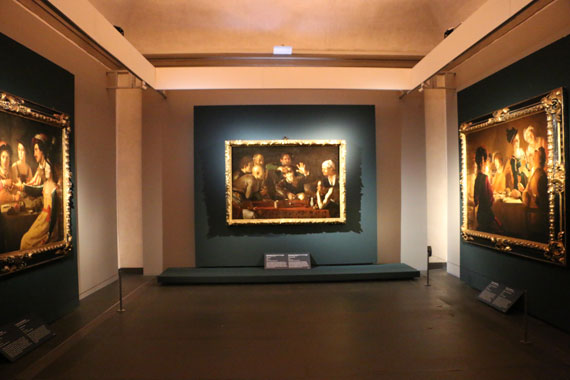 In any case, you'll wander through the exhibition rooms and admire wonderful works of art, including his scenes of merry suppers where part of the scene is a bit bizarre. The Supper with Lute Players, for example, has 3 characters to the right which seem to be doing a tooth extraction right at the dinner table! Right next to that is the one work by Caravaggio in the exhibit of a similar theme (another tooth puller ;)), making it easy to see the similarities, as well as differences, in style.
But the room that kept me the longest was the one with what remains of van Honthorst' altarpiece of the Adoration of the Shepherds. Commissioned for the Guicciardini family chapel in the church of Santa Felicita in Florence (1619-1620), it was moved to the stairwell of the Vasari Corridor in 1973. On the night of the 26th of May 1993, a car bomb was set off on Via dei Georgofili and unfortunately there was a window right next to the painting, a window which obviously exploded inwards with such force and hot air that blew most of the paint right off the canvas. That night, 5 people were killed, almost 50 were injured and over 200 works of art at the Uffizi were severely damaged (3 completely beyond repair). This work remains heavily damaged but a video projected right on top and around the altarpiece brings back what was lost. I highly recommend you spend the 5 minutes of the video here, to be able to admire the beauty of such a scene "lit only" by candlelight imagined and executed by van Honthorst.
After this room, the exhibit continues with work by Honthorst after he left Rome to return home where he went on to became a leading portrait painter and represented the group of Dutch painters known as the Dutch Caravaggisti. The "Happy Fiddler", shown at the top, is one of these, which shows how his paintings got brighter and not as dark. These rooms give way to other painters, both Dutch as well as Italian, that explored throughout their careers the rending of light on canvas.
I walked out of the exhibit very happy to have personally "discovered" this artist whose works I had just given a glance in the past. While the exhibit brings together works from all over the world, I am sure I will take the time to stop and admire his work if I come upon it again. Enjoy your visit and exploration of the works of Gerrit van Honthorst!
Gherardo delle Notti
Bizarre Paintings and Merry Suppers
February 10 – May 24, 2015
(Visit included in Uffizi Gallery ticket)
More details: http://www.uffizi.org/museum/exhibitions/
About Lourdes Flores
An American living in Florence for over 10 years, Lourdes continues to explore and discover new places in Tuscany with the eyes of a tourist but with the experience of living in Italy. She shares her experiences on this blog and website, particularly offering lots of travel planning help on the Forum!