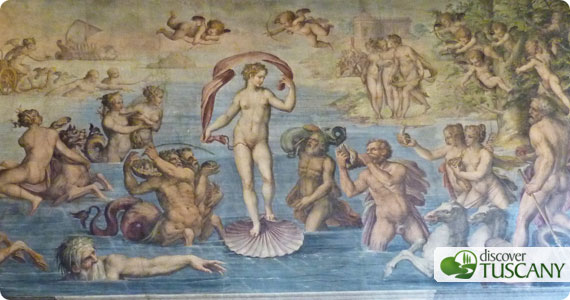 If you're in Florence this Thursday, February 18, you should know that the city commemorates the memory of the last Medici, Anna Maria Luisa de' Medici, with a conference in Palazzo Vecchio at 5 p.m. It is thanks to her that most of the treasures the Medici collected and had commissioned are still in Florence – she bequethed all the family's treasures and buildings to the city of Florence so that they could be taken care of, admired and shared with the rest of humanity.
We are thankful to Anna Maria Luisa and to the city that on this day a few of the city museums are free of charge. This year, you can visit for free:
the Palazzo Vecchio Museum (monumental quarters) from 9.00 a.m. through 2 p.m.
the Santa Maria Novella Museum from 9.00 a.m. through 5 p.m. (this is through a separate entrance from the church itself and merits a visit for the 14th century frescoes by Paolo Uccello, Andrea di Bonaiuto and Alessandro Allori).
the Brancacci Chapel in the Church of Santa Maria del Carmine from 10.00 a.m. through 5.00 p.m. (this last one might require signing up for a specific time since groups of up to 30 people can enter every 15 minutes. You might head there, see if you can enter at the next entrance time or sign up and return later. The chapel merits a visit for the fresco masterpieces by Masaccio and Filippino Lippi. You can't visit the chapel passing through the church as it is closed off).
So if you're in Florence, take advantage of the free entrance and visit one of the above museums, taking a moment to thank Anna Maria Luisa for making sure we can still admire the masterpieces here in Florence and that future generations will continue to enjoy them as well.
About Lourdes Flores
An American living in Florence for over 10 years, Lourdes continues to explore and discover new places in Tuscany with the eyes of a tourist but with the experience of living in Italy. She shares her experiences on this blog and website, particularly offering lots of travel planning help on the Forum!