As we keep on traveling around Tuscany to discover local delicacies and interesting destinations, I would like to tell you about another traditional dish of the sea city of Livorno, for which I'd drive to the end of the earth for if necessary just to be sure to taste the authentic and original recipe for cacciucco alla Livornese. Maybe you're thinking Here we are, the same long and rambling Italian sentence, what does the "alla livornese" repetition stand for? Actually, it's quite necessary, since the cacciucco fame has spread out over years, not only all along the Tuscan coast, but also all over the region. Consequently, there are many other recipes presenting some changes, included the most famous and tasteful of Viareggio, but if you want to taste the real, authentic recipe, you MUST go to Livorno.
The importance of the letter C…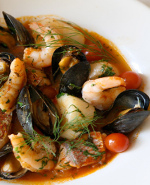 Even the name has been long argued: in Livorno, it's called cacciucco with 5 C's! You won't ever get out of the argument with a livornese if you say caciucco. While it is commonly referred to as caciucco, especially in the province of Lucca, Viareggio included, where people – traditionally said to be stingy – tend to save even on words! Don't pick on me, I'm joking obviously (my family is from Lucca, how could I be serious??)!!
Cacciucco is a fish dish, a sort of fish soup, even if some sticklers could even get furious by reading this definition: it's not a watery soup, but a stew dish ( as defined by Artusi in his "Scienza in cucina e l'arte del mangiar bene" – Science in the kitchen and the Art of eating well) prepared with different kinds of fishes and served with a tasty and slightly spicy tomato sauce, where fish remains have been previously minced into.
The origins of Cacciucco
Tradition has it that it comes from the catch of the day which has been not sold, even if there are many legends revolving around this recipe: it was prepared mixing up all what fishers – who didn't throw out anything – hadn't sold during the day. That's why the authentic recipe may vary depending on what chefs have at their disposal. If you come across a real, true restaurant in Livorno, where you are invited to sit down on a table with paper cloth and a wine carafe, and are treated in a familiar way, you'll be immediately warned: the cacciucco is not a dish you may always find in the menu, so don't get upset if you won't find it at all.
Recipe
The recipe of cacciucco is said to be quite easy, but I'm convinced that there's a big difference between cooking and…cooking well, especially for cacciucco, that needs (as every recipe after all) love, passion, patience and…a bit of experience! The original recipe is not complicated: onion, garlic and parsley need to be fried over low heat on extra virgin olive oil; after adding tomatoes – or tomato sauce – salt and pepper, continue until tomatoes are cooked through. Then, take off garlic (Artusi uses to add a bit of vinegar) and puree what remains. Then add fish…Are you maybe wondering where are the complications I told you about? Fishes have different cooking times: shellfishes, for examples, need to cook over a longer time than fishes with fishbones, so you have to know what you need to add first and what at a later stage.
Cacciucco is exclusively served on roasted bread (even better if stale and garlicked) with some extra virgin olive oil on.
Contrary to common belief, Cacciucco beautifully marries with red wines – instead of whites, that come usually with fish dishes – that bring out its strong and spicy flavour in a delicate and proper way (I'd choose a Bolgheri for example, rather than a Chianti wine).
Livorno, the 4 Moors city
So bear in mind that if you want to taste the real Cacciucco alla Livornese, you MUST head to Livorno, and take your chance to explore enchanting spots and take part in folkloristic events, concerts and manifestations (Effetto Venezia just to quote one, that is taking place right now all around the city – till August 4th). From the awesome Terrazza Mascagni on the promenade that runs all along the city and looks directly into the sea, to the little bay areas where you may enjoy the Tuscan sun, to all the southern coastline that features places like Cecina, San Vincenzo, the Etruscan Coast and Piombino, where ferries to Elba , Corsica and Sardinia leave from.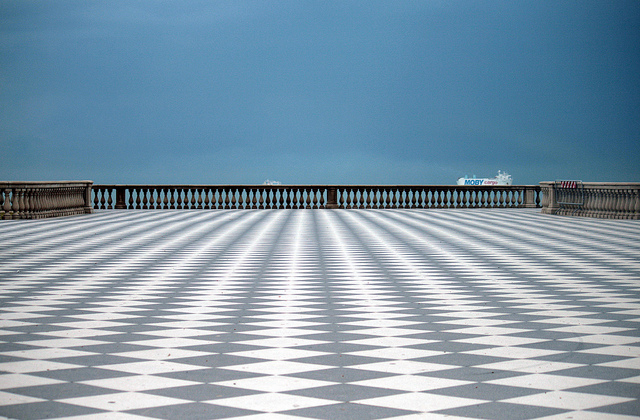 If you're planning to head to one of those islands, drop by Livorno before boarding your ferry, a dish of Cacciucco could be the perfect way to start off your Tuscan vacation 🙂
About Chiara Ricci
Chiara was born in Pescia, where the province of Pistoia borders with Lucca, has lived and studied in both Florence and Pisa for several years. Traveling is her second passion... Her first one? To swim, but up to now it's still impossible for her to explore Tuscany and the world swimming so she has to use other means!