Today, the doors to the Mercato Centrale's completely new first floor officially open to the public!
We had the opportunity to visit a preview of the new floor last week and boy are we excited to share our impressions and pictures. If you're coming to Florence soon, go see all of the market for yourself, whether to buy some quality products to cook now or take back home or to enjoy a delicious meal.
Up to a few years ago, the first floor of the 140 year old iron and glass Central Market used to house produce stands selling fresh produce and basic staples for cooking. It was a grand market but the area looked a bit old and dirty. Just talking of the first floor here, the ground floor with its cheese stalls, butcher shops, pasta and much more has always had a different feel to it and has always remained open. The first floor was closed a few years ago, but there were no clear idea on what would happen to it. In the meantime, temporary events and markets had been organized there.
The best of Italy is represented at Mercato Centrale: its food! While the ground floor has many "raw" quality materials, the second floor proposes to showcase the artisans that create many of these products as well as be a site where taste and culture come together. There are 12 workshops and the setup has windows to allow to see into the laboratories. There is the fresh mozzarella di bufala, a specialty from southern Italy, created on site and right next door, fresh cheeses from all over Italy and Europe.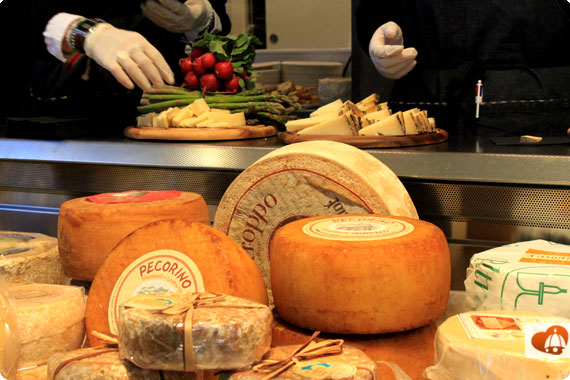 You can purchase fresh made pasta or bread and sweets as you go down one side of the open space, or enjoy high quality gelato or chocolate. The other side of the floor presents fresh seafood and meats and produce. In between, these you can also eat fresh from the oven pizza by Pizzeria Sud or Florentine fried meats or vegetables or grab a quick tramezzino, a panino made to order or sit down to enjoy Tuscan dishes made by the Tosca restaurant. Whatever you end up on your plate or shopping bag, make sure to stop by the Chianti Classico wineshop to enjoy a marvelous glass of red wine from any of the hundreds of wine estates in the Chianti Classico wine area in Tuscany.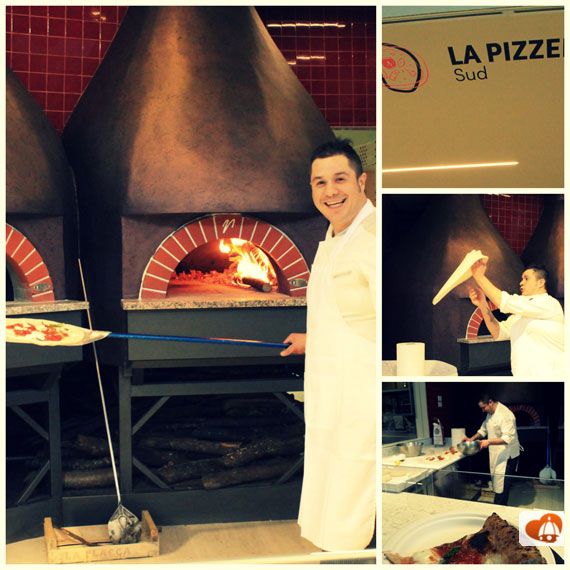 The area offers much more than food: if you end up buying several bottles of wine to take back home, stop by the Green Speedy counter to have them shipped back home. If you also want to enjoy a morning or afternoon learning how to prepare some of Italy's best foods, a corner of the floor is home to the Lorenzo de' Medici cooking school while another area is set up for wine tasting classes. The cafe' in the central area will be a perfect place to stop by and enjoy a leisurely pause during sightseeing or stop by the Fiorentina store to take home a shirt of Florence's soccer team or buy a book or travel guide from the Giunti bookshop.
For food and a bit a more, make sure to stop at Mercato Centrale when you are in Florence! You can see more details on all that is available on www.mercatocentrale.it
About Lourdes Flores
An American living in Florence for over 10 years, Lourdes continues to explore and discover new places in Tuscany with the eyes of a tourist but with the experience of living in Italy. She shares her experiences on this blog and website, particularly offering lots of travel planning help on the Forum!