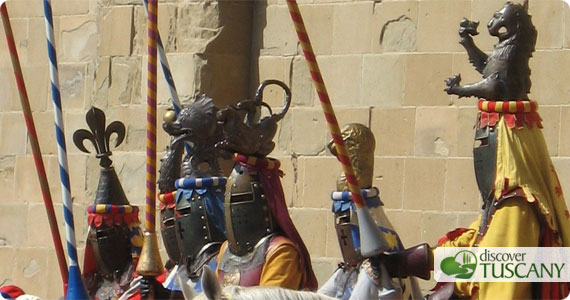 If you're still looking for ideas of what to do this weekend in Tuscany, another major event taking place this Saturday is the Giostra del Saracino, or Joust of the Saracen (Moor) in Arezzo.
The whole city turns up in medieval costume to recreate the atmosphere of medieval Arezzo as the quarters of the city compete against each other in a joust to win the Golden Lance. The event has its origins in the Middle Ages and was an evolution of a military training exercise knights used to simulate battle, using a lance to hit a "puppet" of the bad guy, at the time of the Crusades the bad guy being the Saracens or Moors.
In Medieval society, jousts and tournaments were the means to celebrate any special event and in Arezzo records indicate this particular one was very popular and repeated on special occasions. The tradition of the joust has appeared and disappeared throughout the centuries but has been been occuring twice annually since 1931 (excluding the years of WWII). You can take part in this ancient tradition in Arezzo this Saturday – but if you're not in the area, don't despair, the event also takes place on the first Sunday in September!
For tickets for the seated bleachers, call 0575/377460/2/3 or go to Arezzo and see if you can still buy standing spots in the main Piazza Grande. Read more details on the Joust on our recent post.
Photo by ho visto nina volare
About Lourdes Flores
An American living in Florence for over 10 years, Lourdes continues to explore and discover new places in Tuscany with the eyes of a tourist but with the experience of living in Italy. She shares her experiences on this blog and website, particularly offering lots of travel planning help on the Forum!