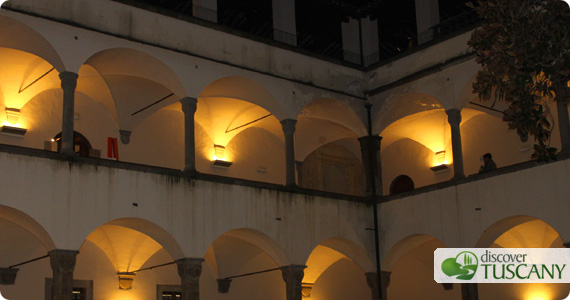 I've just found out about the Oblate Library, located in the former convent of Oblate between via Sant'Egidio and via dell'Oriuolo. I had heard about it before but had never been there until last week. I have to say that I am really impressed so much so that I became a member of the Oblate library right away 🙂
The Oblate Library is not just a library but a place where you can get a cappuccino looking at Brunelleschi's Cupola, enjoy a game on a Play Station and spend some time with friends. Inspiration for this cultural and multimedia center in the heart of Florence has been the Centre Georges Pompidou in Paris. The antique and contemporary come together perfectly: the 3 floors of the 15th century convent has been transformed into a multifunctional building that has something for everyone, from 0 to 99 years old. Furthermore, it's entirely and easily accessible for visitors with special needs and moms with strollers.Besides the regular services libraries offer, such as consultation and loan of books, the Oblate offers various services for visitors such as:
Free Internet connection
Films and music loans
use of play-station
2 Satellite TVs
a children's playroom with programmed workshops and activities
a newspaper library
large space where to read and spend time inside the library
a café with breathtaking view
Then every month there are many different events. For example up until December 31st, the library opens until midnight from Monday to Saturday.
To take advantage of all these services, you have to become a member for free with a valid ID. If you like just to read the newspaper drinking a coffee you don't even need to be a member.
I suggest you visit this new jewel of Florence when you are in town. If you would like to have more information about the library, its services and history, you can join the free guided tour to the Oblate Library on January 16th at 4.30 pm.
Read our article and find more information about the Oblate Library!