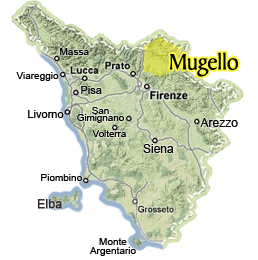 The territory known as Mugello is an area in northern Tuscany, a few kilometers north of Florence. The area of Mugello is a wide, green valley crossed in parts by the Sieve river, one of the major rivers that flow into the Arno river, Tuscany's principal river.
The Mugello is marked off in the north by the Tuscan-Emilia Romagna Apennines, in the south by the Monte Giovi peak and by Monte Senario and Monte Calvano in the west.
The towns within the Mugello
There are ten main communes in the Mugello. These are:
Barberino di Mugello
Borgo San Lorenzo
Dicomano
Firenzuola
Marradi
Palazzuolo Sul Senio
San Piero a Sieve
Vaglia
Vicchio
The Mugello is striking because of its natural beauty and the diversity found in its landscape, which goes from rolling plains to hills and to mountains.