Top Tours Departing from Pisa
A key element to consider when deciding on your ideal base in Tuscany is how the location will contribute to your itinerary and what places will be practical to visit and tour. In fact, it is a common question we field often on our Forum: "What is there to do and see around Pisa after I visit the city and the Leaning Tower?"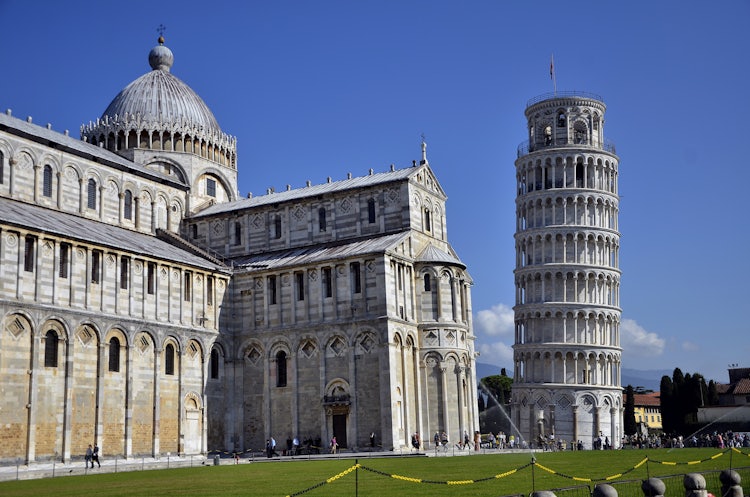 This page contains affiliate links. More details »
In & Around Pisa
Hotels, B&B rooms, independent villa rentals & self catering apartments
It is a valid question, since many are totally unfamiliar with this amazing town beyond the Leaning Tower and its Square of Miracles. However, we are going to convince you that Pisa truly merits serious consideration as a base for your vacation in Tuscany.
You will find national monuments, and a city rich in history and traditions, however, let us point out the convenience of the major airport and public transportation that connect Pisa with places like Florence, Siena, Lucca and the coast of Tuscany.
Another consideration: the mild climate where great wines and olive oils are cultivated giving form to a landscape that promises many incredible photo opportunities, including fields of bobbing sunflowers and the white-tipped peaks of the Apuan Alps.
Things to See in Pisa
Any location for your holiday, should also be judged upon the places and things that are nearby to visit and discover. The DiscoverTuscany team has reviewed several day trips, organized tours and excursions using Pisa as a base.
When considering Pisa, your first stop on the itinerary should be a tour of Pisa, and you can either do-it-yourself with the suggestions in our one-day itinerary for the city of Pisa or sign up for a guided tour of its main spectacular monuments.
The first tour is only 2.5 hours, which not only has you seeing the sites but visiting the tower. This isn't the only reason why we were drawn to this organized tour! The Skip the Line Tour is also designed to be extremely kid-friendly (although note that kids under 8 CANNOT climb the tower). The second tour that we recommend is a Private Walking Tour, giving you not only entrance to the Cathedral and Tower but an overview of the many other things to see within the historic city center. Please note that the entrance fee for the monuments is not included in the last tour, they are paid separately.
If you stay in Pisa, and you've climbed the Leaning Tower, we recommend you learn some interesting information about Piazza dei Miracoli with a walk around the monuments with this walking tour which then ends along the Arno River. Or consider this off-the-beaten-path walking tour that starts in front of the station and ends in front of the Leaning Tower. We did both of these and found them to be super helpful and interesting in showing us the city beyond the tower.
Things to See & Do Near Pisa
Now for things to do outside of the city of Pisa! We have selected the top solutions for exploring and enjoying the best that Tuscany has to offer with a departure point in Pisa.
1. Florence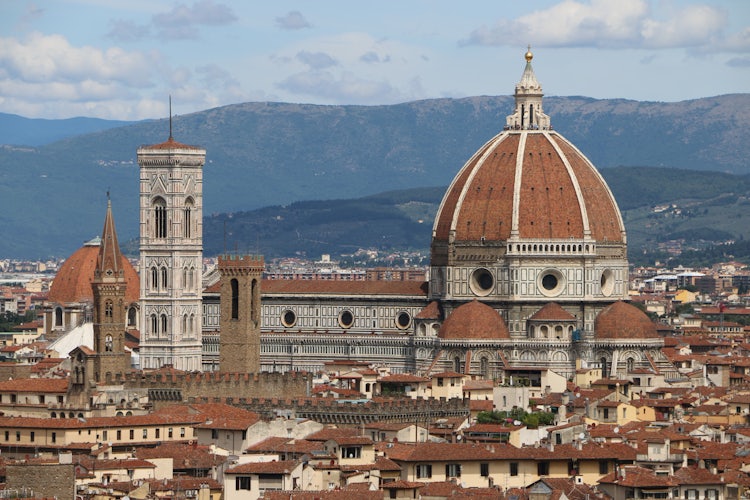 With a "Regionale Veloce" train it takes one hour to get from the center of Pisa to the center of Florence (and vice versa). Running just about every hour, this is the best way to get to the Renaissance City for under 10 Euros per person. If you decide to go by car, there is the easy to navigate free highway into the city.
Our Suggestion for Parking

If you're driving from Pisa to Florence, the easiest place to park in order to avoid entering the ZTL zone & navigating the busy city center is to park along the A1 at the Villa Costanza Parking and then take the tram into downtown.
Once you arrive in the city you can opt to either explore with a walking tour on your own, or if you book ahead, simply whiz through the major museums with time leftover to explore the streets and do some shopping.
Another option is to leave navigating the long lines and the sometimes confusing vias to a qualified guide, who can walk you through the best of the city stress free, giving you time to enjoy the experience. Our choice is the Accademia Galleria and guided walking tour of Florence.
2. Lucca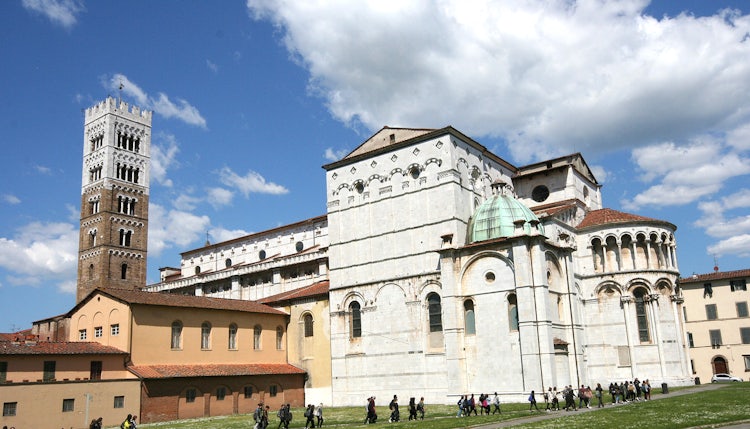 There are frequent trains between Pisa and Lucca, and in 40 minutes with less than 5 Euros you can travel to this laid back yet captivating small town. Here are a few options on how to get to Lucca, and parking in Lucca.
Visit the amazing churches, which were fundamental to the pilgrims who walked the Via Francigena, or stroll on top of the massive brick wall which protected the citizens of the city. Lucca is not only a practical day trip but very easy to do on your own in a day.
The Lucca landscape is also amazing, giving birth to some of Tuscany's finest wines, some of its most renowned olive oil and certainly, many great scenic views. We have selected two of our favorite organized tours leaving from Pisa which will take you on an exploration of the wine of Lucca and into the fairytale landscapes of Garfagnana and Barga near Lucca.
3. Montecatini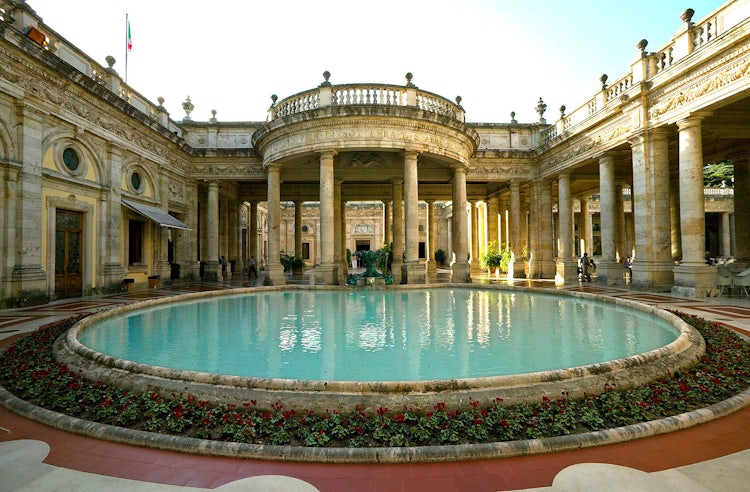 Did you know that in less than 40 minutes you can be lounging in some of the more famous thermal water spas in Tuscany? The very same places that have drawn the rich and famous for centuries to its elegant pools and lovely gardens?
That's right, Montecatini provides quality services in a historical setting for those looking to just enjoy a bit of pure relaxation. DiscoverTuscany insider tip: while in town, catch the cable car up to the medieval borgo and have a walk around - especially for the authentic small town experience and maybe a delicious meal in the square.
4. San Miniato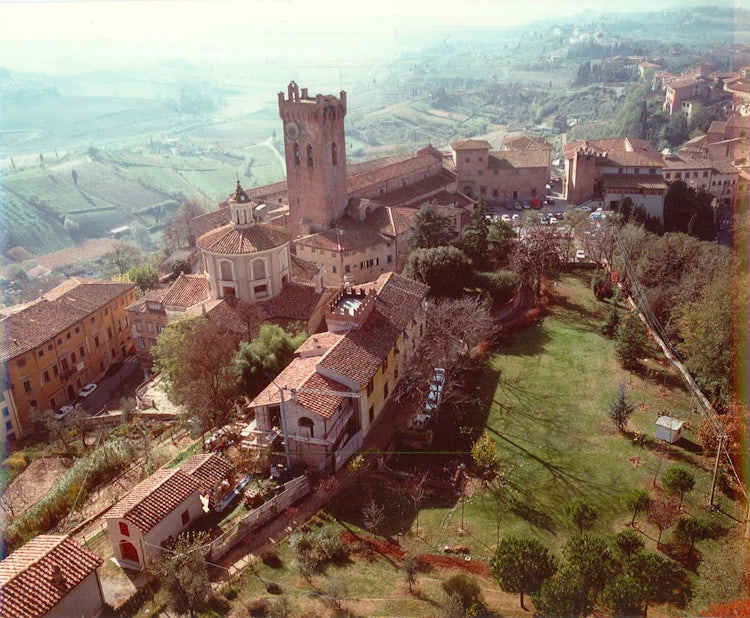 This little town is only 35 minutes away, with its own exit off of the main free highway that connects Florence and Pisa.
It is famous for many things, especially its truffle festival in November, and its prestigious skyline will certainly catch your eye as you drive past the antique hamlet. San Miniato sits high and pretty, just beckoning to you to come and visit it's quiet streets and secret corners, the perfect diversion for a half day field trip from your accommodations in, or near, Pisa.
5. Viareggio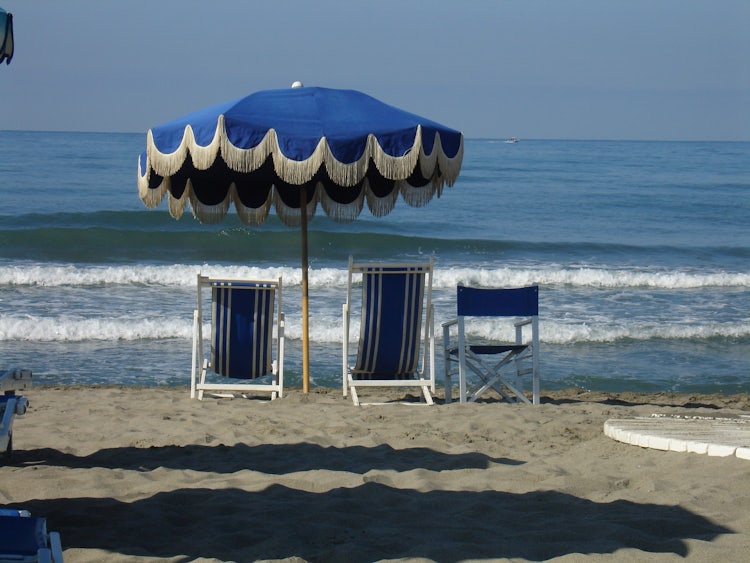 Who would have guessed that you would be sitting on a sandy beach catching some Tuscan sunshine?
The modern, yet inviting, town of Viareggio is less than 40 minutes by car or a half hour by train,an ideal stop for those looking to make the most of their vacation and add a bit of beach time to the itinerary. Providing both free beaches and areas supplied with chaise lounge and umbrellas, this is where you can enjoy the traditional Tuscan fish dishes and some crystal clear waves.
6. Chianti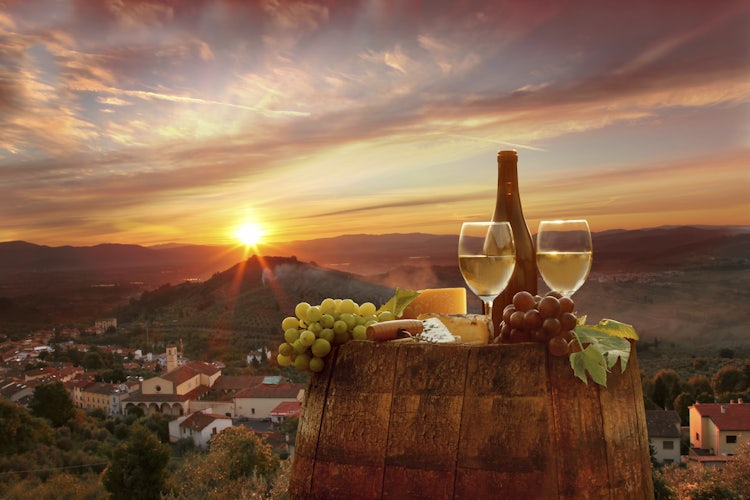 When in Tuscany, do like the Tuscan's - and that would include a day trip into the wonderful world of Chianti with its world famous vineyards, landscapes and hospitality. This 7 hour tour with private mini-van, guide and wine tasting also includes a traditional lunch at a Tuscan farmhouse. The Chianti Classico Wine Tour from Pisa takes you into the heart of Tuscany to visit vineyards where you will get an opportunity to see how these wines are produced and aged. Lunch also includes a five additional tastings of different wines and sample products that are typical to the area.
7. Cinque Terre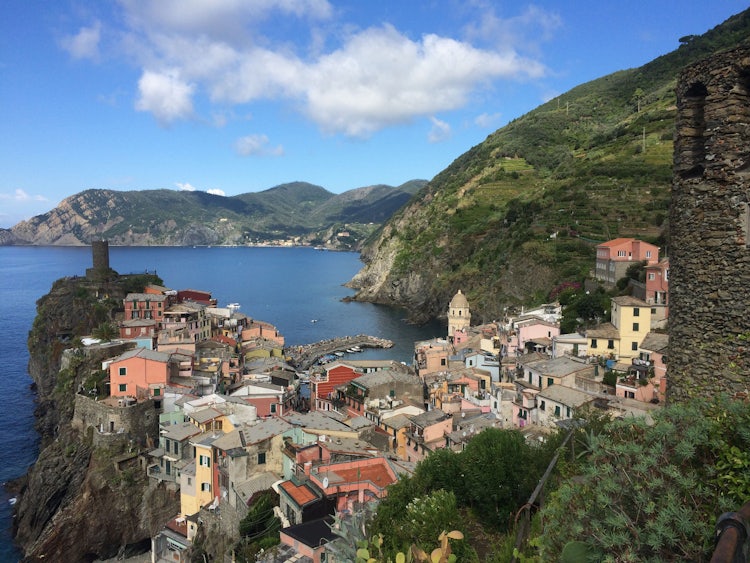 Yes, of course we know that Cinque Terre isn't in Tuscany, but who can resist the draw of these five little fishing towns, which precariously dot the coast above Massa Carrara.
The Cinque Terre Day Trip from Pisa is an exciting experience to learn more about the UNESCO World Heritage-listed site from your tour escort as you travel in a private mini-van from town to town. What we really liked most about this tour, besides the wine tasting, was that it is limited to only 8 persons per tour - keeping it intimate and personal.
8. Wine Tasting Near Pisa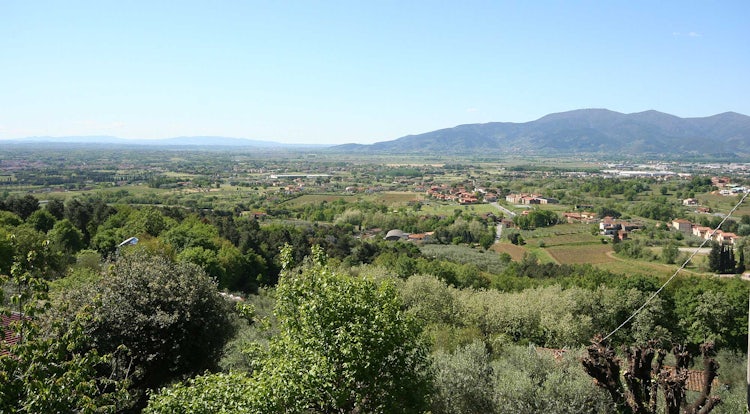 We constantly find it amazing how many people don't know about the fantastic wine that is produced in and around the province of Pisa!
This tour specifically highlights the natural deliciousness of the area with a visit to a "cantina" where the wine is aged. Your guide will show you more about the production and aging process before tasting a selection of their wines and organic extra-virgin olive oil, as well as, a selection of typical local foods like pecorino cheese and ham.
We particularly appreciated that this tour is only a half day giving you plenty of time to enjoy the Leaning Tower of Pisa on your own after the Wine Tasting Tour in the Tuscan Hills.
9. Massaciuccoli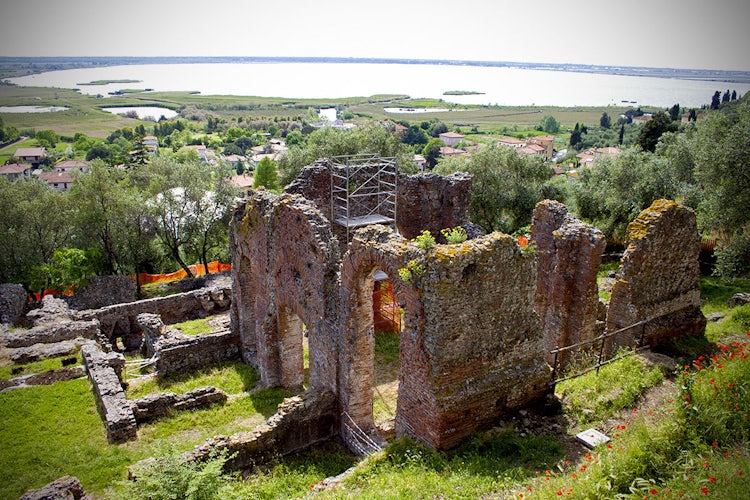 It is clear that some people are looking for an alternative day trip that accents the natural beauty and deep history of the area. For those who are more "out-doorsy" or are fascinated by the Roman architecture that dots the landscape, then a trip to the swamp lands of Massaciucoli are in order.
Only about 20 km to the north it is possible to make a visit to both the Roman villa and the wildlife park. After this visit, one can visit the a town closely associated with the famous composer Puccini and where they hold a summer opera festival. We suggest that you consider lunch in a restaurant overlooking either the ocean or the lake at Torre del Lago.
Instead, for those who prefer the outdoor theme, head over and coordinate some outdoor activities at the Parco Naturale Migliarino San Rossore.
10. Certosa di Calci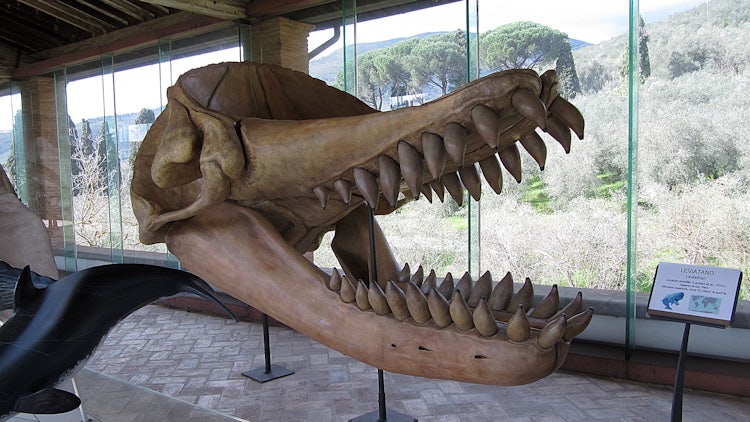 This is one of those hidden jewels that will prove to be a fantastic surprise. The impressive white marble architecture at Certosa di Calci encloses both stunning surprises in the monumental monastery and a wealth of information in the form of an eccentric collection at the University of Pisa Museum of Natural History (especially the dinosaurs and whale skeletons).
A stop here is definitely family friendly, including ample space for an outdoor picnic under the age old olive trees which surround the buildings.
11. Horseback Riding in Wine Country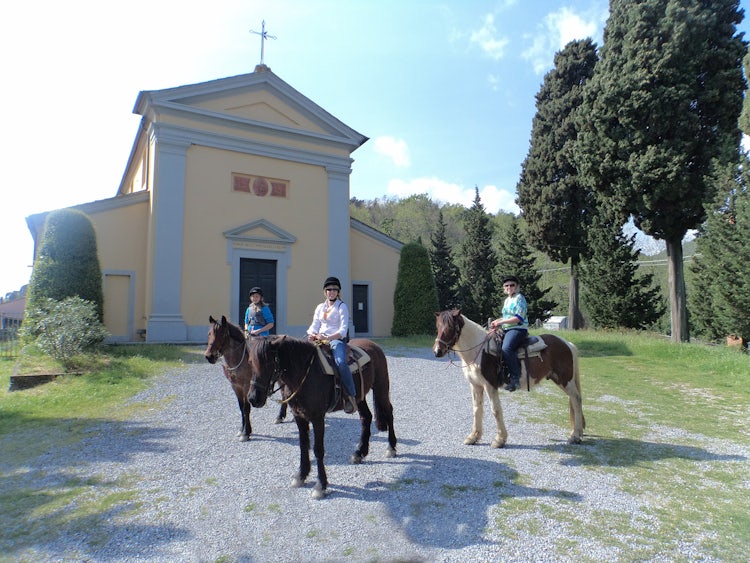 This idea, though it initiated as an to keep the young tourists in the group happy, turned out to be a pleasant adventure for everyone of all ages.
Horseback riding in Lucca, either to see the countryside or visit up close and in person the vineyards, is an exhilarating way to enjoy the landscape.
Ready to explore Pisa and its surroundings? Share with us what you love most!
DISCLOSURE
This page and website contains affiliate links. This means that if you make a purchase after clicking on such links (to Viator.com, Italy-Tickets.com, Booking.com, RentalCars.com, etc), Discover Tuscany will get a small percentage of the purchase price, at no additional cost to you. Thanks for your support! Read more details.